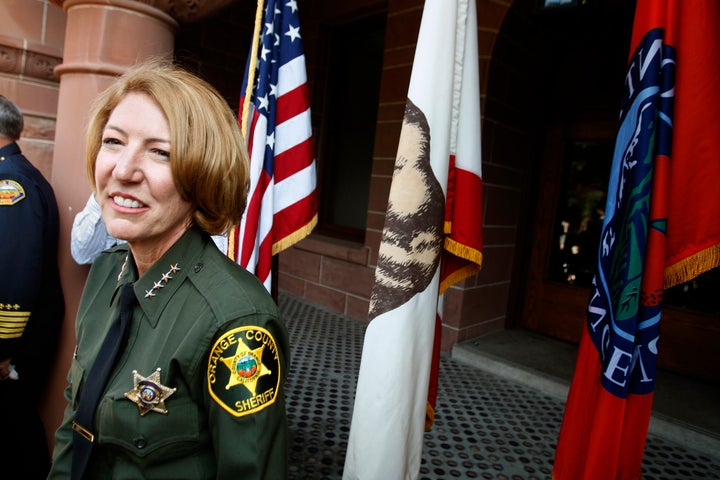 SANTA ANA, Calif. ― Although she acknowledged that her deputies had for years used informants in county jails in order to get incriminating statements from certain inmates, Orange County Sheriff Sandra Hutchens on Wednesday denied allegations that a coordinated jailhouse informant program exists in the county and said a scandal pertaining to it was largely overblown.
Hutchens took the stand in Orange County Superior Court on Wednesday to deliver her first testimony in ongoing evidentiary hearings in the case against Scott Dekraai, a man who pleaded guilty to murdering eight people in 2011. His sentencing has remained in limbo amid ongoing allegations that county prosecutors and sheriff's deputies improperly used a jail informant in his case.
Superior Court Judge Thomas Goethals, who has presided over the Dekraai proceedings, has said he is holding the hearings in order to decide if the sheriff's department can be trusted to hand over evidence to the court. He's also deciding whether he will throw out the death penalty against Dekraai, and instead sentence him to life in prison without the possibility of parole.
Hutchens, who has long denied the existence of a jailhouse informant program, said that if some of her deputies did improperly use jail informants, it was limited to a small number of them. She also testified that neither she nor any sheriff's department commanders were aware of her deputies working informants in the jail.
"There may have been a few deputies who took their duties to different levels than were authorized," Hutchens said. 
She added that she won't judge the deputies' conduct until the conclusion of both a criminal investigation by the California attorney general's office and the Orange County Sheriff Department's internal investigation into the matter.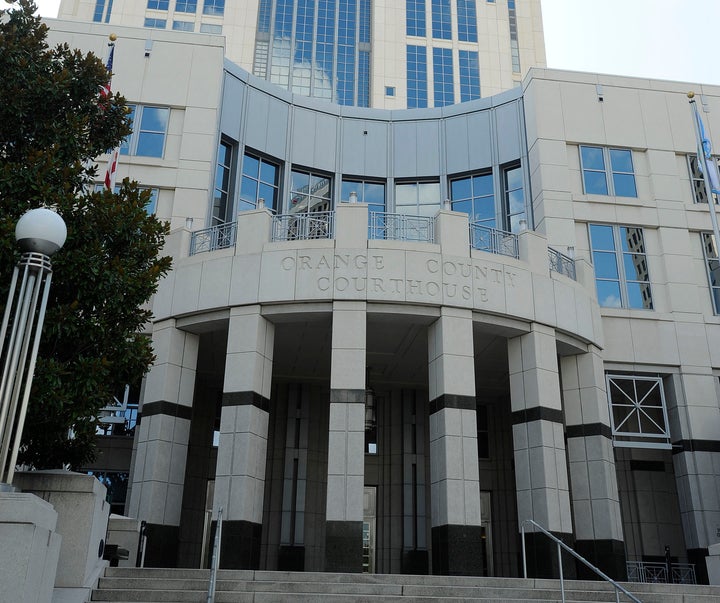 Her assessment of the situation is similar to that of a recent ― and controversial ― Orange County Grand Jury report that concluded there was no jailhouse informant program and that only a few "rogue" deputies were at fault for using jail informants outside the understanding of their managers.
This determination stands in contrast to Goethals' own findings, which were backed by the state's 4th District Court of Appeals and said that the "magnitude of the systemic problems cannot be overlooked."
It also contradicts damning evidence unearthed by assistant public defender Scott Sanders, Dekraai's attorney. Sanders presented Hutchens with multiple internal sheriff's department memos that detail her deputies using jailhouse informants for more than a decade. The memos, which were all sent to or from management-level OCSD officials, identify "cultivating" and "handing" informants in the jail as key duties of sheriff's deputies and indicate that sheriff's deputies had been rewarded for cultivating and managing jail informants.
Hutchens said she had not read or been informed of the memos prior to her testimony. She also testified that she hadn't read either the primary motion in the Dekraai case or the supporting documents filed with it. Moreover, she testified that she never read the transcripts of her deputies' earlier testimony on the matter ― which Goethals said showed deputies had "either intentionally lied or willfully withheld information" ― even though she publicly vouched for their truthfulness in both 2014 and 2015.
I'm not trying to give you a hard time, but the buck stops with you. You're Harry Truman.

Superior Court Judge Thomas Goethals
Hutchens testified on Wednesday that the scandal largely comes down to a misunderstanding of the legal definition of what a confidential informant actually is.
It's legal for law enforcement authorities to use informants to help bolster cases. But it's alleged that informants in many Orange County cases violated inmates' rights to counsel because they questioned inmates who were already represented by lawyers. Prosecutors are also accused of presenting damning evidence gathered by jail informants while withholding other evidence that could have been beneficial to the defense ― a violation of a defendant's right to due process.
Goethals questioned Hutchens about the sheriff's department's continued failure to disclose all records related to the informant issue ― even now, more than four years after he issued his first order that it do so. Goethals has repeatedly lambasted Hutchens for indicating that all pertinent documents have been turned over, only to additional documentation "wash ashore" into his courtroom later.
"I've heard time and again that all documents have been turned over," Goethals said. "I'm not trying to give you a hard time, but the buck stops with you. You're Harry Truman."
Hutchens responded that she's aware of the "embarrassing" criticism, adding that the agency has changed some policies pertaining to training deputies in how to use informants and disclosing evidence gleaned from them. Goethals acknowledged the importance of those changes, but said, "The fact that the barn door has closed on this after the horse has left the barn doesn't help me so much."
Sanders then confronted Hutchens about a letter she sent to staff following the release of the grand jury report. Sanders, who obtained the letter through an unnamed source within the sheriff's department, emphasized that Hutchens used a very different tone in the letter than she did during her courtroom testimony. In the letter, Hutchens blasted the allegations against the department, the critical statements of "public officials" and the fact that the Dekraai litigation was continuing to probe informant issues. Although she initially said she couldn't remember which "public officials" she was referring to, she said later that she had been talking about legal scholars who called for a U.S. Department of Justice probe into the informant allegations. The Justice Department announced an investigation into official use of jail informants in the county last year.
Hutchens' letter appears below:
Calling all HuffPost superfans!
Sign up for membership to become a founding member and help shape HuffPost's next chapter