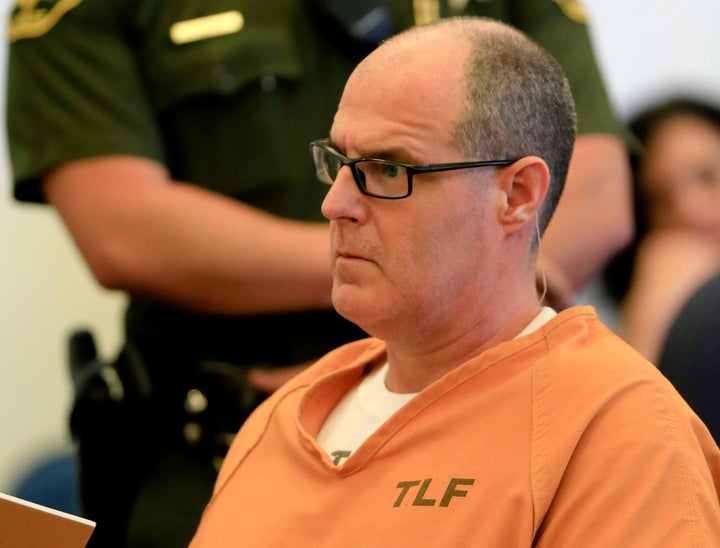 LOS ANGELES ― California Attorney General Xavier Becerra said Wednesday that he will continue to seek the death penalty against Scott Dekraai, a man who pleaded guilty to killing eight people in 2011, even though the case has been tainted by misconduct from prosecutors and sheriff's deputies.
"After weighing the evidence, considering the law and the responsibilities of my office, I have concluded that the appropriate course of action is to seek the death penalty in this case," Becerra said in a statement.
Orange County Superior Court Judge Thomas Goethals ejected the entire Orange County District Attorney's Office from the Dekraai case in 2015. He found the office's use of jailhouse informants constituted egregious misconduct. After Goethals' decision, which /www.huffingtonpost.com/entry/orange-county-california-district-attorney-recusal_us_5834debbe4b000af95ed34be"}}" data-beacon-parsed="true">a California appeals court affirmed, the state attorney general's office assumed responsibility for Dekraai's case. 
The Justice Department announced in December that it was investigating allegations that the informant program used by the sheriff's and district attorney's offices had violated defendants' rights. 
Many legal experts are unnerved by the decision to seek the harshest punishment available against Dekraai, considering the uncovered and alleged misconduct in the case. 
"Given the serious improprieties in the handling of this case ― including the disqualification of the District Attorney's office for egregious misconduct, as found by the trial court and Court of Appeal ― it is very disturbing that they are seeking the death penalty," Erwin Chemerinsky, dean of law at the University of California, Irvine, wrote in an email to The Huffington Post.
Daniel Medwed, a law professor at Northeastern University who has written at length about prosecutorial misconduct, said he was "deeply troubled" by Becerra's decision to pursue the death penalty.
"The fact that a different prosecution team ― state, and not the county ― is pursuing it does not remove the taint," Medwed said. "Before pursuing the ultimate penalty, one hopes prosecutors are extremely confident in the integrity of the underlying evidence ― with respect to the crime itself and any aggravating factors. It seems far-fetched to have such confidence in a case infected by one of the most egregious informant scandals in the past quarter century."
Even relatives of the shooting's victims have pleaded with prosecutors to abandon the death penalty, although OC Weekly reported in December that they are especially concerned with ending the case quickly. 
Goethals has also called for new evidentiary hearings in Dekraai's case, partly because it appears some information had been manipulated and/or destroyed and partly because of allegations that the sheriff still has not turned over all documents related to the informant program.
He also admonished the district attorney's office for failing to turn over records pertaining to Fernando Perez, an especially prolific informant at the center of Dekraai's case. Dekraai's attorney, assistant public defender Scott Sanders, has argued that prosecutors and sheriff's deputies intentionally planted Perez next to Dekraai in order to glean incriminating information from him ― a violation of his constitutional rights ― and then concealed that effort. 
Becerra's office did not directly inform Dekraai's defense team of its decision to continue to seek the death penalty, Sanders told The Huffington Post. He said his defense team was "very disappointed" to hear the news. 
"However, as will begin to show very soon, the misconduct that has poisoned this litigation is far more extensive than even known to the defense a few months ago," he said. "We look forward fully adjudicating all of the issues relevant to this case."
Sanders has filed a series of blockbuster motions to unearth evidence that a secret, tainted snitch network has for decades existed in county jails. He alleges that county prosecutors and police have violated multiple defendants' rights by illegally obtaining, and sometimes withholding, evidence received from jail informants. 
It seems far-fetched to have such confidence in a case infected by one of the most egregious informant scandals in the past quarter century.

Daniel Medwed, law professor at Northeastern University
It's not unusual or illegal for authorities use informants to help bolster cases. But Sanders alleges that in some Orange County cases, informants held recorded and unrecorded conversations with inmates who were already represented by lawyers, which violates an inmate's right to counsel. Prosecutors then allegedly took damning evidence gathered by the informants and presented it in court, while withholding evidence that could have been beneficial to the defense — which is a violation of a defendant's right to due process. 
It remains unclear exactly how many cases in the county may have been affected by tainted informant evidence. Sanders has argued that every case involving a jailhouse informant in Orange County over the last 30 years deserves to be re-examined.
And the scandal continues to grow. Just last year, Goethals made public 242 pages of notes, known as the "special handling log." The log reveals the inner workings of the county's informant program and appears to contradict testimony given by multiple deputies. The district attorney's office conceded that the log contradicts statements made by multiple witnesses, including several members of law enforcement who had testified during hearings in the Dekraai case. 
The pages represent just a fraction of the total 1,157-page database, still largely under seal, which was used between 2008 and 2013 and maintained by sheriff's special handling deputies. 
Orange County District Attorney Tony Rackauckas has maintained that no one in his office intentionally behaved inappropriately in relation to the jailhouse informant program. OCSD argues similarly and that it has taken steps to create more robust ways of documenting and managing inmates.
The sheriff's department has continued to deny that a formal jail informant program even exists ― despite plenty of evidence to the contrary. There are also thousands more pages of internal OCSD records which have not been made public yet, but some may be unsealed soon. A hearing regarding the potential release of some of those documents is scheduled for this week.  
Calling all HuffPost superfans!
Sign up for membership to become a founding member and help shape HuffPost's next chapter