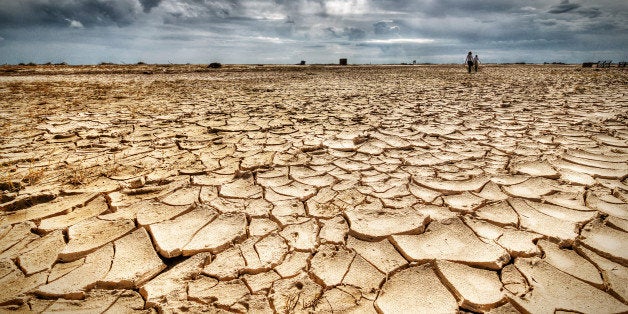 Recent headlines have sounded the alarm on the mounting impacts of climate change. Over the past few months, we have seen everything from the hottest summer on record, to historic droughts and extreme wildfires ravaging communities in California, to vanishing wildlife habitat in Alaska, to toxic algae blooming out of control and contaminating drinking water supplies in America's heartland.
How much more do we need to know about the devastating effects of climate change before Congress takes action?
In California, the first six months of 2014 were the hottest on record, and 82 percent of the state is currently experiencing extreme drought. And the situation is expected to get worse -- recently scientists predicted that 2014 will end as the hottest year ever recorded. Experts also tell us that climate change has tripled the probability that the drought-causing weather conditions will continue.
This historic drought is contributing to more frequent and intense wildfires. In the past, California's wildfire season lasted about three months out of the year, but now it is virtually year-round, and that is straining our state's budget.
Disturbing pictures in Alaska showed 35,000 walruses -- almost all females and calves -- stranded on a beach. They should have been able to use the Arctic sea ice to dive for food, but the ice is gone. Temperatures in Alaska's North Pacific Ocean are the warmest ever recorded, and the amount of Arctic sea ice shrank to one of its lowest levels on record. According to new peer-reviewed findings, the warming waters and melting ice have also led to sea levels rising at rates unprecedented over the last 6,000 years.
In August, toxins were found in Toledo's drinking water supply after an algae bloom formed over an intake pipe in Lake Erie. An emergency water ban was imposed to protect 500,000 Ohioans from the dangerous toxins, which can cause vomiting, diarrhea, and harm to the liver. Scientists have warned us for years that poisonous algae blooms are exacerbated by climate change.
The examples in California, Alaska, and Ohio are major wake-up calls about the damage that has already been done to our planet.
However, instead of confronting this crisis, congressional Republicans are trying to gut our clean air protections that help tackle dangerous climate change. Over the past four years, the Republican House has voted well over a 100 times to repeal the health-based standards that are the heart of the Clean Air Act, including trying to roll back the president's authority to limit carbon pollution.
President Obama has taken important steps to address climate change, such as proposing standards to control dangerous carbon pollution from power plants. Cutting carbon pollution will also reduce many types of other air pollutants that threaten human health with respiratory illnesses like asthma. We all benefit from having clean air to breathe -- it literally saves lives.
We also know that safeguarding public health, protecting the environment, and growing the economy work together. Since the passage of the Clean Air Act four decades ago, air pollution emissions have dropped 72 percent while our economy has grown substantially. During the same period, the U.S. gross domestic product grew 219 percent and total private sector jobs increased by 101 percent.
This environmental success story is now threatened by climate change deniers, because failing to address climate change now will only increase the harmful impacts and financial burden on all Americans. When our water supplies are contaminated, who pays to clean it up? When wildfires grow out of control, who pays to put them out? When record temperatures put lives at risk, who pays for community cooling centers? The American taxpayers foot the bill.
The Intergovernmental Panel on Climate Change has a report coming out early next month that is expected to once again tell us that we have a very short window to act on climate change, and scientific evidence is overwhelming that we must reduce dangerous carbon pollution before it leads to irreversible impacts for human health, food and water supplies, and vital infrastructure.
What we need is a price on carbon pollution to reflect its true costs on society. Last year, Senator Bernie Sanders and I introduced the Climate Protection Act. Our bill would establish a fee on each ton of carbon pollution emitted from the petroleum, coal, and natural gas that we produce and import. Under our bill, 60 percent of the revenue would be returned directly to taxpayers, and the remaining portion would be reinvested in promoting renewable energy, enhancing job growth in a clean energy economy, and increasing the resilience in the nation's infrastructure.
The American people want Congress to address climate change, as poll after poll has shown. Just last month in New York, 400,000 people demonstrated their support for action on dangerous climate change.
Congress must respond to this citizen call for action. I ask colleagues on both sides of the aisle to join me in this fight. We owe it to future generations to take meaningful steps to address dangerous climate change now. There is no more time to waste.
Related