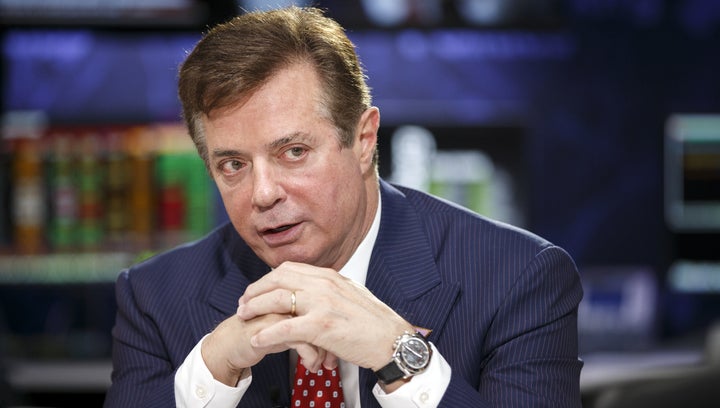 Manafort's filing Tuesday with the Justice Department shows his firm was paid $17.1 million from 2012 to 2014 for lobbying work he did on behalf of a pro-Russian political party in Ukraine, according to the reports. 
Manafort's spokesman, Jason Maloni, didn't immediately return a request for comment.
Manafort, who ran Trump's campaign from March 2016 to August, worked on behalf of the European Centre for a Modern Ukraine, a front group for former Ukranian President Viktor Yanukovych. (Yanukovych fled to Russia after he was ousted as president in 2014.) Manafort was required by federal law to register as a foreign agent for the work, but did not do so until this week. 
The Associated Press first reported on Manafort's undisclosed lobbying in August, while he was still chairman of Trump's campaign. According to that report, Manafort and fellow Trump adviser Rick Gates secretly helped funnel money from Yanukovych's party to two Washington lobbying firms in hopes of influencing U.S. policy.
Manafort resigned from the campaign two days after the AP report. (The two lobbying firms involved, the Podesta Group and Mercury Public Affairs, have since registered with the Justice Department. ) 
The AP reported in April that Manafort's firm received at least $1.2 million in what it said was $12.7 million in suspected off-the-books payments from Yankovych's party while he was still in power. 
"Mr. Manafort received formal guidance recently from the authorities and he is taking appropriate steps in response to the guidance," Maloni said in a statement in April following the AP report. "The work in question was widely known, concluded before Mr. Manafort began working with the Trump campaign and was not conducted on behalf of the Russian government."
Maloni told Politico on Tuesday that Manafort began the filing process in September, before the end of the presidential race. 
Manafort is one of several Trump advisers under FBI investigation in the agency's probe into whether Trump's campaign colluded with Russian officials to influence the outcome of the 2016 presidential election. He also has received scrutiny for his real estate deals and his business dealings with Russian oligarchs. 
Another Trump associate under investigation, former national security adviser Michael Flynn, retroactively registered as a foreign lobbyist for work he secretly did on behalf of the Turkish government. According to a New York Times report, Trump's transition team was aware Flynn was under federal investigation for that work before Flynn joined the administration. 
Calling all HuffPost superfans!
Sign up for membership to become a founding member and help shape HuffPost's next chapter
BEFORE YOU GO