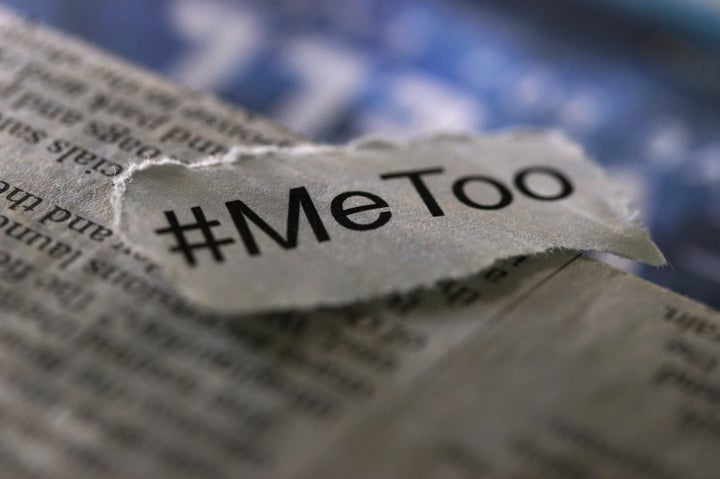 Americans believe workplace sexual harassment remains a problem, and hold generally favorable views of the Me Too movement, a new HuffPost/YouGov survey finds, although most say the movement has had little effect on them personally.
More than 70 percent of the public says workplace sexual harassment is at least a somewhat serious problem, the survey finds, with just 17 percent believing it's not very or not at all serious.
Americans say, 44 percent to 31 percent, that they hold a favorable view of the Me Too movement, with the rest unsure. Twenty-eight percent say that the movement has gone "too far," with an equal 28 percent saying it's been about right, and another 17 percent saying it hasn't yet gone far enough. (The survey was taken before news broke that actress and director Asia Argento, a key figure in the movement, had reportedly reached a settlement with a young actor who said she had sexually assaulted him while he was underage.)
But a majority, 62 percent, say they don't feel the movement has had much of an impact on their own lives. Just 17 percent say it's affected them positively, and only 6 percent that it's had a negative effect.
Views on both sexual harassment and the Me Too movement specifically cleave more sharply along political lines than along gender lines. Among Clinton voters, a nearly identical 82 percent of women and 79 percent of men hold a favorable view of the movement; just 28 percent of female Trump voters and 15 percent of male Trump voters are equally positive. Similarly, majorities of both male and female Trump voters ― 63 percent and 54 percent, respectively ― say that the movement has gone too far, a perspective shared by just 14 percent of male Clinton voters and a tenth of female Clinton voters.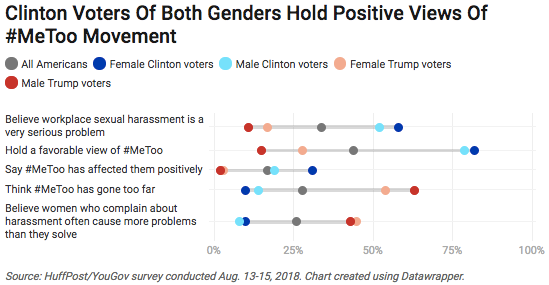 Most of the survey suggests that there's been little change in public opinion since last October when the accusations against former film executive Harvey Weinstein dominated headlines. But one number does indicate a potential change is that 26 percent of Americans now agree that "women who complain about harassment often cause more problems than they solve," up from 19 percent who said the same last fall.
Use the widget below to further explore the results of the HuffPost/YouGov survey, using the menu at the top to select survey questions and the buttons at the bottom to filter the data by subgroups:
The HuffPost/YouGov poll consisted of 1,000 completed interviews conducted Aug. 13-15 among U.S. adults using a sample selected from YouGov's opt-in online panel to match the demographics and other characteristics of the adult U.S. population.
HuffPost has teamed up with YouGov to conduct daily opinion polls. You can learn more about this project and take part in YouGov's nationally representative opinion polling. More details on the polls' methodology are available here.
Most surveys report a margin of error that represents some, but not all, potential survey errors. YouGov's reports include a model-based margin of error, which rests on a specific set of statistical assumptions about the selected sample rather than the standard methodology for random probability sampling. If these assumptions are wrong, the model-based margin of error may also be inaccurate. Click here for a more detailed explanation of the model-based margin of error.
Popular in the Community