Prince Harry gets emotional in a new interview while discussing his mother, Princess Diana, who died 22 years ago, and the resulting pain he feels when he hears a camera click.
The Duke and Duchess of Sussex appear in an interview that was filmed during their recent trip to Africa and will air Sunday on the British television channel ITV. In a newly released clip, Harry speaks with journalist Tom Bradby about the struggle of dealing with the press today and the festering wound left by his mother's death.
"I think being part of this family, in this role and this job, every single time I see a camera, every single time I hear a click, every single time I see a flash, it takes me straight back," Harry said. "So in that respect, it's the worst reminder of her life as opposed to the best."
"Being here now, 22 years later, trying to finish what she started, will be incredibly emotional," Harry says in the clip. "But everything I do reminds me of her. But as I said ― with the role ― with the job and the sort of the pressures that come with that, I get reminded of the bad stuff, unfortunately."
During the duke and duchess's recent trip to Africa, Harry walked through minefields in Angola, retracing the steps his mother famously took in 1997. The Sussex Royal Instagram account said that the duke was "humbled to be visiting a place and a community that was so special to his mother."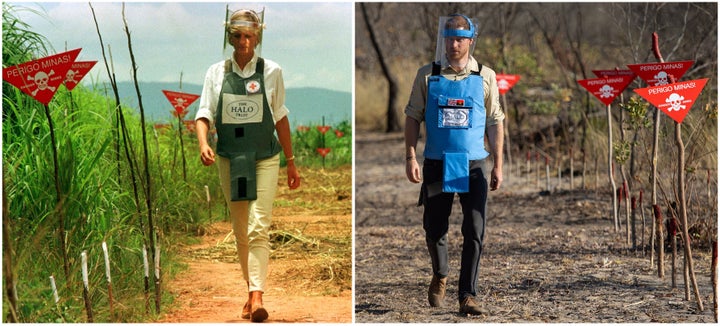 In the same ITV interview, Meghan speaks candidly about the mental health struggles she's faced under the intense media spotlight. During the conversation, the Duchess of Sussex looked close to tears.
"Look, any woman, especially when they are pregnant, you're really vulnerable and so that was made really challenging," she told Bradby. "And then when you have a newborn — you know... especially as a woman, it's a lot. So you add [media attention] on top of just trying to be a new mum or trying to be a newlywed..."
After pausing her train of thought, Meghan thanked Bradby for his question.
"Also thank you for asking, because not many people have asked if I'm okay. But it's a very real thing to be going through behind the scenes," she added.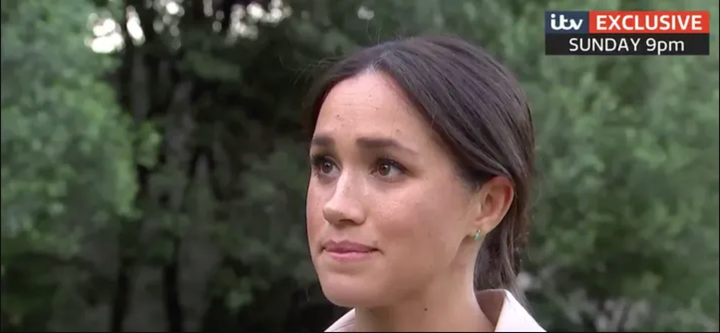 When Bradby asked the duchess, "Would it be fair to say, not really okay, as in it's really been a struggle?," she replied with a simple "Yes."