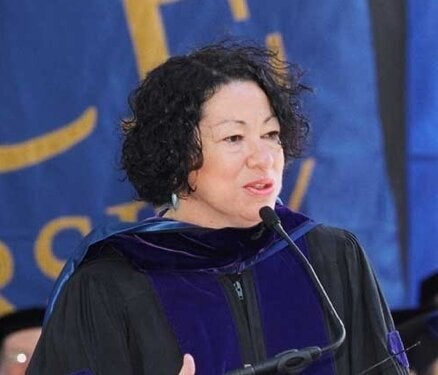 Well, almost nothing. To watch the coverage on mainstream news and in the conservative blogosphere one might think exactly the opposite, however.
In "First thoughts: It's Sotomayor," MSNBC's Chuck Todd, Mark Murray, and Domenico Montanaro announce today's historic nomination of Sonia Sotomayor, a Yale Law School graduate and Princeton undergrad who the President notes, has more experience 'than anyone currently serving on the Supreme Court had when they were appointed." Impressive stuff.
None of these credentials seem to top the fact that Sotomayor is a Latina woman, however. The piece— as well as many, many like it— begins:
At 10:15 am ET from the White House's East Room, President Obama will again make history by nominating the first Hispanic to serve on the U.S. Supreme Court: Sonia Sotomayor of the 2nd Circuit.
The commentators do not linger long on Sotomayor's extensive qualifications or unique background before diving into the politics allegedly lurking behind the pick. They speculate that the nomination clearly signals the Administration's desire to "check the box" when it comes to quote-unquote "Latino issues" in order to dodge a pesky immigration reform bill:
As we've mentioned before, Latino groups have been grumbling somewhat about their representation (or lack thereof) in the Obama administration, as well as the fact that immigration reform doesn't appear to be on the White House's front-burner. But this pick buys Obama A LOT of time with Hispanics -- a demographic he won last year, 67%-31% -- on immigration and other issues. Is it a coincidence that Obama this week heads out West to Nevada and California, two states with large Latino populations? [Emphasis ours].
I predicted three weeks ago that Sotomayor was guaranteed to get the nod — as a consolation prize for Hispanic pressure groups, since there isn't going to be an amnesty.
And while I love Chuck Todd (can't say the same of Mark Krikorian), here's a little reality check-list for both, from yours truly.
Those who think Sotomayor's nomination means no on comprehensive immigration reform (for those new to this whole world, "amnesty" is what Tanton's clan call any plan to fix our immigration mess) should consider these four points:
On point #1: the 2008 election produced a mandate for real immigration reform by Hispanic voters, who helped flip 4 states from red to blue and whose influence and clout are growing fast. New polling shows that roughly 72 percent of Latinos think that President Obama will keep his campaign promise and move a comprehensive immigration reform bill forward before the end of his first year in office. To simplify: Democrats in Congress, it's time to lean into this issue and get it done. Republicans, change course and help get this issue solved if you want to stop bleeding Latino voters.
On point #2: swing voters see inaction on the immigration issue as a major failure of Washington to solve tough problems. They don't think deporting 12 million people is the right way to go, but they also think doing nothing is no longer an option (to them, therein lies the real amnesty— letting unscrupulous employers who undercut American workers and taxpayers off scot-free, while doing nothing to reform the broken system). They overwhelmingly want to see comprehensive solutions enacted, and soon.
President Barack Obama is inviting members of Congress to the White House for a June 8 meeting to highlight immigration reform, an administration official confirmed to Politico Wednesday.

"The meeting will be an opportunity to launch a policy conversation that we hope will be able to start a debate that will takeplace in Congress later in the year," the official, who asked not to be named, said.
In the lead up to the White House kick-off meeting on June 8th, we're sure to see plenty more speculation about whether or not the Administration intends to take up reform. Even after Obama makes it clear, from the White House, that reform is part of his agenda for this year, I'm guessing most of the commentariat will continue to predict he won't do it, that his plate is too full, that it's too controversial, and on, and on, and on.
What they don't get is what President Obama understands: the American people voted for a change from business as usual in Washington. They hunger for leaders who address multiple challenges at the same time, who tackle— instead of cowering before— the controversial issues of our day.
Popular in the Community