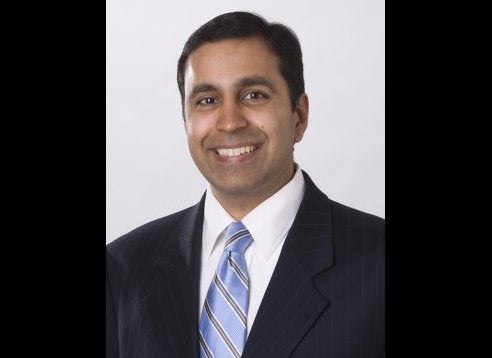 Raja Krishnamoorthi will be running in the 8th District, which is currently represented in name by freshman Republican Joe Walsh. But almost none of the geographic territory of Walsh's district falls within the boundaries of the new 8th, created in the recent Democratic redistricting process.
In fact, no incumbent Congressman lives in the newly-drawn area. Given that it appears to be a majority-Democratic district, it appears prime for the takeover.
Krishnamoorthi adds his (admittedly somewhat tortuous) name to the list of Democrats chomping at the bit to run for Congress under the new map, which creates two essentially open seats and puts nearly all the freshman Republicans in the state's Congressional delegation in precarious positions. The 10th, 11th, 14th and 17th Districts all have potential candidates getting their ducks in a row for challenges.
Five of the six Cook County Democratic committeemen in the district are on board. The DuPage County Democratic township leaders and the Democratic chairs of DuPage and Kane County have endorsed him. Cook County Board President Toni Preckwinkle is a supporter.

And as the Times of India reports, the new district also has a large Asian-American population, upwards of 12 percent. "I would venture to say that the (proposed) district has one of the highest concentrations of Asians in the entire Midwest," Krishnamoorthi told that paper, a fact that could also bolster his bid.
The candidate has relatively wide name recognition from a statewide race in 2010, where he sought the Democratic nomination for comptroller. He was narrowly defeated by David Miller, who then lost to Judy Baar Topinka in the general election. Krishnamoorthi was also considered for the Democratic nomination for Lieutenant Governor after Scott Lee Cohen won that election and then promptly resigned. Sheila Simon was ultimately chosen by party leaders to replace Cohen.
Krishnamoorthi has also worked with Barack Obama since early in his political career. He first worked on Obama's failed challenge to Bobby Rush in the 2000 Democratic primaries, then as a senior advisor for the successful Senate bid in 2004. He also advised on Obama's presidential campaign, and is a close friend of the president.
So far, no Republican candidate has announced a candidacy in the new 8th District.
Popular in the Community