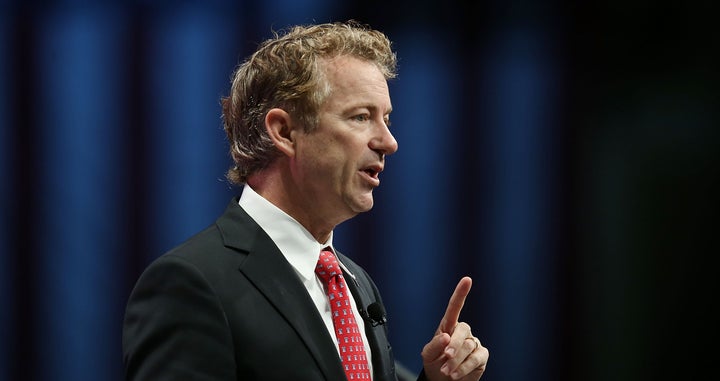 WASHINGTON -- The renewed debate over national security following the Paris terror attacks is once again putting the spotlight on Republican presidential candidate Rand Paul and his advocacy of less intervention abroad.
A presidential campaign in which foreign policy takes center stage poses a greater challenge for Paul than perhaps any other Republican hopeful. His rivals have painted the Kentucky senator as a strict isolationist -- a difficult brand to bear in the Republican Party, whose voters generally give a much higher priority to national security issues than do Democrats.
Yet as the GOP candidates sharpened their rhetoric over the weekend, urging President Barack Obama to accelerate the fight against Islamic State militants and reauthorize the National Security Agency program that collects bulk metadata, Paul struck a more measured tone. On Saturday, the senator told Fox News that the U.S. stands in solidarity with the French people against "barbarism" and called for the U.S. to do "whatever we can, whatever is necessary, frankly, to protect our people."
Rather than demanding more action in Syria and Iraq, Paul made clear on Monday that his focus was blocking the settlement of Syrian refugees in the U.S. 
The senator said he would introduce a bill to place a moratorium on refugees from up to 30 countries "with significant jihadist movements." The legislation would also set a 30-day waiting period for refugees traveling from countries in the U.S. visa waiver program, while those individuals underwent additional background checks. The bill would be paid for with a tax on armed sales to any of the 30 countries with jihadist movements.
"In order to be safe, in order to be secure, we can't just say, 'Hey, we've got an open door and we're going to take people from the Middle East,'" Paul said in a Monday conference call with reporters. "No one is immigrating, no one is studying, and no one is visiting our country without special scrutiny."
Like all his rivals, Paul knows that Americans, shaken by the events in Paris, are worried anew about their own safety.
"I think it's going to be an important shift," John McLaughlin, a veteran GOP pollster, told The Huffington Post. "He could suffer because of this."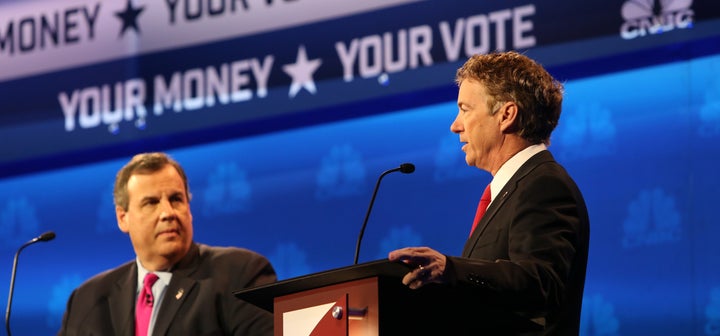 GOP strategist Ron Bonjean put it in more blunt terms.
"This hurts Rand Paul tremendously because Republican primary voters will want a stronger response [to the Paris attacks] from the Obama administration," he told HuffPost. "Paul's isolationist tendencies run counter to the strong national security rhetoric coming from most others in the GOP field."
So what are Paul's thoughts on Obama's strategy in the Middle East? On Monday, a few hours after the president said Republicans were demonizing Muslims in their demands to turn away Syrian refugees, Paul was given an opportunity to hit back. Instead, he launched into a familiar refrain about the risk of toppling dictators leading to further instability in the region.
"I think that was a mistake," Paul told reporters, referring to U.S. efforts to arm Syrian rebels. "I think that allowed a vacuum to form and it allowed a vacuum to grow."
The Kentucky senator has previously walked a tightrope between his less-interventionist worldview and the hawkish polices of many others in his party. In 2013, he came out against airstrikes in Syria. The following year he changed his tune, arguing that U.S. intervention against the Islamic State was indeed warranted.
Earlier this month, at the GOP primary debate in Milwaukee, Paul clashed with Sen. Marco Rubio (R-Fla.) over the issue of defense spending, which has ballooned during recent Republican administrations. Paul argued that conservatives ought to cut back on all federal spending, not just funds for nondefense programs. Rubio, a foreign policy hawk and an able debater, emerged largely unscathed from their exchange, earning a round of applause from the audience. But Paul won plaudits for reasserting his libertarian bona fides.
Battling low poll numbers just a few months before the crucial Iowa caucus and New Hampshire primary, Paul may feel pressured to project toughness on national security. 
"The challenge for Rand Paul is that it's an issue for him now as the Republican primary states quickly approach, so he will need to care about that a lot more at this point," Bonjean said.
The new bill to limit refugees coming to the U.S. could help shore up Paul's standing among Republican voters. The problem for the White House hopeful is that just shoring up his standing may not be enough.
REAL LIFE. REAL NEWS. REAL VOICES.
Help us tell more of the stories that matter from voices that too often remain unheard.