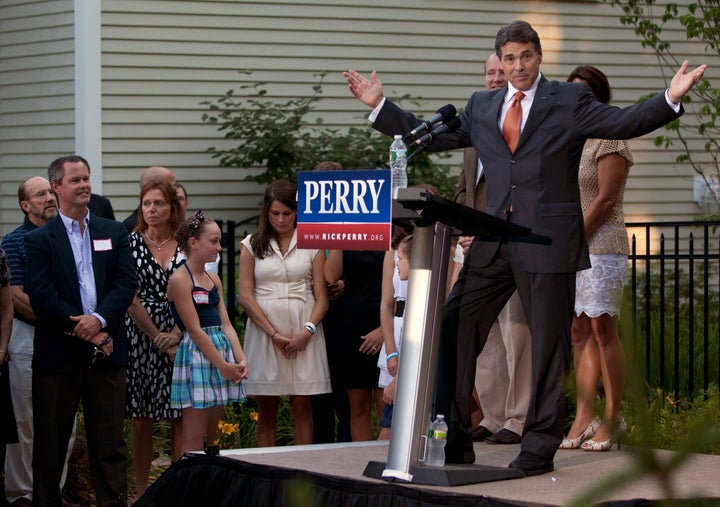 DALLAS -- It's official: Texas Governor Rick Perry has announced his candidacy for president of the United States, officially entering the race for the 2012 Republican nomination. The governor made his announcement Saturday at a conservative gathering in Charleston, S.C.
In his speech, Perry advocated for greater security along the U.S.-Mexico border and attacked the Obama Administration for failing to deliver promised jobs and economic growth. "That is not a recovery -- that is an economic disaster," Perry said, referencing recent data that indicate 1 in 6 working-age citizens is unable to find full-time employment.
Perry said the most urgent priority for the country is to revitalize the economy, emphasizing, "It's time to get America working again." He criticized President Obama directly, saying the president has been responsible "for downgrading American jobs, downgrading our standing in the world, downgrading our financial stability, downgrading confidence and downgrading the hope of a better future for our children."
In the speech, Perry -- who has held his post for 11 years, the most served by any sitting governor and the most by any governor of Texas -- spoke of his childhood as the son of cotton sharecroppers in the small town of Paint Creek, Texas, and invoked his religious faith as a grounding and guiding force in his life.
Chanting, "Perry, Perry, Perry," the audience of conservatives cheered as the Texas governor assured them that as president, he would continue opposing the Affordable Care Act passed under President Obama. He said he would provide the country with better leadership and a renewed presidency that would not accept the current direction in which the country is headed.
For Hispanic voters, however, there is some concern as to what exactly Perry's new direction would be.
Under Perry's mandate, Texas has reinforced security along the border with Mexico, adding more agents, and he has argued for the use of the National Guard, military-style special ops and unmanned aircraft outfitted with high-tech cameras to further monitor and control the border region.
This intensified vigilance has not come cheaply. In a report released by his own administration, the government reported having spent over $400 million since 2005 on border security programs.
Perry has also been a vocal supporter of the Texas Department of Public Safety's program to request valid residency documents from driver's license applicants who are not U.S. citizens.
At the beginning this year, Perry presented an emergency package of initiatives to the Texas state legislature that included the elimination of so-called 'sanctuary cities' in the state, a requirement that voters show photo identification at the polls, and a mandate that local police comply with federal immigration laws.
These proposals were met with criticism by civic leaders and Hispanic groups, who argued they would create an escalating environment of intimidation of voters and racial discrimination against Latinos. The Mayor of San Antonio, Julian Castro, called the initiatives "easily the most anti-Latino agenda in more than a generation, without shame."
Perry's announcement that he is running for President has been met with great interest and chatter in Republican and Tea Party circles. He is well-known and respected for his considerable political talents, including his campaigning style and fund-raising skills, which have brought him success in Texas. Perry has never lost an election.
Before he formally announced his candidacy, Perry had already attracted interest and been considered a formidable potential candidate thanks in part to the so-called "Texas Miracle" -- the fact that as most states shed jobs, large numbers of people have found employment in Texas.
In a June speech in San Antonio to the annual convention of the National Association of Latino Elected and Appointed Officials, Perry connected the economic success of Texas to the state's Latino population, saying, "It's no stretch to suggest the future of Texas is tied directly to the future of our Hispanic population."
"Hispanic-owned businesses have been experiencing an explosive growth," he continued. "Their numbers expand[ed] by more than 40 percent during the previous decade" in San Antonio alone. The governor also made reference to the increased enrollment of Latino students in Texas college and university programs, as well as the growing number who graduate and obtain degrees.
With the state's employment miracle losing its luster, Perry's image as leader who creates jobs is under strain. Texas Democratic Party spokeswoman Kirsten Gray said Saturday that Perry "needs a pink slip, not a promotion" because "he's been a disaster as Governor and would make an even worse President."
"Not surprising, Rick Perry is making his announcement in South Carolina instead of Texas – there's nowhere in the Lone Star State he could announce without an angry mob showing up," she added.
To gather the support of large numbers of Hispanic voters to help win the Republican nomination -- and to deal a major blow to President Obama's efforts to hold on to the White House -- Perry needs to convince them his plan for job creation will specifically benefit Latinos and their families.
Otherwise, Perry's aggressive and confrontational positions on immigration might lead that "angry mob" Gray mentioned to include a number of Hispanic voters.
Miguel Ferrer contributed to this report.
Popular in the Community