Rudy Giuliani's apparent drinking issues might tank one of Donald Trump's main legal defenses in the criminal cases targeting his attempts to overturn the 2020 presidential election.
According to a report from The New York Times, special counsel Jack Smith's office has questioned witnesses about Giuliani's alcohol consumption on and after election night, also asking whether Trump was aware his lawyer was impaired while advising him.
The story cited multiple accounts of Giuliani's "consistent, conspicuous intoxication," and noted that Trump, a nondrinker, had privately "spoken derisively" about Giuliani's alcohol use, according to a person familiar with the remarks who spoke with the Times.
Trump's knowledge of Giuliani's drinking could undermine his expected advice-of-counsel defense.
If he was aware Giuliani was inebriated while advising him, it would be difficult for the former president to say he was simply acting in accordance with professional legal guidance when pushing claims of a stolen election, according to the Times.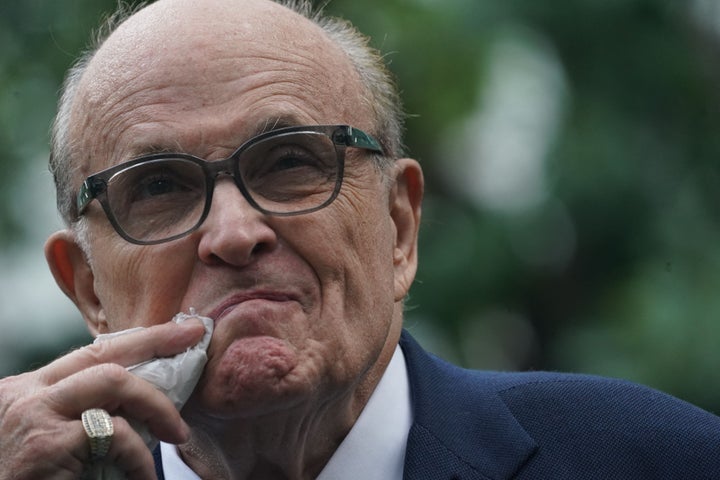 In further interviews with The New York Times, Giuliani's "friends, associates and former aides" appeared to agree the former mayor of New York's drinking had intensified his existing inclination for "conspiracism, gullibility" and "weakness for grandeur."
Andrew Stein, a former New York City Council president who has known Giuliani for decades, told the Times, "It's no secret, nor do I do him any favors if I don't mention that problem, because he has it. It's actually one of the saddest things I can think about in politics."
Ted Goodman, political advisor for Mayor Rudy Giuliani, disputed the accounts in a statement, telling both HuffPost and the Times, "I've been with the mayor on a regular basis for the past year, and the idea that he is an alcoholic is a flat out lie."
Giuliani is currently facing an array of financial and legal problems. He, along with Trump and 17 others, has been charged with racketeering in Georgia for engaging in an alleged criminal conspiracy to subvert the state's election results.
Giuliani has been accused of sexual misconduct by two former associates and is being sued by Hunter Biden for "hacking" into a lost laptop that belonged to President Joe Biden's son.
"I like Scotch," he said. "I'm not an alcoholic. I'm a functioning — I probably function more effectively than 90% of the population."
Support HuffPost
The Stakes Have Never Been Higher
Popular in the Community