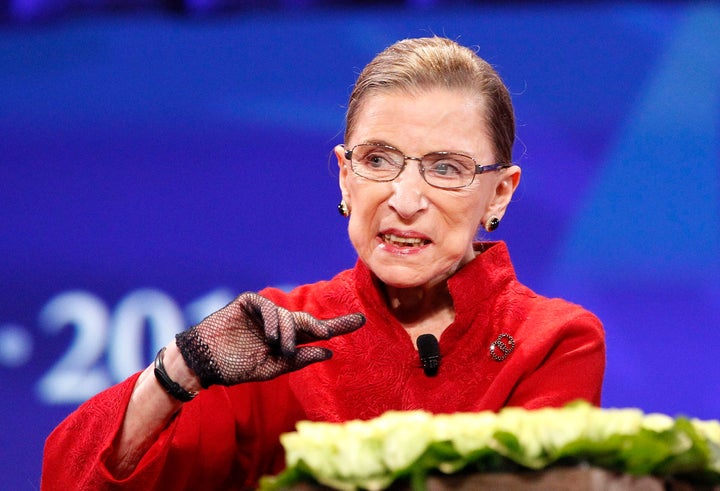 The Supreme Court is in recess for the summer, but Justice Ruth Bader Ginsburg took some time to reflect on its future composition, which will chiefly depend on who is elected president in November.
Asked on Thursday about the prospect of Donald Trump being handed the job of selecting the next crop of justices, she seemed uneasy at the thought.
"I don't want to think about that possibility, but if it should be, then everything is up for grabs," she told The Associated Press in a wide-ranging interview that also touched on the loss of her dear friend Antonin Scalia and some of the court's biggest rulings in the term that ended in late June.
Revealingly, Ginsburg seemed to signal that she'd rather have Hillary Clinton shape the makeup of the Supreme Court, where as many as four seats ― including her own ― could be in play.
"It's likely that the next president, whoever she will be, will have a few appointments to make," Ginsburg said.
At 83, the matriarch on the nation's high court hasn't been shy about the need for a fully functioning bench. In May, she said at a conference that having eight justices "is not a good number" for the Supreme Court.
Justices Stephen Breyer and Anthony Kennedy ― each of them instrumental in recent landmark rulings on abortion and affirmative action ― are also on the verge of turning 80, and thus possibly near retirement, which underscores Ginsburg's comment that the high court is indeed "up for grabs" this election cycle.
The presumptive nominees for both parties seem to be on notice. In January, Clinton suggested in an op-ed that a Republican president would "break" the Supreme Court, while Trump has tried to allay fears that he's not fit to nominate conservative justices by offering up a list of potential candidates.
Popular in the Community