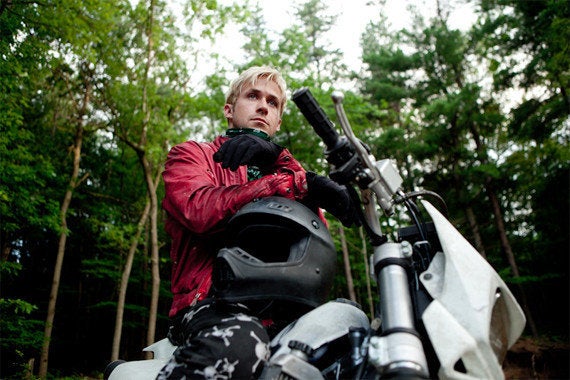 Ryan Gosling is becoming the king of wardrobe extremes.
The 30-year old Oscar nominee rocked some sweet threads in this summer's "Crazy, Stupid, Love.," but then donned a hideous (though kind of hideously amazing) white, scorpion-adorned jacket in the gruesome pulp thriller, "Drive." Then it was back to fancy duds for "The Ides of March." But no style extreme comes close to touching the wardrobe for his next film, "The Place Beyond The Pines."
As you can see from the photo below, Gosling is geared in some terrible sartorial choices. The skeleton pants, the Michael Jackson "Thriller" jacket, and, most of all, the bleach blonde hair. Playing a pro motorcyclist who becomes a thief to support his son (and maybe get new clothing), Gosling goes up against Bradley Cooper, who will play a rookie cop in the film. Eva Mendes co-stars as Gosling's lady friend, who clearly cares more about faces than clothing choices.
Still, we're very excited about the film, as it sees the reunion of Gosling and his "Blue Valentine" director Derek Ciafrance.
PHOTO: