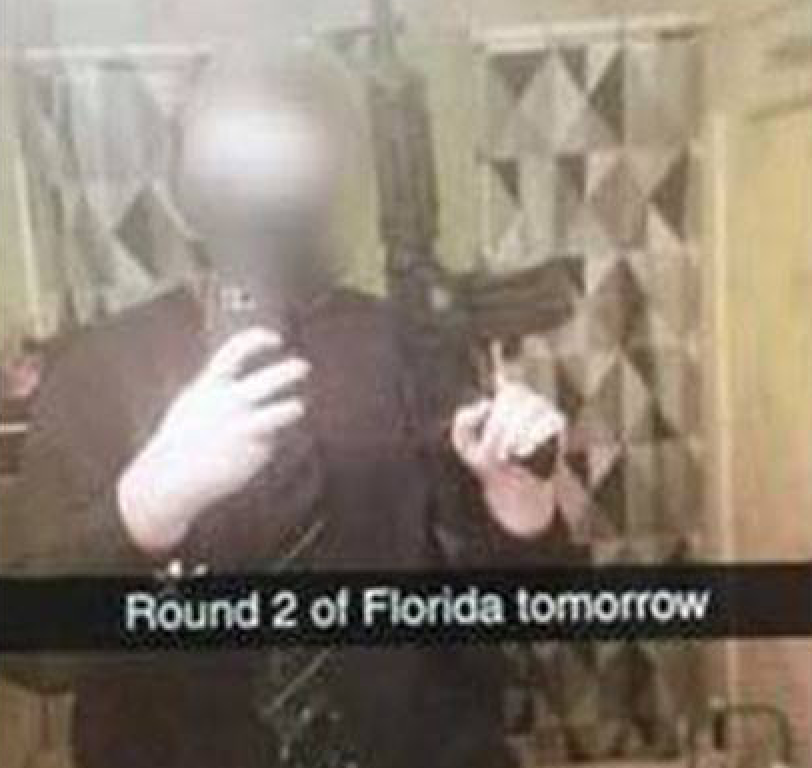 In the days since last week's mass shooting at Florida's Marjory Stoneman Douglas High School, schools across the country have been receiving an onslaught of copycat threats.
Officials from Maryland to California, and all the way to Hawaii, have locked down campuses, closed entire school districts and arrested dozens of students. 
As mass shootings soak deeper into America's cultural pathology, so has the ritual surrounding them: unspeakable shock and grief, hollow promises from politicians ― and copycat threats. 
Kids who make threats ― hoax and real ― after a mass murder reflect an endemic of poor mental health in young people and a lack of resources, according to Robert Myers, a professor and clinical psychologist who works with children and teens in Southern California.
"The kindling is there and the spark will get the fire going," Myers said. 
A day after the Parkland shooting, a South Carolina high school freshman was charged after posting a Snapchat photo of himself holding a rifle (later identified as an airsoft gun) with the caption, "Round 2 of Florida tomorrow." The student claimed it was a joke.
The picture didn't just prompt panic at one school. Students in other states used the same image to make threats at their own campuses, prompting arrests there, too.
In Brevard County, Florida, deputies arrested a 14-year-old girl who posted the photo to an Instagram account titled "brevard shooter," targeting students in Space Coast Junior/Senior High School. She said she thought the post would be "funny." Charges against her were later dropped.
In Southern California, a school security guard foiled a potential attack after he overheard a high school student speaking of plans to shoot up the school. Police later found a cache of AR-15s, handguns and ammunition at the student's home. Similar cases played out in Maryland and Pennsylvania, where students were arrested after officers found weapons while investigating threats.  
The Imitation Game
Two types of school threats typically surface after a mass shooting, including last week's in Florida: hoaxes made by students who claim they were joking, and threats made by people who are actually frustrated and upset.
Kids in the first group may "just have very poor judgment" and are looking for attention, according to Myers. He likened it to a common school prank: "Kids always set off fire alarms."
But students in the second group are likely lashing out because the shooter's anger mirrors their own frustrations at school or home, according to Myers. News of the violence inspires them to release their own feelings with a threat to do the same thing, he said. 
A scientific paper on mass shootings, published less than two weeks before the Parkland shooting, calls these copycat attempts "generalized imitation." The paper's authors partially blamed exhaustive media coverage of school shooters for inspiring copycats.
Generalized imitation, the authors wrote, "explains how people can learn to imitate actions they see and hear." They added: "When a mass killing occurs, there appears to be an increased risk that similar behaviors will occur."
It could translate to another deadly event.
Studies have found that a mass shooting is likely to occur 13 days to 14 days, on average, after another one. "Essentially, one attack appears to induce another," the researchers wrote. "There is an imitative or 'contagion' effect."
Essentially, one attack appears to induce another. Researchers call it the 'contagion' effect.
Myers told HuffPost that the spike in student threats following a mass shooting suggests a dire need for mental health resources in schools.
If a student reacts to a mass shooting with threats, Myers said, it's likely that the person is facing mental or behavioral issues, including depression, ADHD, autism spectrum disorders or conduct disorders.
It also could indicate that they're generally distressed due to bullying, problems at home, struggles with schoolwork, or a feeling of being marginalized in some way. Even some kids who suffer from anxiety may respond with threats "as a means of protecting themselves," said Myers.
Bullying of students already laboring with mental or behavioral issues can cause further distress, making it more likely that a mass shooting will provoke a reaction, Myers said. A troubled student can see a high-profile crime as a way to handle their own problems. If they're already having violent thoughts, their motivation to act might increase.
"If [the shooting] coincides with their feelings of rejection or bullying, or they're already angry at the school or angry at [a specific person], they'll see this event and go, 'Oh, that's what I'm going to do," Myers said.
Kids Need Help That Schools Aren't Offering
This copycat phenomenon sheds light on a larger problem: Students suffering from mental health issues or neurological disorders are not receiving help they need from their schools.  
The Association for Children's Mental Health estimates that one in five children have a "diagnosable emotional, behavioral or mental health disorder," and one in 10 have a mental health challenge "that is severe enough to impair how they function at home, school or in the community." 
Much of that goes untreated. A 2015 report from the mental health nonprofit Child Mind Institute says 60 percent of kids with depression, 80 percent with anxiety disorder and 40 percent with ADHD aren't receiving necessary treatment. 
"It's a huge issue," Amanda Nickerson of the Alberti Center for Bullying Abuse Prevention told The Washington Post. "We do not have enough mental health professionals to meet the increasingly complex needs of the students that are walking through the door."
The National Association of School Psychologists recommends one school psychologist for every 500 to 700 students, yet the U.S. student-to-psychologist ratio is estimated to be 1,381-to-1. School counselors are similarly overloaded. The American School Counselor Association recommends one counselor for every 250 students, but the current ratio stands at 1-to-491.
Even if a troubled student does receive some help in school, it may not be what they need. Some students may need therapy with an off-campus psychologist or child psychiatrist (who can prescribe medication), but there's a shortage of those professionals outside of schools, too.
Myers said there are long waiting lists to see child psychologists, and access is even worse if families have Medicaid or rely on county agencies. There's been a critical shortage of practicing child psychiatrists (and psychiatrists in general) for years.
Along with hiring more school psychologists and strengthening gun laws, Myers suggested mental health courses for students. 
The Hawn Foundation, for example, developed the MindUP program ― a 15-lesson curriculum to teach students healthy social, emotional and self-regulation skills. Myers also suggested was Mental Health First Aid, a training program promoted by former President Barack Obama aimed at teaching adults how to identify and respond to children with mental health problems. It's not unlike regulations that require teachers, coaches and flight attendants to take CPR and first-aid training.
"There are all kinds of stuff we can do to turn the culture around," Myers said. "And it should start with the kids."
REAL LIFE. REAL NEWS. REAL VOICES.
Help us tell more of the stories that matter from voices that too often remain unheard.
BEFORE YOU GO