Scott Pruitt, the embattled Environmental Protection Agency administrator, admitted Thursday that he signed off on controversial five-figure raises for political appointees, contradicting statements he made in a tense Fox News interview earlier this month.
Speaking at the first of two House hearings, Pruitt said gave chief of staff Ryan Jackson the green light to use a special loophole in the Safe Drinking Water Act to boost the salaries of Millan Hupp and Sarah Greenwalt, two of his longtime aides from Oklahoma who now work at EPA, even after the White House rejected the request.
"There were delegations giving him that authority," Pruitt said in response to questions from Rep. Paul Tonko (D-N.Y.). "I was not aware of the amount, nor was I aware of the bypassing or the [White House Office of Presidential Personnel] process not being respected."
He reiterated the statement in the second hearing later in the afternoon, and insisted he canceled the raises and resubmitted the requests to the White House.
That was the extent of Pruitt's acknowledgement of any wrongdoing. The hearings ― one before the House Committee on Energy and Commerce, the other in front of the House Committee on Appropriations ― cap a month of mounting calls for Pruitt to step down.
Over the course of the first nearly four-hour hearing, the administrator defiantly blamed the media for his mounting ethics scandals. He repeatedly deflected Democrats' questions about the lapses and proposals to dramatically weaken public health regulations, ducking yes-or-no inquiries with a verbose torrent of legalese.
"I recognize there have been some very troubling media reports over the past few weeks," Pruitt said in opening remarks repeated at both hearings. "A lie does not become truth just because it appears on the front page of the newspaper."
Asked about a proposal to dramatically limit the public health research EPA can use to write regulations, disqualifying the sort of epidemiological pollution studies that undergird federal air pollution rules, Pruitt deployed canned statements to defend what he called "transparency" measures. Asked if he had anything to say to the families of people who died inhaling the toxic paint stripper methylene chloride, Pruitt said he hadn't made a decision yet on a ban. Asked about his security guard moonlighting for the tabloid publisher who paid to cover up stories about President Donald Trump's reported extramarital affairs, Pruitt said he "was not aware of that outside contract, and it's being reviewed."
Republicans at the first hearing were swift to defend the administrator.
"I apologize for the abrasiveness of some of my colleagues who would rather tarnish your reputation than address the problems facing the nation," said Rep. Jeff Duncan (R-S.C.).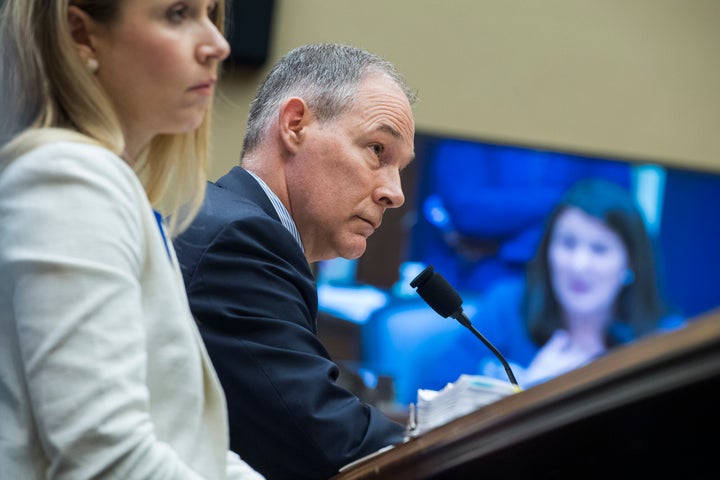 Rep. David McKinley (R-W.Va.) admonished Democrats for a "classic display of innuendo and McCarthyism."
"I hope that we can stay on policy and talk about some of the progress that's been made," McKinley said, "because I think that it's been good for the environment."
Rep. Bill Johnson (R-Ohio) dismissed questions into Pruitt's mounting ethics scandals as "a personal attack" and "a shameful attempt to denigrate the work that's being done at the EPA."
Rep. Joe Barton (R-Texas) described Pruitt as "a victim of ... Washington politics." He lauded Pruitt's efforts against "radical clean air policies," and pointed out that the administrator's penchant for first-class flights "may look bad," but "it's not illegal." The EPA chief hadn't done anything like renting "a party jet," he noted.
Rep. Kathy Castor (D-Fla.) criticized Republicans for refusing to take the committee's oversight duties seriously.
"It's embarrassing," she said.
In a stunning rebuke of his critics, Pruitt made no direct mention of the growing heap of corruption accusations against him in his prepared testimony, and again cast blame on his staff for the whirlwind of ethical lapses that triggered 10 federal investigations over the past month.
"I am not afraid to admit there's been a learning process," Pruitt said in an unscripted comment during his opening remarks.
Pruitt has faced criticism for months over his spending on first-class flights, seemingly in violation of federal rules, which he justified as a safety measure to avoid passengers in coach who might accost the administrator over his controversial deregulatory agenda.
But, in late March, details emerged about a $50-a-night luxury Capitol Hill condo Pruitt rented from an energy lobbyist with business before the EPA. That scandal quickly cascaded into more than two dozen more as new reports revealed shady real estate deals in Oklahoma, use of multiple email accounts, and a tyrannical management style in which EPA staffers who questioned Pruitt's actions were fired or pushed out.
A New York Times story published April 5, detailing how five EPA employees were sidelined after raising concerns about Pruitt's spending, became a flashpoint at the first hearing.
Asked about the article by Rep. Frank Pallone (D-N.J.), Pruitt said he didn't remember the incident, kicking off a testy exchange.
"I don't ever recall a conversation to that end," Pruitt said.
Pallone responded: "I'll take that as a yes."
"A lie does not become truth just because it appears on the front page of the newspaper."
"You shouldn't take that as a yes," Pruitt said.
Despite regaling what he called a "bloodsport" of going after any Republican who supports the president, Rep. Gregg Harper (R-Miss.) asked later in the hearing how the EPA investigated allegations such as those made in the Times story.
"There's no truth to the assertion," Pruitt said. "I'm not aware of that ever happening."
The EPA's notoriously hostile press office cast doubt over many of the reports, suggesting political motivations. But, earlier this month, a former top staffer to Pruitt, who described himself as a lifelong Republican and former Trump aide, detailed "unethical and potentially illegal" activities to top Democrats leading an investigation. Four days later, the nonpartisan Government Accountability Office issued a report finding EPA spending on a $43,000 soundproof phone booth for Pruitt broke the law.
Pruitt blamed career staff for taking "the process all the way through."
"If I had known about it," Pruitt said, "I would have refused it."
Trump for weeks projected strong support for Pruitt. But Bloomberg reported on Monday that the White House had begun urging Republicans to temper their defenses of the embattled administrator.
At least five Republicans members of Congress have joined 170 Democrats calling for Pruitt's departure. Even Sen. James Inhofe (R-Okla.), who counts Pruitt as a friend and protege, signaled concern over Pruitt's ethical issues, calling this week for a hearing before the powerful Senate Environment and Public Works Committee.
The swirling scandals haven't slowed Pruitt's deregulatory onslaught. At the start of the month, Pruitt, flanked by auto executives, announced plans to gut a landmark Obama-era rule tightening fuel standards on vehicles, effectively weakening the only major federal policy remaining to reduce planet-warming emissions from the nation's top source of greenhouse gas pollution. On Tuesday, Pruitt proposed the new "transparency" rule, which former tobacco industry lobbyists hailed as a victory.
Before You Go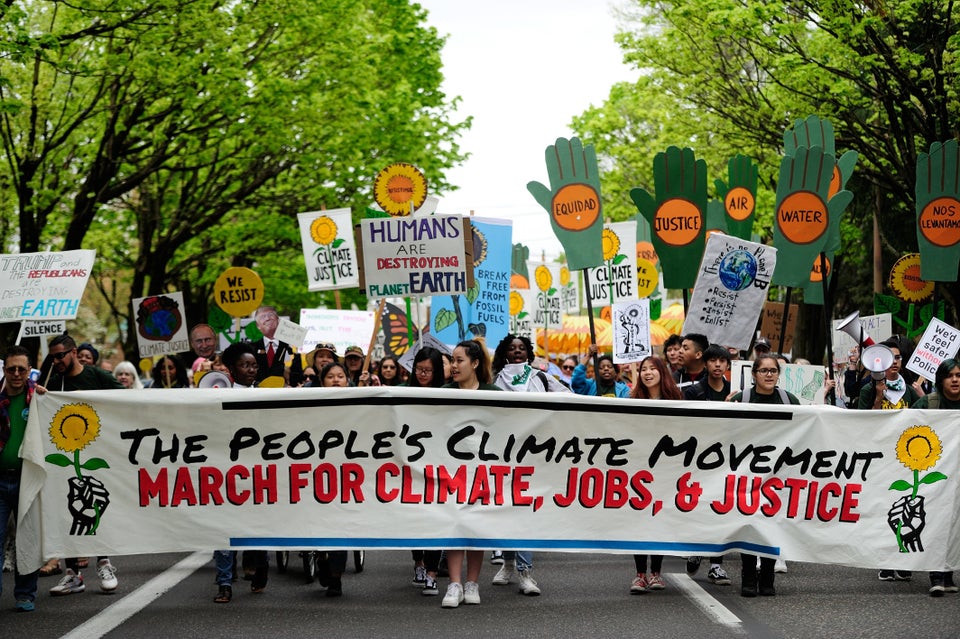 Climate Marches Across The U.S.
Popular in the Community