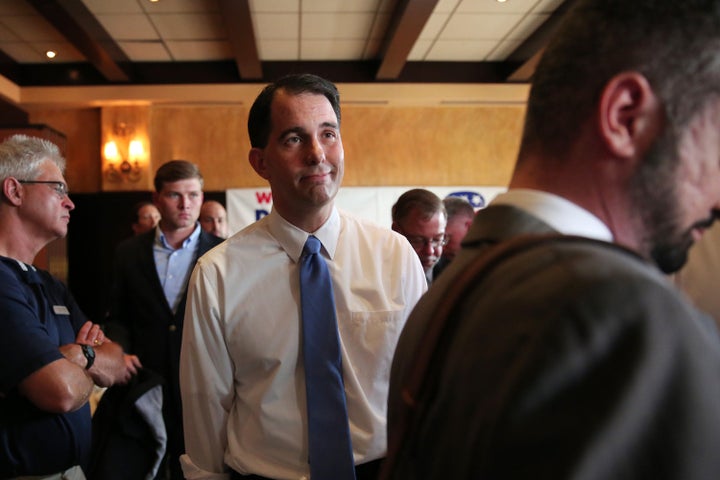 WASHINGTON -- It didn't take long for Donald Trump's surging presidential campaign to drag his fellow Republican rivals further to the right.
Wisconsin Gov. Scott Walker (R) said on Monday that his immigration proposals were "very similar" to those of the real estate magnate, who over the weekend released a tough new plan exclusively focused on enforcement and cracking down on unauthorized immigrants. Walker said that he, too, wanted to build a wall on the U.S.-Mexico border, which is one of Trump's most controversial proposals.
"Earlier in the year, I was on 'Fox News Sunday' and laid out what I thought we should do, which is secure the border, which means build the wall, have the technology, have the personnel to make sure it's safe and secure," Walker said in an interview with Fox News.
The governor and presidential contender was referring to a March interview in which he did not mention a wall, but discussed the need to crack down on illegal immigration more generally.
Walker's recent comments on immigration have been less hard-line than his comments on Monday indicated. Asked by Breitbart News last week whether he supported building a wall, he simply said the U.S. needed to secure its southern border through "better infrastructure, personnel and technology."
Earlier this year, Walker admitted to shifting his position regarding a path to citizenship for undocumented immigrants.
In 2013, Walker advocated for "a saner way to let people into the country" rather than focusing only on border security or the construction of a wall to address the status of millions of undocumented immigrants living in the U.S.
"You hear some people talk about border security and a wall and all that," he said at the time. "To me, I don't know that you need any of that if you had a better, saner way to let people into the country in the first place."
He now says he has changed his mind, and argues that the country must first beef up its border security before dealing with undocumented immigrants, a more typical conservative stance.
According to the latest Fox News national poll of registered voters -- the first such poll since the GOP debate on Aug. 6 -- Walker trails behind Trump, retired neurosurgeon Ben Carson, Texas Sen. Ted Cruz, former Florida Gov. Jeb Bush and former Arkansas Gov. Mike Huckabee.
UPDATE: 12:05 p.m. --
After speaking at the Iowa State Fair in Des Moines
on Monday
morning, Walker told a reporter that he supported ending birthright citizenship -- another tenet of Trump's recently unveiled immigration plan.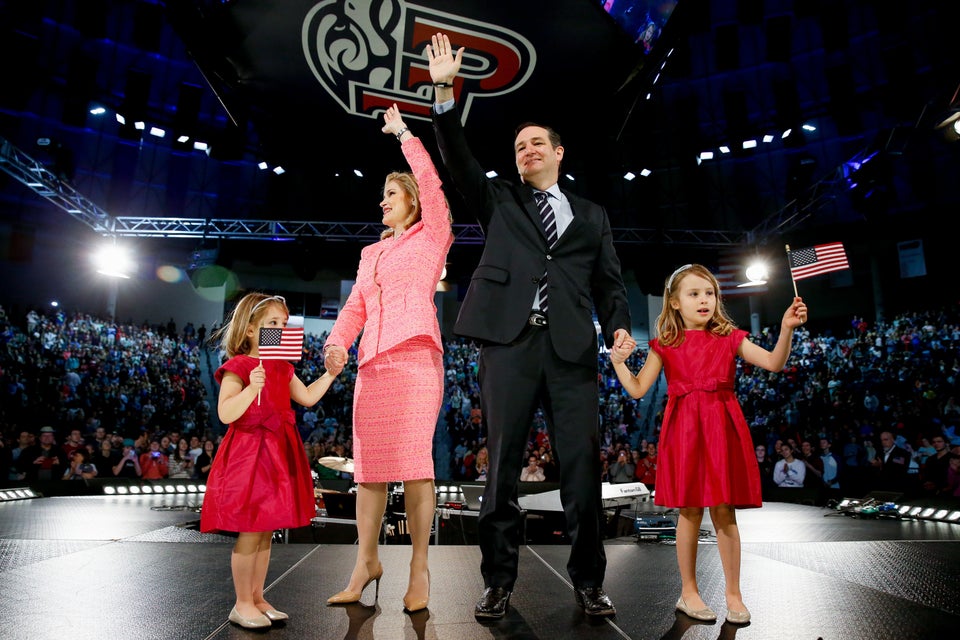 Declared 2016 Presidential Candidates
Popular in the Community