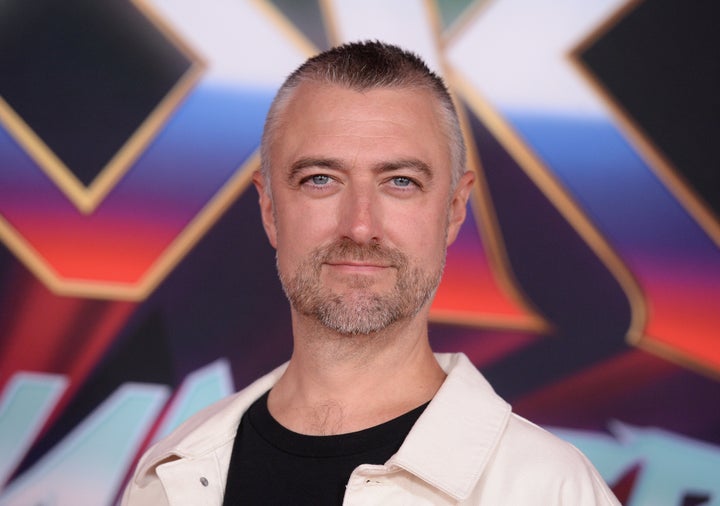 Sean Gunn blasted Disney CEO Bob Iger over the executive's recent comments about the writers and actors who are fighting for more equitable wages and working conditions.
The actor — who plays Kraglin in Disney's "Guardians of the Galaxy" movies and has provided motion capture for Bradley Cooper's CGI character Rocket — questioned Iger's sense of morality after the CEO said it was "a shame" that the Writer's Guild of America East and West and the Screen Actors Guild-American Federation of Television and Radio Artists are now both on strike. (HuffPost's unionized staff are also members of the WGAE.)
"I think when Bob Iger talks about, 'What a shame it is,' he needs to remember that in 1980, CEOs like him made 30 times what their lowest worker was making," Gunn, the brother of "Guardians" director and now-DC Film co-CEO James Gunn, said from the picket line in a short video that was shared by The Associated Press Friday.
"Now Bob Iger makes 400 times what his lowest worker is," Gunn went on, "and I think that's a fucking shame, Bob."
"Maybe you should take a look in the mirror and ask yourself 'Why is that?'" Gunn said. "And not only 'why is that' ― is it OK? Is it morally OK? Is it ethically OK that you make that much more than your lowest worker?"
"And if so, why? Why is that OK? If your response is that that's just the way business is done now, that's just the way corporations work now — well, that sucks," Gunn continued. "And that makes you a shitty person, if that's your answer. So, you should come up with a better answer than that."
Last week, Iger took a break from the Sun Valley Conference in Idaho, an annual gathering of millionaire and billionaire CEOs, to complain to CNBC about the simultaneous Hollywood strikes. Iger was dismissive of the protests, which have called attention to the immense wealth gap between executives and workers. He called the protests "disturbing" and said picketers' demands are "not realistic."
Iger, whose compensation package amounts to as much as $27 million a year, argued to CNBC's David Faber that the strikes "will have a very, very damaging effect on the whole business." (Members of both guilds have repeatedly said that studio executives could quickly end the strikes by agreeing to a fair deal.)
"It will affect the economy of different regions, even, because of the sheer size of the business," Iger said. "It's a shame, it is really a shame."
Gunn, who is also known for playing the kooky Stars Hollow resident Kirk Gleason on "Gilmore Girls," emphasized the income disparity between CEOs and workers while talking to The Hollywood Reporter from the picket line Friday.
He told the entertainment magazine that he "particularly wanted to come out and protest Netflix," citing what he called a lack of residuals he's received from the company's profits for streaming the incredibly popular WB series. Gunn appeared in 137 episodes of "Gilmore Girls" between 2000 and 2007, according to IMDb. He also appeared in the show's 2016 Netflix revival, "Gilmore Girls: A Year in the Life."
"I was on a television show called 'Gilmore Girls' for a long time that has brought in massive profits for Netflix," Gunn told THR. "It has been one of their most popular shows for a very long time, over a decade. It gets streamed over and over and over again, and I see almost none of the revenue that comes into that."
THR notes that although "Gilmore Girls" is available on Netflix, residuals from the show come from Warner Bros. Discovery, the studio that produced and licenses the series to the streamer. The outlet also notes that Gunn and his co-stars get paid the same in residuals "regardless of how many people watch the series wherever the studio places it."
Despite this, Gunn stressed that Hollywood's current business model doesn't work anymore for the people who actually make the product, and that many working actors and writers are financially struggling.
"You really need to rethink how you do business and share the wealth with people," Gunn told THR. "Otherwise, this is all going to come crashing down."
Support HuffPost
The Stakes Have Never Been Higher
Popular in the Community