WASHINGTON -- Democrats not only got much of what they wanted in Tuesday's deal to move some of President Barack Obama's nominees through the Senate, they also got what they see as an important bonus -- casting Minority Leader Mitch McConnell in an unflattering light.
The unfortunate moment culminated Tuesday morning, when Senate Majority Leader Harry Reid (D-Nev.) marched onto the Senate floor not with the leader from Kentucky opposite him to announce a deal to pass the stalled nominees, but with Sen. John McCain (R-Ariz.).
McCain was there, according to several sources who spoke about private, behind-the-scenes talks on the condition of anonymity, because he and and several other Republicans grew fed up with their own side's stalling tactics and went around McConnell (R-Ky.) to cut the deal with Reid and Sen. Chuck Schumer (D-N.Y.), avoiding a "nuclear option" rules change to pass the nominees.
Reid declined to gloat, but he went out of his way to praise McCain effusively on the Senate floor.
Democratic aides were less circumspect.
"Today was really, really bad for him," said one, revealing that McConnell was cut out of the deal and rebuffed by Reid twice when he tried to personally work his way back in -- including just minutes before the Nevada lawmaker went to the floor with McCain.
Schumer was in Reid's office just before 10 a.m. Tuesday when he learned McConnell was inside meeting with Reid. "What's going on?" he asked, according to an aide. But he quickly answered his own question. "He's in there trying to save face. He's trying to cut a deal because he knows we have McCain in the end."
Aides said that while McCain and the other Republicans extracted a promise from Reid to get two controversial nominees for the National Labor Relations Board replaced with new ones, McConnell's two last-ditch bids were aimed at cutting his own deal.
McConnell and Reid first met on Monday afternoon in an unscheduled meeting about two hours after McCain sat with the majority leader. "Mitch, I know you came to see me, but let me just start off by telling you: I have the votes," Reid told McConnell, according to an aide Reid briefed immediately after. "Say whatever you want, but I have the votes."
"Here's my offer," McConnell responded. "You'll get all your nominees, but you have to agree that there'll be no more rules changes."
McConnell would have let the controversial National Labor Relations Board nominees pass -- despite GOP objections that two courts have deemed their recess appoints unconstitutional -- in return for an iron-clad promise from Reid to forsake the nuclear option -- the controversial procedure that would allow a simple majority to change Senate rules, instead of the usual supermajority.
"The key point is that [McConnell] backed off all of his other demands yesterday and again today and said he'd give us everyone [all the nominees] as long as Reid agreed not to go nuclear this Congress," another Democratic aide said. "Reid refused twice. At the end, that was his single, solitary demand and he didn't get it."
"He left empty-handed and has just been completely humiliated by his own caucus," said another aide.
Republicans declined to pile on McConnell. McCain said later that McConnell was involved and talking to Reid the whole time, although McCain didn't elaborate.
Sen. Rob Portman (R-Ohio) noted that gangs that circumvent the leaders are pretty common in the Senate.
"It's not unusual," Portman said. "It's the way the Senate works," he added, pointing to 2005, when McCain was also a central figure in heading off a nuclear option showdown on judicial nominations when Sen. Bill Frist (R-Tenn.) was the majority leader.
Somewhat ironically, the deal that McCain cut is the same one McConnell himself thought up.
McConnell's office noted the veteran lawmaker proposed the deal to replace the labor board appointees months ago, as far back as January.
McConnell himself felt he needed to make that point when he addressed reporters later in the day (WATCH his self-defense above.)
He declared at least a modest victory. "All the options available to the minority remain intact," McConnell said, because the GOP didn't make promises on future nominations, or legislation.
But he ducked a question specifically asking if McCain went around him, saying that there was "a pool of senators on our side ... who were interested in not giving up on the prospects of working this out."
McConnell put most of the credit for the deal on the success of the unusual all-senator caucus Monday night in the Old Senate Chamber, calling it "critical."

"Put this down as progress in the right direction, and the best possible atmosphere to go into the balance of the year, when we have much tougher issues down the road," McConnell said.
But Democrats were looking even farther down the road, to McConnell's reelection. One noted that McConnell has made his influence in Washington a key selling point -- one now undercut by members of his caucus going around him on a key procedural fight, and before that in the push for immigration reform. "He has essentially now been cut out of the process on nominees," the Democratic aide said. "John McCain is now the minority leader on nominations."
A senior Republican staffer who was asked by HuffPost to sum up the situation did not have a much better take.
"This is about leadership, on both sides, and there is no leadership," the GOP aide said. "But, yeah, I think McConnell handled this especially poorly."
Support HuffPost
The Stakes Have Never Been Higher
Before You Go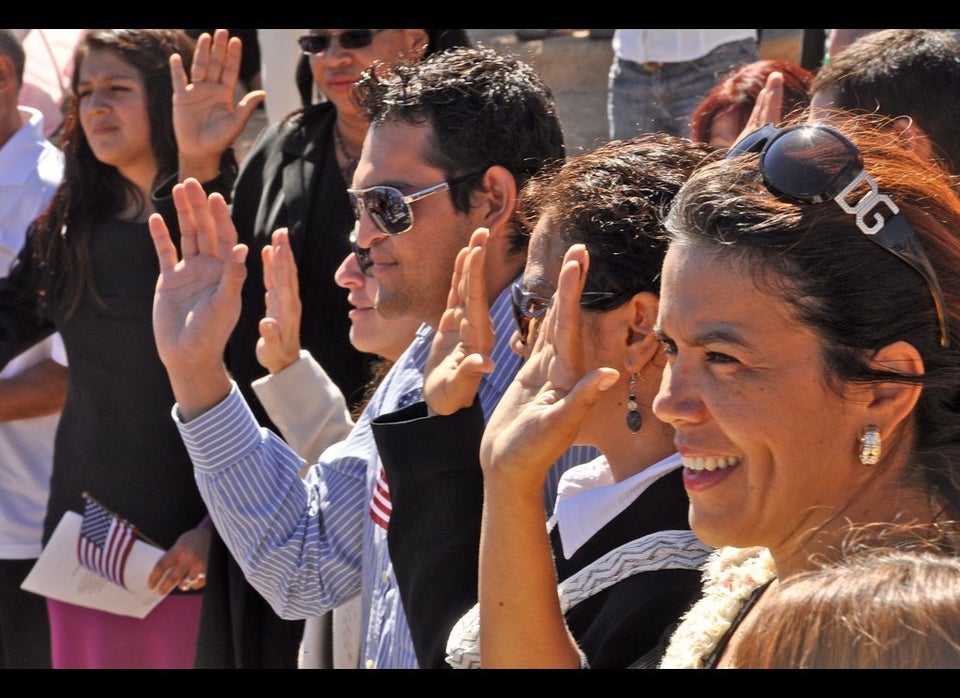 10 Major U.S. Federal Immigration Laws
Popular in the Community