At least nine people were killed and 27 injured in a mass shooting in Dayton, Ohio, early Sunday morning, officials said ― the second horrific slaughter in America in less than 24 hours.
The assailant has been identified as 24-year-old Connor Betts. His brother, Jordan Cofer, was among the shooting's fatalities, police said at a Sunday press conference.
Connor Betts was armed with a legally obtained .223-caliber rifle with 100 round drum magazines when he carried out the assault in the city's downtown Oregon District around 1 a.m, said Dayton Police Chief Richard S. Biehl. Betts was wearing a mask, bulletproof vest and hearing protection.
"Any suggestion of motive is irresponsible," Biehl said, adding that the motivation may not even be "understandable."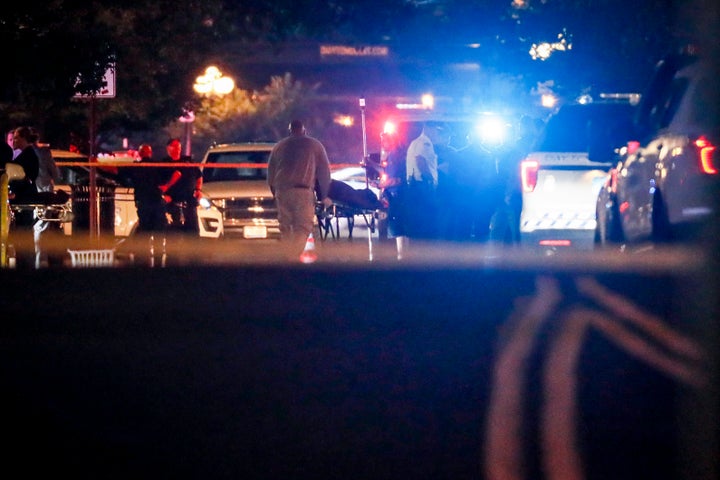 The gunman had traveled to the downtown area with his brother and a male "companion of the suspect." It's not clear whether his assault gear was inside their car at the time. At some point between their arrival and the shooting, Connor Betts became separated from the others, though it's not clear what he did during that time, Biehl said.
Betts' brother and the male companion were later shot by him while walking around outside. They were not his first victims and it's unclear whether they were targeted by him. Police were able to speak with the male individual after he was shot, Biehl said.
The assailant was killed at the scene by multiple officers in "less than a minute," Dayton Mayor Nan Whaley said at an earlier press conference.
The victims have been identified as:
Jordan Cofer, 22

Nicholas Cumer, 25

Thomas McNichols, 25

Lois Oglesby, 27

Logan Turner, 30

Beatrice Warren-Curtis, 36

Saeed Saleh, 38

Monica Brickhouse, 39

Derrick Fudge, 57
Dayton, Whaley noted, has endured a "really tough year." Just three months ago, more than a dozen tornadoes "ravaged our city," she said, referring to the spate of storms that devastated parts of Ohio around Memorial Day.
"And now to be awakened in the middle of the night to a mass shooting ... what really goes through my mind, one seems completely preventable. And I just question, when is enough enough?" the mayor said.
CNN reported authorities have served a search warrant at the shooter's family home in Bellbrook, Ohio.
The shooter was not on law enforcement's radar and there wasn't anything that would have legally prohibited him from purchasing the firearms, Biehl said. The most he had ever been stopped for were minor traffic violations.
The firearm used in the attack, described by Biehl as "AR-15 like" and modified, was ordered online from Texas but transferred to the suspect by a local firearms dealer. A shotgun that was found in the vehicle that the gunman arrived in, and was not used in the attack, was acquired from a different local firearms dealer.
Dayton Police Lt. Col. Matt Carper said the shooter was believed to have acted alone. He said, however, that police ― with the help of agents from the FBI ― were probing the possibility that other individuals were involved.
Police have asked anyone with information about the attack to come forward:
Wounded victims were transported to six area hospitals. At least 17 have been treated and discharged, hospital officials said at the press conference. But several others remain in serious or critical condition, they said.
The Oregon District is a historic area in Dayton with a vibrant bar and restaurant scene. Eyewitness videos showed people running through the neighborhood's streets early on Sunday as a rapid popping noise ― apparently gunfire ― was heard.
Deb Decker, the public information officer for Ohio's Montgomery County Emergency Services, told CNN the shooting occurred as the assailant was heading toward a bar in the Oregon District called Ned Peppers.
The bar's operators said in a statement that police were "regularly staffed next to our business" and it was those officers who "engaged the shooter and neutralized the threat."
"Dayton Police could not have done a better job responding to this senseless act of violence. We cannot commend them high enough. We are assisting them still in every way we can in their investigation," the establishment wrote.
Journalist Derek Myers, who was at the scene, said 10 bodies ― including the shooter's ― laid on the sidewalk for hours outside Ned Peppers in the aftermath of the massacre. The county coroner arrived around 5 a.m. in the morning, he reported.
Hours later, Myers said the police presence continued outside the bar.
"Police section off more and more of the area as the daylight increases," he wrote.
The Dayton Convention Center, located a short walk from Ned Peppers, was opened for family members and friends of anyone injured or killed in the shooting, according to the Dayton 24/7 Now news channel.
Anthony Good, general manager of the Dublin Pub, also located nearby, told The Cincinnati Enquirer that he'd kept his establishment open after the attack so police would have a safe place to interview witnesses and first responders could obtain free fresh coffee and snacks.
The attack in Dayton came hours after at least 22 people were killed in a mass shooting at a Walmart in El Paso, Texas, and less than a week after a gunman opened fire at a garlic festival in California, killing three people who included two children.
President Donald Trump tweeted on Sunday morning that in both cities, FBI, state and local law enforcement were working together in investigating the killings.
"Information is rapidly being accumulated in Dayton. Much has already be learned in El Paso. Law enforcement was very rapid in both instances," Trump wrote.
"God bless the people of El Paso, Texas. God bless the people of Dayton, Ohio," he added.
Ohio Gov. Mike DeWine (R) said in a statement he was "absolutely heartbroken over the horrible attack." DeWine ordered flags in the state to be lowered "in honor and memory of the victims who lost their lives this morning," CNN reported.
Reacting to news of a second mass shooting on U.S. soil in under 24 hours, Rep. Ted Lieu (D-Calif.) expressed horror and heartbreak:
Ohio Lt. Gov. Jon Husted (R) called the Dayton shooting as "shocking and dreadful."
On Saturday evening, just hours before the Dayton attack, the city's NBC affiliate, WDTN-TV, posted an article online about local law enforcement offering a class on "lifesaving techniques for mass shootings."
"[You should] at least prepare yourself because if you've never thought about [a shooting] before it happens, once it happens it's too late. You're going to panic. You're going to lose the precious seconds of timing that you need to escape," John Davis, Centerville police's community relations officer, told the station.
Popular in the Community