WASHINGTON ― A bipartisan group of centrist senators met Sunday to work out a potential compromise that would fund the government until Feb. 8, contingent on a promise to hold a vote on an immigration bill before then.
In exchange for more Democratic votes to reopen the government, GOP leadership would need to offer some sort of commitment to help the so-called "Dreamers" in coming weeks, according to several senators who attended the meeting in the office of Sen. Susan Collins (R-Maine) on Capitol Hill.
It's not clear, however, whether enough Democrats would accept a simple verbal commitment from Senate Majority Leader Mitch McConnell (R-Ky.) that the Senate would consider an immigration bill at some point in the future. He already pledged to do so last month, for example.
"There's been a lot of promises made to different senators that have not been followed through on by the majority leader, so I would be very leery of anything that wasn't extremely, extremely clear and detailed," Sen. Jeff Merkley (D-Oreg.) said.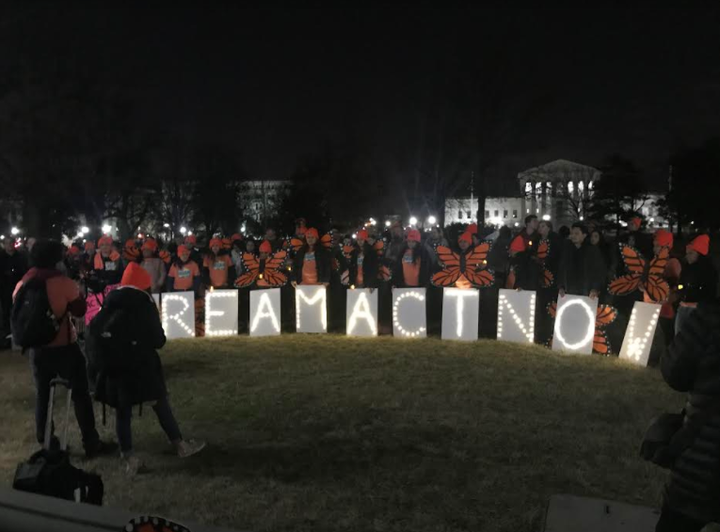 President Donald Trump necessitated a legislative fix for Dreamers ― undocumented immigrants brought to the U.S. as children ― when he ended former President Barack Obama's Deferred Action for Childhood Arrivals program, putting them at risk of losing work permits and deportation relief. The program expires in early March, putting pressure on Congress to reach a solution to protect 700,000 young people from deportation.
The bipartisan group of roughly 20 senators presented the terms of the potential deal to Senate Majority Leader Mitch McConnell (R-Ky.) and Senate Minority Leader Chuck Schumer (D-N.Y.), who spoke about it privately later. The group included Sens. Lamar Alexander (R-Tenn.), Mike Rounds (R-S.D.), Joe Donnelly (D-Ind.), Chris Coons (D-Del.), Joe Manchin (D-W.Va.), Jeff Flake (R-Ariz.), Lindsey Graham (R-S.C.), Dick Durbin (D-Ill.), Tim Kaine (D-Va.), Lisa Murkowski (R-Alaska), Heidi Heitkamp (D-N.D.) and Mark Warner (D-Va.)
There's no deal at this time, according to a source familiar with the negotiations. McConnell on Sunday night delayed a vote on a three-week stop-gap measure to fund the government, moving it from about 1 a.m. Monday to noon on Monday. He also upped the stakes to pressure those who had previously opposed the deal, saying on the Senate floor that he intended to hold a vote on an immigration bill if one hadn't passed by Feb. 8, should the government reopen. 
Murkowski said McConnell was "receptive" to the deal worked out by the moderate senators, but that it was ultimately up to him and Schumer to come to an agreement on funding the government.
"I think it was important for him to hear the direction that we had gained from these broader groups," Murkowski said.
The White House has said that the issue of immigration should not be considered until government funding is approved. House Republican leaders also rejected the idea of committing to holding an immigration vote until Democrats vote to reopen the government.
During a Sunday interview on CBS's "Face the Nation," House Speaker Paul Ryan (R-Wis.) dismissed a bipartisan immigration framework brokered by Sens. Lindsey Graham (R-S.C.) and Dick Durbin (D-Ill.) as an "end run" around existing negotiations.
In a sign the two sides were no closer to reaching an agreement, Senate Majority Whip John Cornyn (R-Texas) also poured cold water over the prospect of committing to a vote on an immigration bill before Feb. 8.
"We're more than happy to have a vote on it well before the deadline," Cornyn said of a legislative fix on DACA. "Turning the agenda over to Democrats who just shut down the government makes no sense to me. It just seems like it encourages bad behavior."
Asked if he thinks the government will still be shut down on Monday, Cornyn added, "Right now, yeah. I do."
This story was updated with comments from Oregon Sen. Jeff Merkley.
REAL LIFE. REAL NEWS. REAL VOICES.
Help us tell more of the stories that matter from voices that too often remain unheard.
BEFORE YOU GO
PHOTO GALLERY
2017 Scenes From Congress & Capitol Hill