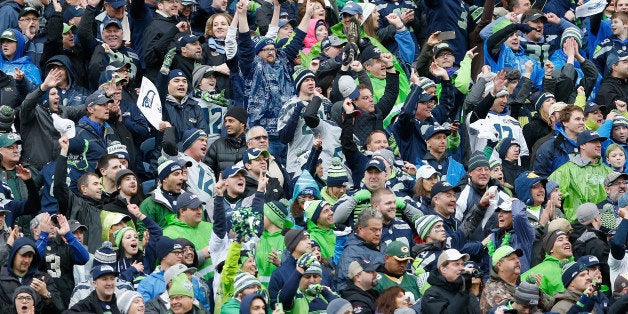 I used to think that football was just a guy thing -- like men watching soap operas, but with passionate stats. For the three decades I've lived in Seattle, game days were my subversive time for an unobstructed run through empty Costco aisles to score big deals. Now, as Seattle celebrates Super Bowl déjà vu, my hometown is practically levitating -- the same way our snow-capped Mt. Rainier floats hauntingly above our city like a hallucination.
Some of my non-fan friends suspect they are hallucinating when they see this year I've joined the Seahawk Fan Fridays dress code. Seattle sidewalk parades of Amazonites, Microsofties, Starbuck baristas -- even mother's strollers boasting Seahawks blankies -- all proudly display our blue-green team swag: pom-pom knit caps, Russell Wilson or Marshawn Lynch jerseys, and of course, Seahawks rain slickers. Some tattoo artists have already inked Seahawks in skin anticipating our second straight Super Bowl win. Even the dog I walk with daily is now outfitted with a Seahawks super-hero cape.
What happened to our bookish, techie, Ecotopian Seattle? Why do our obsessive football fans wear blue-green war paint and scream so loudly, it registers as seismic activity? How did I--who always looks for Exit signs whenever anyone is too evangelical about anything-- morph into a fervent Seahawks fan?
It's not just winning that brought me into the hawk's nest. There is something truly unique about this team that makes it a civic duty to follow their roller-coaster ride. The Seahawks cherish teamwork over individual stardom. Under the rigorous but nourishing mentorship of Pete Carroll, the team is not run like a paramilitary operation charging the battlefield. They are openhearted, inventive and smart, like Seattle itself.
After early season losses, coach Carroll called his team leaders together for his famous talk about "taking care of each other" and "not letting the other man down." Carroll gave his guys wristbands with initials, "LOB." Of course, it could stand for "Legion of Boom," our ace defense. But to the Seahawks, it also means, "Love Our Brothers." This brotherhood, explains cornerback Byron Maxwell, is what bonds the team. "During tough times -- and you're going to go through tough times--it's a lot easier to handle with someone you're close with."
Our team not only trusts and nurtures each other, but also us. We wildly engaged fans, called "The 12s," feel warmly included in this camaraderie. The Seahawks are, perhaps like the West Coast itself, more cooperative than hierarchical, more fiercely playful than the all-business East, more emotional than stoic.
"We have heart," Earl Thomas III passionately urged his teammates on when they were losing 19-7 in the NFC championship game.
After leading his downtrodden teammates to a stunning fourth quarter comeback, quarterback Russell Wilson simply burst into tears.
"Now, that's a real man!" a woman at my Seahawks party nodded approvingly as Seahawks flocked around their sobbing leader. They all leaned in close, patting Wilson's muscled back. That's my idea of a good huddle.
The Seahawks offer Seattle a kind of collective commons that haloes our city. No matter your class, your color, your gender, your neighborhood, your religion, or your politics -- we can all speak the same language. Happy talk.
Seahawks have flown into traditionally football-free zones -- book clubs, nail salons, even therapy sessions. The morning after the Seahawks exuberantly won the NFC championship, I assumed that since no one had ever mentioned football in our writing class, sports certainly wouldn't be part of my teaching plan. I was wrong.
"Can you believe that comeback?" a student exulted. "One of my friends with stage four cancer was so happy, he was actually able to leap out of his chair."
"Talk about grace under adversity," another writer marveled. "That's the best storyline of all."
The Seahawks have made their story ours, as well. It's not just a local phenomenon. My brother in Afghanistan got up in the middle of the night to watch and text with me. My niece and her husband in Virginia took to Facebook to "like" Seahawks links. At a very literary dinner party, with a lot of transplanted East coast guests, I was listening to the rapid-fire, brilliant discourse while secretly imagining the dialogue if these intellectuals discussed Seahawks football--kind of like a mash-up of NPR and ESPN. To my surprise, someone brought up the Seahawks during dessert.
"Watching Richard Sherman leap is like football ballet," one of the well-regarded journalists commented.
"Yes," I eagerly joined the field. "As a high school gymnast, I still love watching bodies move through space. It's physics and it's... beautiful."
We did not talk about how those beautiful bodies get injured, how the Clay Matthews' blindside hit to our quarterback was like witnessing whiplash. We didn't talk about how we hoped our kids wouldn't play football because of concussions.
"Life is dangerous," was all someone said. "But they're adults. And it's all how you play the game."
Is life a game? The well read and more philosophical among us would say, no. But right now, for us hopeful and happy football fans, a game is as good a metaphor for life as any. So I'm finally, and fully, a fan. Well, I haven't yet actually braved the stadium. I would look foolish in my noise-cancelling headphones.
But I can faithfully bird-watch with Hawk friends. I can walk this week in Seattle's record-breaking winter sunshine, while New England endures a colossal snowstorm -- crazy weather courtesy of global warming. Or maybe the extreme weather is a sign from God; since there are reports that one out of every four fans believes that God will determine who wins the Super Bowl?
This week we fans will stroll the streets, swap our favorite Seahawks superstitions, and snap "Twelfies." We'll nod and slap high-fives with neighbors; we'll chat stats as if we actually understand the cool language of numbers. It's magic here in the Emerald City and we're setting off to see our real wizards win -- again.
Support HuffPost
The Stakes Have Never Been Higher
Related
Popular in the Community