WASHINGTON -- Republican presidential contenders Sen. Ted Cruz (R-Texas) and Sen. Marco Rubio (R-Fla.) said during Tuesday's GOP debate that they "understand" the sentiment behind Donald Trump's proposed ban on Muslims entering the United States, even as the plan has drawn global condemnation.
Republican presidential candidate Donald Trump called last week for a "total and complete shutdown of Muslims entering the United States" after the mass shooting in San Bernardino, California, which authorities are treating as a terrorist attack. The celebrity billionaire has built his candidacy around making inflammatory comments about minority groups -- voicing his support for the surveillance of "certain mosques," among other things -- but this time, he drew criticism from within his own party. House Speaker Paul Ryan (R-Wis.) said the idea is "not what this country stands for," and Senate Majority Leader Mitch McConnell (R-Ky.) called religion-based bans "inconsistent" with American values.
But during the debate, Cruz and Rubio said they related to where Trump was coming from.
"Everyone understands why Donald has suggested what he has," Cruz said, later adding, "I understand why Donald made that proposal." He pointed to his own legislation, which would suspend refugees from certain countries for three years, as being more narrowly focused. Cruz, who has recently surged in the polls, had previously said he disagreed with Trump's proposal.
Rubio said the proposal "isn't going to happen," rather than directly criticizing its merits. In response to a question about how the "majority" of Republicans support Trump's idea, he said, "I understand why they feel that way, because this president hasn't kept us safe."
Former Florida Gov. Jeb Bush took a much harsher tone. "Banning all Muslims will make it harder for us to do exactly what we need to do, which is to destroy ISIS," he said. Referencing the Trump ban, Bush's spokesman, Tim Miller, tweeted that "nobody except Jeb has criticized him" 30 minutes into the night.
That the ban is even being debated before a national audience, however, shows just how much Trump has done to normalize extreme positions on immigration and xenophobia. Bush, who called Trump "unhinged" in a tweet earlier this month, said in November that the U.S. should focus on assisting Christian refugees in the Middle East over refugees of other faiths -- a position that might once have been seen as out of the bounds of reasonable political discourse. Retired neurosurgeon and Republican presidential hopeful Ben Carson, who has called Trump's proposal unconstitutional, said last month that it was important to screen Syrian refugees coming to the U.S. "to determine who the mad dogs are."
Polls have varied widely as to whether Americans support Trump's proposal. But as The Huffington Post's Ariel Edwards-Levy points out, Americans may be more likely to support a ban on Muslims if they think it will be temporary -- or if they don't have to admit their support out loud to another person.
Trump, meanwhile, has not backed down from his remarks. Last week, when defending the plan, he invoked former President Franklin D. Roosevelt's internment camps for people of Japanese descent, which are generally considered a deeply shameful chapter of U.S. history. (Trump added that he did not support internment camps.) He has claimed that his Muslim friends are "so happy" he is discussing Islamic extremism -- although he's also acknowledged that they don't support his plan.
At the debate, Trump said, "we're not talking about religion, we're talking about security. Our country is out of control."
See the latest updates on the debate here.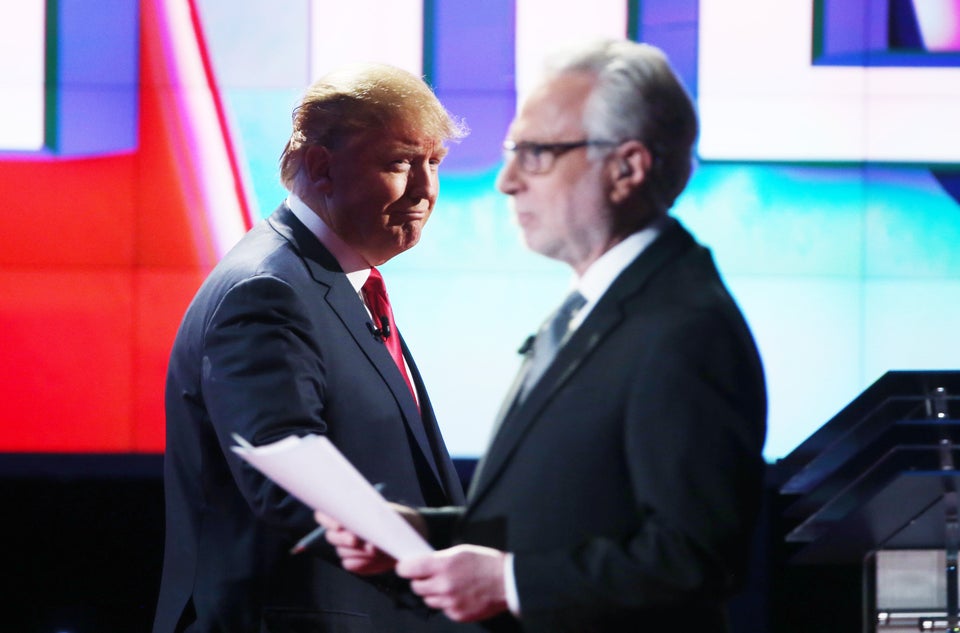 Last GOP Debate Of 2015
Support HuffPost
The Stakes Have Never Been Higher
Popular in the Community