AUSTIN, Texas (AP) — The impeachment trial of Texas Attorney General Ken Paxton began Tuesday and hurtled Republicans into a reckoning over whether to oust a prominent member of their party after years of alleged corruption or stand with one of former President Donald Trump's biggest defenders.
The historic trial — the first impeachment proceedings in Texas in nearly a half-century — is the gravest threat to date for Paxton, who has spent nearly his entire three terms in office under felony indictment on securities fraud charges and, later, the clouds of an ongoing FBI investigation.
In an era of bitter partisanship across the U.S., the trial is a rare instance of a political party seeking to hold one of its own to account for allegations of wrongdoing. For years in Texas, many Republicans have resisted criticizing or facing head-on the litany of legal troubles surrounding Paxton, who has remained popular among the hard right by aligning himself closely to Trump and rushing his office into lawsuits that have halted priorities of the Biden administration.
With his political career on the line, Paxton did not stick around for the entire first day of the trial, which was carried live on TV stations across Texas. He sat at the defense table in the morning but did not return for opening statements, and it was not clear when or whether he would return.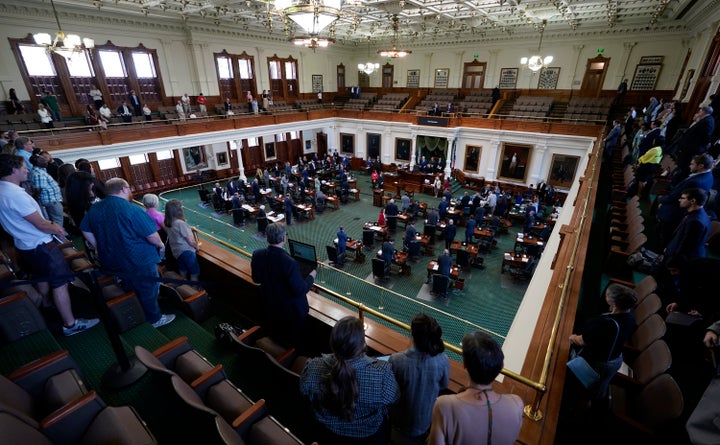 "Mr. Paxton should be removed from office because he failed to protect the state and instead used his elected office for his own benefit," said Republican state Rep. Andrew Murr, one of the House impeachment managers leading the case against Paxton.
"In Texas, we require more from our public servants than merely avoiding being a criminal," he said.
The proceedings got off to a bumpy start for Paxton, with Republican senators rejecting his numerous requests to dismiss many of the 20 impeachment charges. And although dozens of his supporters watched from the Senate gallery, including some who showed up at the Texas Capitol before sunrise, many rows remained empty.
As the articles of impeachment were formally read aloud, Paxton's attorney, Tony Buzbee, answered the charges by calling them untrue or incorrect and saying his client pleads not guilty. When the proceedings resumed later without Paxton, Buzbee said the rules only required him to be there at the start.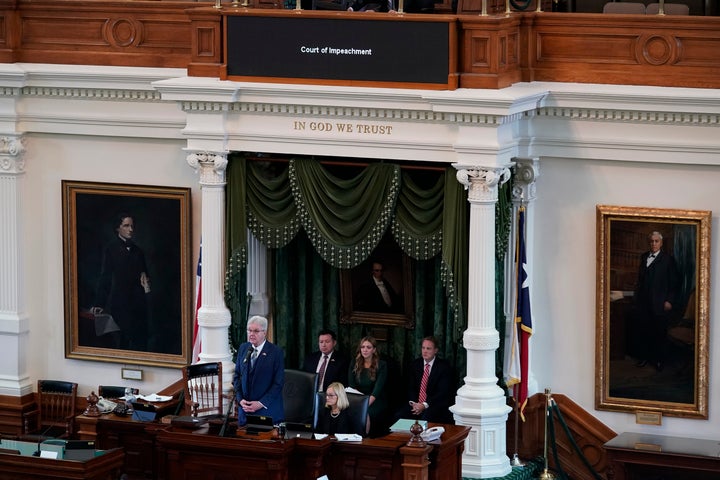 At the heart of the case are accusations that Paxton abused his office to help one of his donors, Austin real estate developer Nate Paul, who was indicted this summer on charges of making false statements to a bank to secure more than $170 million in loans. Buzbee said Paxton "gave nothing of significance" to Paul and framed the proceedings as an attempt to overturn the will of voters.
"This whole case is a lot of nothing," Buzbee said.
In one victory for Paxton, the presiding officer ruled that he cannot be compelled to testify during the proceedings, which could last for weeks.
Paxton's fate is in the hands of the GOP-controlled state Senate, where a dominant Republican majority includes Paxton's wife, underscoring the many entanglements Paxton has in a chamber that will decide his political future. Sen. Angela Paxton can attend the trial but is barred from voting on whether her husband should be convicted or acquitted.
Shortly before the trial began, Ken and Angela Paxton spoke for a few minutes on the Senate floor and shared a brief kiss.
The Republican-led House of Representatives voted overwhelmingly to impeach Paxton in May. The 20 articles of impeachment include abuse of public trust, unfitness for office and bribery. The 121-23 vote immediately suspended Paxton and made him only the third sitting official in Texas' nearly 200-year history to be impeached.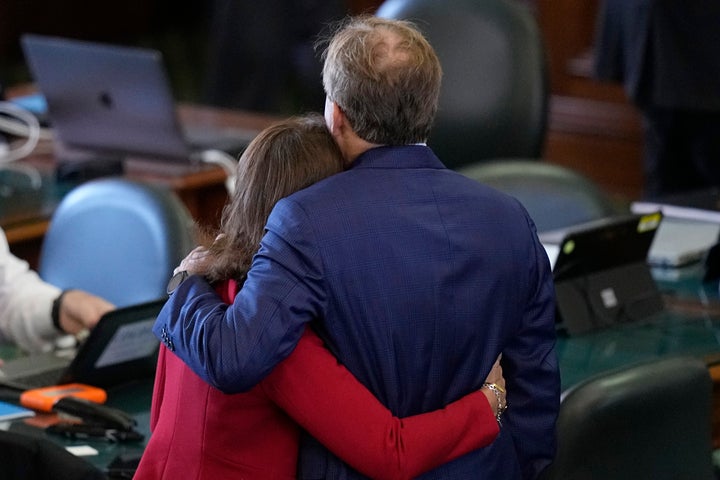 Paxton has decried the impeachment as a "politically motivated sham" and an effort to disenfranchise his voters. The attorney general's lawyers say he won't testify in the Senate trial. He has said he expects to be acquitted.
Paxton faces trial by a jury — the 31 state senators — stacked with his ideological allies and a "judge," Republican Lt. Gov. Dan Patrick, who loaned $125,000 to his last reelection campaign. Two other senators play a role in the allegations against Paxton.
Over the weekend, Ken and Angela Paxton rallied supporters at a picnic near their hometown in suburban Dallas. It was a rare public appearance for Paxton, who told the crowd he could not discuss the trial due to a gag order but attacked Republicans who led his impeachment in the Texas House.
"Let's clean house," Paxton told the crowd.
Peter Bowen, 74, drove from Houston at 3:30 a.m. to be in line for the Senate before sunrise. He said Paxton, who was reelected to a third term last November, was impeached because of his support for Trump, and that voters have already made clear where they stand.
"We all knew about them, and we elected him. What they are doing is taking away the vote of the majority of the people of Texas," Bowen said.
"It is the Austin swamp," said Kaci Sisk, who heads a group of conservative Paxton supporters near San Antonio. "This thing has been a sham from the start."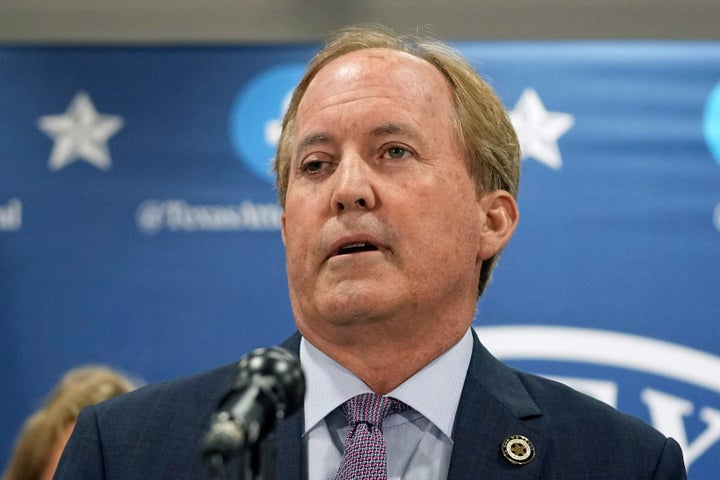 A two-thirds majority — or 21 senators — is required for conviction, meaning that if all 12 Senate Democrats vote against Paxton, they still need at least nine of the 19 Republicans to join them.
The trial will likely bring forth new evidence. But the outline of the allegations against Paxton has been public since 2020, when eight of his top deputies reported him to the the FBI.
The deputies — largely conservatives whom Paxton handpicked for their jobs — told investigators that Paxton had gone against their advice and hired an outside lawyer to probe the FBI's allegations of Paul's wrongdoing. They also said Paxton pressured his staff to take other actions that helped Paul.
In return, Paul allegedly hired a former aide to a Republican state senator with whom Paxton acknowledged having had an affair and bankrolled the renovations of one of the attorney general's properties, a million-dollar home in Austin.
The two men bonded over a shared feeling that they were the targets of corrupt law enforcement, according to a memo by one of the staffers who went to the FBI. Paxton was indicted on securities fraud charges in 2015 but has yet to stand trial. The Senate is not taking up, at least initially, three impeachment articles about the alleged securities fraud and a fourth related to Paxton's ethics filings.
Federal prosecutors continue to examine Paul and Paxton's relationship, so the evidence presented during his impeachment trial poses a legal as well as a political risk to the attorney general.
After going to the FBI, all eight of Paxton's deputies quit or were fired. Their departures led to an exodus of other seasoned lawyers and saw the attorney general's office consumed by dysfunction behind the scenes.
Four of the deputies later sued Paxton under the state whistleblower act. The bipartisan group of lawmakers who led Paxton's impeachment in the House said it was him seeking $3.3 million in taxpayer funds to settle with the group that prompted them to investigate his dealings.
Support HuffPost
The Stakes Have Never Been Higher
Popular in the Community