 Texas State Board of Education member Ruben Cortez says he'll propose a vote to decide whether to create a statewide Mexican-American studies course at the agency's meeting next month.
If passed, the measure would mark a major victory for Latino education activists who have pressed for a public school curriculum more reflective of their state's majority-Hispanic student body.
"This is it -- we've been inching our way to a vote," Cortez told The Huffington Post. "Just the mere fact that we're going to have a vote is historic."
The group Librotraficante, formed in 2012 to protest the banning of the Tucson Mexican-American studies program, started calling last year for the Texas SBOE to include a dual-credit Mexican-American studies course when the state agency took up the question of new course design.
The idea appealed to Cortez, a Democrat from the Rio Grande Valley who says too many Mexican-Americans go through their public school educations without learning about the achievements of Hispanic heroes.
"Texas used to be Mexico," Cortez said. "So why not? What's the harm in it? We develop it, we create it, it's aligned with the Texas Essential Knowledge and Skills, as required by law ... We're not mandating anything. We're just making it easier for school districts to offer it if they want."
Cortez tried to propose the course at the SBOE's last meeting, in January, but new courses didn't make it onto the agenda. He said that it wasn't until this Monday that he received the green light to put the issue to a vote at the April meeting.
The idea of a statewide Mexican-American studies curriculum has gained steam in recent months. The board of trustees for Ysleta Independent School District, one of the three districts serving the heavily Hispanic city of El Paso, passed a resolution on March 5 in support of Mexican-American studies, and supporters of expanding Mexican-American studies in the state plan to present similar resolutions in other districts in the area.
SBOE Chairwoman Barbara Cargill, a Republican, has encouraged local districts to come up with their own courses rather than asking the state to create a curriculum.
But Cortez says that developing a state curriculum would make it easier for schools with stretched resources to offer the courses.
"We have a course in floral design that is approved by the Texas Board of Education," Cortez said. "Not every school in Texas offers it, but they can. So I don't understand why a floral design course makes more sense than Mexican-American Studies."
El Paso educator Georgina Perez says offering Mexican-American studies to Texas students could help stem the state's high Hispanic dropout rate.
"In a nutshell, what it does is it implements culturally relevant texts and materials from the Chicano and indigenous perspective, so that we are valuing our students as human beings," Perez told HuffPost. "We know that when students see themselves in the curriculum that they feel valued."
There's no guarantee that the measure will pass. The 15-member board is composed of 10 Republicans and five Democrats. Cortez says he expects all the Democrats to support the measure, but he will need at least three Republicans to join them.
The 2012 Republican platform, which remains in effect until this year's state party convention, opposes the teaching of multiculturalism.
"We believe the current teaching of a multicultural curriculum is divisive," the platform reads. "We favor strengthening our common American identity and loyalty instead of political correctness that nurtures alienation among racial and ethnic groups."
At least one Republican on the SBOE, however, appears to support the idea. Vice chairman Thomas Ratliff told The Texas Tribune in February: "Some of [the board members] are trying to say that they don't want to start creating a whole bunch of other studies for every other ethnic group. I don't understand that concern because there aren't any other ethnic groups that make up a significant portion of the state's population like the Hispanics do."
The push to offer Mexican-American studies courses in Texas schools developed in part as a response to the Arizona legislature's banning of a Mexican-American studies curriculum in Tucson. Conservatives accused that program of breeding resentment against white students. However, independent research found that the courses improved student achievement, and a state-commissioned audit recommended expanding the courses, praising them for fostering critical thinking.
Author and Librotraficante co-founder Tony Diaz says he's optimistic that Texas will take a different path.
"This will happen," Diaz told HuffPost. "If it's not now, it's later. What it really comes down to is, will the GOP walk with us or will they stand in our way? So we're reaching out. This will be a really clear sign whether the GOP is with our community or against it."
Before You Go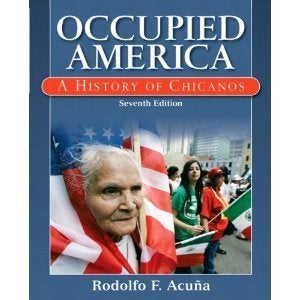 Latino Books Once Banned In Arizona
Popular in the Community