I want to take a couple of columns to reflect on what a great season it has been. This one will be on musicals. Yes, the musical season started out, um, slow with Holler If Ya Hear Me. And, no, it hasn't all been perfect since then, but overall it has been a pretty amazing time if you're a fan of Broadway musicals, both old and new.
Usually I'd begin with the new musicals, but I'm mixing it up this year. All the musical revivals this season have been strong.
If you ask me, On The Town, which is currently slightly trailing both other contenders in my Tony polling, deserves the win. I, like most, was worried when the show was announced for that barn of a theater, but director John Rando proved the doubters wrong. This On the Town is joyous and doesn't get lost in its house. Choreographer Joshua Bergasse won't win because of An American in Paris choreographer/director Christopher Wheeldon, but any other season he'd have a great shot. ("Any other season" is something I write frequently this time of year.) I was sad Megan Fairchild didn't make the cut for Featured because I thought she deserved a nod. And, if you're like me, you have seen Tony Yazbeck in many things throughout the years, but this is his role. Boy does he come into his own as Gabey. He's giving the kind of triple threat performance we long for theater actors to give. In two of the three prior Broadway productions of On the Town, Gabey was played by someone making their Broadway debut. Why? Because it's so hard to find a veteran theater actor with the ability to sell the dance and sing and act. Yazbeck does it all well. I think if voters go back they'll see this as the best revival of the season.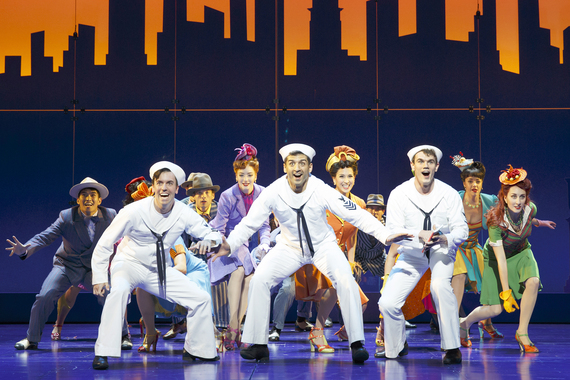 Which is not to say both other nominated revivals aren't great. On the Twentieth Century has Kristin Chenoweth in a big, splashy musical comedy. What's not to like? This first Broadway revival of the show has been given a lavish treatment by the Roundabout Theatre Company. It is exuberant. It isn't necessary to say much more than that. I'm pretty sure anyone reading this far that is in New York has been or is going to see Kristin Chenoweth in a buoyant musical comedy, at least one that received those reviews. And if you for some reason haven't seen it -- wait until you see this performance, she is going to be everything you hoped she'd be. (And we know she has the vote of Time Out scribe Adam Feldman.)
There is a distancing element to the Lincoln Center Theater production of The King and I that left me a tiny bit cold. But it's still wonderful to see The King and I brought to life. It's a handsome production with some glorious stage pictures. Additionally, director Bartlett Sher's vision offers a unique take on the characters, with the women stronger than in many productions. I think that alone makes it interesting to see. Plus, it happens to have one of the Best Actress front-runners, critical darling Kelli O'Hara, and a genius performance by nominee Ruthie Ann Miles. Like with Twentieth Century, I suspect anyone reading this far obtained tickets already.
Also -- there were two more musical revivals that weren't nominated: Gigi and Side Show. The critics didn't love Gigi, but I think the majority of mainstream ticket buyers will. I asked my mother what she would recommend folks take their visiting mothers to for Mother's Day. Her first choice was A Gentleman's Guide to Love and Murder, but her second was Gigi. She has sold dozens of tickets. Everyone I have told to go has liked it. If you go in judging what is onstage as a piece of entertainment -- not as something that is going to embody the vision you have in your mind of Gigi -- I think you'll be happy. I again like Bergasse's work. I think the performers are really giving it their all. The score sounds marvelous. It is an entertaining night at the theater. Whereas while Side Show received rave reviews, I thought it was inferior to the original.
We have four Best Musical Tony nominees that are worthy -- none of them are nominees that you think: "How did that thing get a Tony nomination?" An American in Paris is slightly ahead in my polling, but I still consider it a three-show race. Fun Home is a close second. Something Rotten! is behind the top two, but it also strikes me as one of those guilty pleasure musicals that people might not say they are voting for, but in the comfort of their own home/office these same people vote for it just cause.
The Visit of course has no chance of winning, but even it has completely worthy moments. It's just bizarre -- if there is such a thing as a large-scale chamber musical, that's The Visit. It's a show that wouldn't have transferred if it were written by a different team. I'm still surprised we saw it before another John Doyle/Williamstown show, Ten Cents on a Dance (which also played semi-near NY at the McCarter). But I've never been anything but happy that producers took a chance on it. It's a great role for Chita Rivera. (I'm sure her press representative would like me to point out Chita Rivera is a legend. So, reminder, Chita Rivera is a legend. If you've missed the in-your-face campaign, or know nothing about musical theater, now you've learned something.) It's slow, but there is also something oddly mesmerizing about it overall. I know it hasn't been selling and I hope more people do see it.
Something Rotten! is a hell of a lot of fun. I went in expecting not to like it. I'm not a fan of broad humor and I'm not a fan of self-referential humor. But I was won over by the show. There are a lot of extremely clever moments, and its worst moments are simply average, not particularly bad. All those who received Tony nominations deserved them and I'd like to give a special shout-out to John Cariani and Kate Reinders, who I also think are doing fantastic work. It's so rare these days to see a musical and think: "Who thought of this?" That's what I heard more than once coming out of the St. James. (And while that line could play both ways, I believe it was meant with an impressed awe in this case.) It's a big, flashy original Broadway musical. It's pushy and unrelenting, but by design. Plus, it has the Best Tony Award campaign video:
Fun Home is not a "new kind of musical," if you ask me. It's a chamber musical, one that I think there are many admirable things about. I'm not a big fan of it, but I like it enough to have seen it at all three stages of its existence. I have interestingly spoken to many people in the last couple of weeks that believe that even though Alison Bechdel's upbringing and story is unique, the relationships presented onstage are reminiscent of aspects of all our relationships with our family members. I don't personally have that feeling watching it. I do find "Days and Days" touching. I think much of Jeanine Tesori's work is poignant and effective. I've just never found the material completely captivating. I'm in the minority here, I know. A friend said I must be dead inside. But there you go.
I think An American in Paris offers a magical night in the theater. The book has its issues, definitely, as do some of the numbers and the lead-in to them, but overall what Wheeldon has done is special, and I can mentally put the show's problems out of my mind and be swept up. That is saying a lot for this musical as a piece of art. Robbie Fairchild is wonderful as are all the supporting players. It's beautiful. It's not pushing too hard; there is an effortless quality to what is on that stage.
And then the musicals that weren't nominated include some worthy entries. I've written multiple columns in support of The Last Ship and I was sorry it sort of got the short shrift on Broadway. Luckily, the cast album exists. I think Sting's work--Tony nominated--is great. (Watch him perform a song from the show here as part of The New York Times "In Performance" series.) He really wrote a wonderful score, which received deserved positive reviews. The cast album is a perfect tribute to the show, with all the performers in perfect voice. I don't often listen to cast recordings when I write, opting instead for generic pop music or Garbage. But I've listened numerous times to The Last Ship, which alone says a ton.
Honeymoon in Vegas had a love letter from Ben Brantley, a fun score, an accessible subject matter, a beloved TV star (past the height of his stardom though he was) and no ticket buyers. The failure of Honeymoon in Vegas will always be a perplexing one to me. What about it didn't catch on? It had the reviews. The word-of-mouth was mostly good. The TV commercials started out horrible but then got better. Yet it closed after never really attracting an audience. Was it the time it opened? Was it the fact that no one remembered the movie and those that did thought of it as a cheesy joke? No one will ever know. I think if it were still open it would have received a few Tony nominations. I thought even with it closed there was a chance Rob McClure, Tony Danza or Nancy Opel would sneak in with acting nods, but it wasn't meant to be. All in all it was a fun show. Not remarkable but a lot of fun.
I'm going to pass on commenting on Holler If Ya Hear Me. Likewise for It Shoulda Been You, which I simply haven't seen on Broadway. I also have nothing on Doctor Zhivago, other than to say the projections were something. While I don't like Finding Neverland, I do want to note that I spoke to people coming out of the theater the other day, and a ton of people love it. So while it isn't my cup of tea, people are wowed by it. (Plus, I do think Matt Morrison deserved a nomination.)
I mean -- read the above and you'll realize how great a season it has been. And I'm not talking about box office; box office sadly has not a lot to do with artistry. All of the 2014-2015 musicals that are still open, with the exception of An American in Paris and The King and I, performed at this week's Stars in the Alley. The free concert, sponsored by the Broadway League, is a great event, especially when there are so many entertaining shows. I stopped one of the performers, Gigi's leading man Corey Cott, and he reminded me that this generation of theater artists begets the next:
There are many people on Broadway now I've personally looked up to since I decided I wanted to be an actor. To be among them, and to go to these events, it's been amazing for me to start to talk to them and see them, and now I'm in the same season with them.

It's a very surreal, amazing experience to me. How they've guided me and mentored me, I only hope I can do that for someone else who is younger than me that wants to be part of the community. Because that is what it is all about, these relationships, guiding the next generation of Broadway.
Calling all HuffPost superfans!
Sign up for membership to become a founding member and help shape HuffPost's next chapter