I feel compelled to write about the amazing theatrical experience I had watching Bright Star at the Cort this Tuesday. But first a little introduction.
I pay some lip service to being an ordinary theatergoer. I am truly a theater geek. On Twitter, I have a pinned tweet that perfectly represents this part of me--it explains how earlier this week, in response to my friend saying she had a crappy day, I asked if we should try to see a musical. I think theater makes things better. I think everyone should see as many shows as they can afford to see. Despite a few industry folks referring to me as "The Queen of Snark," I honestly still feel a sense of wonderment as I enter a theater. I feel what I hope children feel when they see theater for the very first time. Nevertheless something makes me different than those children and it's more than just age; I'm press. I tend to get my tickets for free and I usually attend the theater with other press.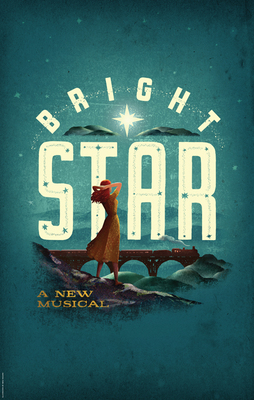 For those who do not know, each show has a series of press nights. The idea is that we all go a few days before or after opening. Most productions try not to have full rows or sections of press--they try to intersperse us with regular theatergoers or friends of the production. But having a press audience automatically changes the experience. We see a lot, we tend to be judgmental and we react to things differently. Having large chunks of press in an audience generally mutes audience reaction. Many of my actor friends say they hate press nights because there is less excitement to build off of and then they put forth less and it all becomes sort of a "chicken or egg" type issue. Occasionally I buy tickets or simply go on a night that isn't an official "press night" and I note the difference. It's usually not huge, but it is always apparent.
Now back to Tuesday. As I've written a few times before, I thought Bright Star was lovely when I saw it originally, on a press night. Carmen Cusack was unbelievable. I loved the choreography by Josh Rhodes. I liked the score by Edie Brickell and Steve Martin. I thought it had a sweet spirit. The crowd reaction was fine back then. People applauded when they should and stood for Cusack. Seemed fairly standard to me. The show isn't everyone's cup of tea, but the audience was respectful. It didn't seem to be a particularly bad crowd. However I now know how much more the experience could have been.
On Broadway, once shows announce they are closing, as Bright Star is Sunday, the last week of performances tend to be a little fuller. People who love the show come back. People who have never seen it and want to rush to get in. You feel this most in the final weekend when emotions are very high. The Tuesday before closing doesn't typically have the same wallop. So I was not prepared for my experience at the Cort Theatre this past Tuesday.
The house was bizarrely packed. Upon her entrance, Cusack received over a minute of entrance applause. Someone stood after her opening song. People laughed so hard at every joke, including jokes that I thought were throwaways based on my prior experience at the theater. There were audible gasps. Each moment received such an ovation that I thought the audience must be filled with relatives of cast and crew who flew in to catch it before it closed. I emailed the press agent at intermission to see if there was something special going on. And that is coming from someone who likes the show. Because, even I, with my childlike wonderment, had a hard time believing what was going on around me. People were so swept up in this musical. They were loving it so much. Of course I liked it more this time because they took me with them. The power of the experience is hard to explain in writing. Never will I be able to properly capture it.
I'm a big fan of the song "Asheville," performed by Hannah Elless, and I think she, A.J. Shively and Paul Alexander Nolan (along with the rest of the cast) are doing great work overall. Therefore I had told my friend at intermission to make sure we stood at the curtain call when the first one of those folks came out--I didn't want to wait for Cusack. Except the point was moot because everyone leapt to their feet immediately when the ensemble came out. Afterwards, I spoke to a bunch of people, as I was genuinely curious if they were related to the show somehow. After all, this was a packed house for a show that has not been selling that well. But the majority of people I spoke to were not there for any reason other than to enjoy the show. The folks sitting next to me--a woman and her tween daughter--said the show was "everything" to them. They had seen An American in Paris a couple of weeks before and were bored, but this they loved. They laughed, they cried. Outside I spoke to people at the stage door. Only one had seen the show before and was back to bid it adieu. A fairly large segment of the folks were from the south. One said: "It was like a revival. I wanted to say 'Hallelujah.'" (The New York Jew that I am, I am not quite sure I understand. I have seen Martin's film Leap of Faith though, as well as the musical of the same name.) And lest you think this experience was a fluke, I decided not to write this post until my friend attended Thursday night's performance and reported the audience reaction to me. He had a similar experience to mine, including witnessing a post-number standing ovation.
I've obviously been in the theater when people are this moved. People stand every single night, in tears, after Tony winner Cynthia Erivo delivers her soaring second act number in The Color Purple. There are other similar examples I could list. I by no means want to say that audience members aren't moved by countless shows they see, not only on Broadway, but in theaters around the world. The thing that makes this show semi-unique to me is that it's in most ways not a showy musical. It doesn't have "The Wizard and I" or "I'm Here." Yet, even without that, it had such a profound impact on a large segment of its audience.
Earlier this week, The New York Times ran a report on four commercial failures of the spring season: American Psycho, Bright Star, Disaster! and Tuck Everlasting. Bright Star was the only one with a Best Musical Tony nomination (one of its five noms). These shows were very different, but, like most musicals, they each didn't make money here. I attended Tuck Everlasting in its last weeks (not on a press night) and it wasn't like my Bright Star experience. My friend attended both American Psycho and Disaster! during their last days and the audience reaction wasn't like this. Clearly this musical, despite its failure to catch on in NYC, is striking a cord that the others did not. Perhaps that means it would do well regionally, especially in the south. Scaled down, without the large ensemble, I could see it being like a musical Almost, Maine. A show too simple and sweet for New York, but ideal for regional and community mountings.
I want to make one more semi-related point, as this will be the final time I write about Bright Star. The New York Times story introduced Cusack by saying the following: "Instead of going with a well-known star, the show's creative team chose to go with Carmen Cusack, who had been with the project from the start." It then went on to note her rave reviews and Tony nomination. She is not mentioned in the "Why it failed" section of the story. (That section focused on the tuner being small-scale, the book being obvious and the project failing to wow people. Part of that I touched upon in my story related to its Tony number.) That said, I was not happy with the "[i]instead of going with a well-known star" portion because I felt somehow there was an implication, likely not intended, that a well-known star would have saved Bright Star. I've been a vocal supporter of casting Hollywood stars--I think they bring in new audiences and in that way help theater actors. But short of casting someone who would sell a ton of tickets based on name recognition alone (à la Julia Roberts in Three Days of Rain), I would never ever have recommended hiring someone other than Cusack. And I honestly doubt someone who would sell-out a theater based on name alone would have wanted to take on this role, afraid of being slammed if they were less than. Does everyone remember the reaction to Carrie Underwood in NBC's The Sound of Music?
I continue to wish Cusack, making an astounding Broadway debut, had won the Tony Award. What she is doing up there is extremely hard--she is convincingly playing two completely different ages and conveying a wide range of emotions. She is the heart and soul of a show that desperately needs that. Without a performance of that depth, of that power, the whole musical is going to wither. This isn't Gigi. This is a show, much like The Color Purple, that requires an actress to propel it based on sheer talent and force of will. The last Color Purple had Fantasia come in and knock it out of the park. I simply cannot think of anyone who could do similar here. The second the house lights went up after Act I on Tuesday, my friend leaned over to me and said: "Wow. She's amazing." And she is. Bright Star is so much more than it would have been without her.
This experience on Tuesday reminded me of what it is like to be in a theater full of people who are just happy to be there. As I wrote, I don't think this reaction is wholly special to Bright Star. I think people all over the world sometimes experience it in different shows, in different ways. It is a feeling of pure joy and celebration and it's a feeling we should have much more than we do.
Related
Popular in the Community