Whatever one thinks of Debbie Wasserman Schultz, the Chair of the Democratic National Committee, we can all agree on one thing: there is no greater authority on the topic of so-called "super-delegates" to the Democratic National Convention (an event Wasserman Schultz runs) than Wasserman Schultz herself.
And Wasserman Schultz has been clear, as evident from the video above, that the national news media must stop tallying and reporting "super-delegates" immediately.
"The way the media is reporting this is incorrect," Wasserman Schultz told Rachel Maddow of MSNBC on February 20th. "There are not pledged delegates -- or 'super-delegates' -- earned at any of these caucus contests."
She went on to note that super-delegates are "free to decide [who to vote for] anytime up until July," and can change their mind at any time -- one reason they can't be reported as being conclusively attached to any particular candidate. "So combining them [the voted-on or 'earned' delegates and the super-delegates] at each phase of this contest is not an accurate picture of how this works," she said.
"It's really important to report these [super-delegates] in a completely different way," she added, in the event her repeated admonitions on the topic had been unclear.
Yet the morning after Super Tuesday, CNN ran the inaccurate graphic below as a splash headline at the top of its homepage: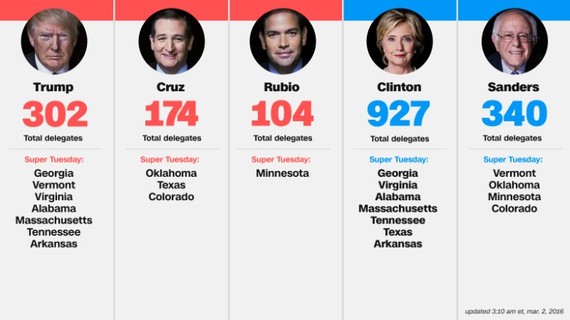 In truth, Clinton leads Sanders in earned delegates by a count of 587 to 397 -- a significantly different margin, considering that Clinton needs a whopping 2,383 delegates to become the Democratic nominee for President.
At present she is less than a quarter of the way to that goal.
Now, usually I write articles that ask questions and seek to answer them. Here, I can't do that -- as in this instance the thinking of CNN and other news organizations that have publicly committed themselves to objectivity and impartiality is beyond me.
If the Democratic Party wants a democratic nominating process, it should send a letter to CNN and other news outlets demanding that they not misreport the results of the Democratic Party's primaries and caucuses. To the extent Debbie Wasserman Schultz doesn't do that, she advances the narrative that she's in the bag for Clinton.
And to the extent Democrats themselves fail to complain to CNN and other news outlets, they are part of the problem, too. Clinton supporters may see this as Sanders' fight, not theirs, but in fact Clinton knows far better than most how super-delegates can tilt a race away from the popular vote in each state, having experienced this herself in 2008. If Hillary cares about fairness, she too -- along with her supporters -- will demand that the media stop (in view of repeated requests) misreporting the news.
Seth Abramson is the Series Editor for Best American Experimental Writing (Wesleyan University) and the author, most recently, of DATA (BlazeVOX, 2016).
Popular in the Community