Two of my favorite theatrical venues -- the Donmar Warehouse in London and St. Ann's Warehouse in New York City -- have combined to offer an exciting new production of Shakespeare's Julius Caesar. It's the best Julius Caesar I've ever seen (admittedly a low bar since it's never been a favorite) and certainly one of the top shows of the year.
On the surface, the bells and whistles are many. Directed by the keenly intelligent Phyllida Lloyd, this show is set in a maximum security prison; features an all-female cast in this most masculine of plays; and it includes numerous modern touches from a punk-ish rock and roll score to television sets, a tricycle and video cameras. But in a very real sense, none of this matters.
All these elements inform the play but they do not define it. The setting, the casting, the music and the props help anchor the actors and the audience. Yet what makes Lloyd's Julius Caesar great is what makes any notable mounting of Shakespeare great: the direction is focused and inventive while the performances are clear as a bell, moving and believable at every moment.
When poorly performed, you can sometimes struggle just to understand the dialogue of Shakespeare and what's even going on. (Just check out Broadway's Romeo & Juliet -- a far simpler play -- for a good example of that, especially in the garbled opening scenes.) Here we truly understand everything. We understand the action on every level, the sense of what they're saying, the meaning behind it, the emotions just under the surface and more.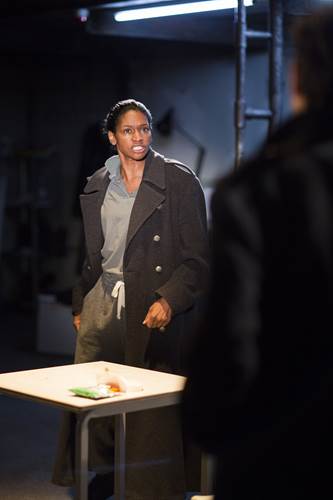 Caesar (Frances Barber) has returned to Rome in triumph, surrounded by fawning worshippers and true friends like Mark Antony (Cush Jumbo) who urges the crown on Caesar only to have Caeser turn it down three times...though ever so reluctantly. The tide is turning against a republican form of government and it's inevitable perhaps that the great Caesar will become a dictator. A benevolent one, perhaps, but a dictator nonetheless.
Brutus (Harriet Walter) won't have it. Urged on by Cassius (Jenny Jules) he -- I almost wrote "she" by the way, so completely do these actors take over these parts that the gender seems both secondary and yet inextricably linked to them -- yes, he, Brutus, loves Caesar but agrees to kill the man to save the country. They succeed, Rome is plunged into chaos and a battle for supremacy takes place between the forces led by Antony and Octavius (Clare Dunne) and those of Brutus and Cassius.
Antony's famed funeral speech is a good example of how this production's touches enliven the story without imposing on it. Antony follows Brutus's very reasonable and convincing speech with his blandishments that Brutus is an honorable man. On and on he builds his case, until it's clear that Antony's repeated claims of how these men who brutally slaughtered Julius Caesar are honorable is a sarcastic retort.
The crowd is huddled around a TV set, watching his speech live on the air. A more banal production might turn this into a heavy-handed commentary on mass media and how easily people can be swayed by such. That might work on a very basic level, but it's beside the point, since that's neither the text nor the subtext of this scene. Here the television set is simply a quick and clever way to illustrate how Antony is playing to the masses and whipping them up with his oratory. Brutus may have spoken sincerely but Antony has both sincerity and a savviness about what works with the people on his side. That trumps plain honesty every time. The simple use of the television gets this idea across swiftly, neatly and with humor and notably without distracting from the story at hand.
Jumbo is so very good as Antony, palling around with Julius, reacting with animal-like cleverness when surrounded by conspirators, leading an effective backlash and yet, somehow, always trumped whether it's by Julius or Brutus or in the very clever finale where Octavius steals his moment of triumph by stepping on the line, "This was a man!"
I'd say she stole the show if each actor in the spotlight didn't also seem to steal it both before and after her. Jules is Cassius, the tempter that pricks Brutus's high opinion of himself to set the plot in motion. She commands the stage so easily, I thought, "Who the heck is this?" That sense of discovery continued throughout for every actor new to me.
Of course Frances Barber as the easily flattered Julius is always good. Her disastrous decision NOT to beware the Ides of March is wittily and frighteningly done. (You don't want to ever get on Julius's bad side.) And Harriet Walter is wonderful as Brutus. She'll always be the perfect Harriet Vine to me (from TV's Lord Peter Wimsey) but Walter is an accomplished Shakespearean. Her Brutus banters with a servant, wrestles with his conscience and howls at fate with an anguished believability that lets this Brutus be a complex, changeable creature rather than merely defining him as, say, prone to vanity over his importance or some other such "take" on the role.
I don't mean to downplay how much the prison setting and other touches allow these great performances to flourish. Walter is allowed an emotional release when the action pauses and the guards of the prison herd the cast off stage at the end, giving a glimpse into the high price paid by the actors on the stage of history and the actors in a show, even presumably hardened criminals. The brief passages of rock and roll (from a score by Gary Yershon) aren't just modern paint on an old setting: they echo the chaos of war and events spiraling out of control. When Barber as Julius Caesar takes over the drums to rat-a-tat out the deaths of his murderers, it's a fittingly precise depiction of revenge from beyond the grave.
Similar delights abound, from the austere setting (a hallmark of St. Ann's Warehouse where each show seems to create its own perfect space) to the amusing signs in the restrooms warning visitors to the prison about illegal contraband, courtesy of designer Bunny Christie. The lighting by Neil Austin, the sound by Tom Gibbons and the movement by Ann Yee are all superlative. I wasn't quite into it at the very start of the show when Julius Caesar led his admirers in a rousing bacchanal, highlighted by a hand-raising flourish they all mimicked. But it paid dividends at the end, when that same movement was repeated by Dunne as Octavius, emphasizing how often the leaders can change but the story of power and the struggle to gain and keep it remains the same.
THE THEATER OF 2013 (on a four star scale)
Thanks for reading. Michael Giltz is the founder and CEO of BookFilter, a book lover's best friend. It's a website that lets you browse for books online the way you do in a physical bookstore, provides comprehensive info on new releases every week in every category and offers passionate personal recommendations every step of the way. It's like a fall book preview or holiday gift guide -- but every week in every category. He's also the cohost of Showbiz Sandbox, a weekly pop culture podcast that reveals the industry take on entertainment news of the day and features top journalists and opinion makers as guests. It's available for free on iTunes. Visit Michael Giltz at his website and his daily blog. Download his podcast of celebrity interviews and his radio show, also called Popsurfing and also available for free on iTunes. Link to him on Netflix and gain access to thousands of ratings and reviews.
Note: Michael Giltz is provided with free tickets to shows with the understanding that he will be writing a review. All productions are in New York City unless otherwise indicated.
Popular in the Community