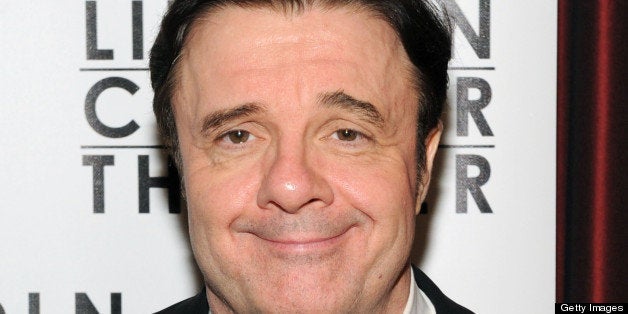 An excitingly ambitious new play by Douglas Carter Beane, The Nance is held back only by some poor casting and a modest lack of context. But it's essential theater for anyone who wants to see Nathan Lane -- one of the greats -- at the top of his game. He plays Chauncey, a gay actor in burlesque living a quiet life in New York City in 1937. Chauncey kills 'em playing a "nance," a stereotypical gay stock character, a nancy boy. He's outrageously queer on stage ("Hi, simply hi!" is one of his catch phrases, always delivered with a limp wrist held high) and firmly respectable off, a Republican who gets his sexual thrills on the down low.
At the time, black people were playing maids and dumb servants on stage or film and it was demeaning. Those roles made them invisible as a people. In contrast, when Chauncey camps it up onstage, it's the opposite. Gay people -- so often invisible and hiding in the shadows with barely a name for what they knew themselves to be -- were suddenly standing in the spotlight...and getting laughs. It wasn't humiliating; it was liberating.
One day Chauncey picks up a strapping young man named Ned (Jonny Orsini). Ned is everything Chauncey is not and though the actor tries to shoo him away, Ned is in love and soon they're shacking up onstage and off. All would be well if Chauncey weren't filled with such self-loathing he can't accept love. It also doesn't help that burlesque is a juicy target for the mayor and house after house is being shut down, with "Nance" acts public enemy number one. Chauncey is in self-denial, as much about his feelings for Ned as he is about the end of burlesque.
The show lacks a little context that burlesque wasn't just a juicy target: it was a weak one. If Chauncey wasn't out of work because he played a nance, he'd be out of work soon enough because of movies and legit theater. Burlesque was dying no matter what. For much of the show, that hardly matters. All the tech elements are superior, especially John Lee Beatty's set which revolves, taking us back and forth from burlesque routines with shameless puns and double entendres to backstage arguments and tense times at home for the two lovers.
The female parts never move beyond a type and I'm not sure if it's the casting or the script. Lewis J. Stadlen fares much better as Efram, a pro onstage and off who delivers his wink-wink jokes with tremendous aplomb. The real problem is Orsini, who looks great getting out of the bathtub but has a hard time convincing as a gay man. He's got the biggest storyline in the show and must grow from a fresh-faced kid unsure of his sexuality to a confident gay man and seasoned theater performer. He's just not up to it.
It's a pity since Lane is so very good as the other half of that romance. Onstage doing classic burlesque routines, he is peerless. But the courtroom scene that begins act two is brilliant too. Lane isn't defending being gay, he's defending burlesque and satire; it's deeply moving and Beane is at his best here perfectly melding the personal and the political. At home when Chauncey can't even begin to accept love, he's heartbreaking. Onstage when he breaks down and then recovers and finishes a bit, it's remarkable and funny and sad. For the price of one ticket, you get to see burlesque like they don't do anymore and a talent like they don't make anymore.
One hates to read too much into his other projects, but it's hard not think the talented playwright Richard Greenberg has spread himself too thin, what with his adaptation of Breakfast At Tiffany's, his new play here and his work on the upcoming musical Far From Heaven. Certainly The Assembled Parties feels more like a vague but promising first step towards a very good play, rather than the finished product it claims to be. It's a pity because Greenberg has some very vivid characters and three excellent actors on tap.
The set up is simple: Christmas Day in a New York City apartment, first in 1980 and then again in 2000. In Act One, we meet two married couples, two college buddies and a little kid sick in bed. In Act Two, the husbands and one of the college pals are all dead. What's telling is how little we care. Other than figuring out who is with who and what's going on, there's very little of interest in the second half. Jessica Hecht and Judith Light are both very good as the soon-to-be widows; they nail the humor and age gracefully (though Light perhaps is made to look too old in the first act and thus seems not that much older in the second half). The solid actor Jeremy Shamos plays the college buddy of Hecht's son. He clearly has a crush on Hecht (why not?) and when act two begins, we think perhaps for a moment that they're together. Nope, he's just still carrying a torch, incapable of moving on with his life and resigned to watching over her financially.
One other rather bizarre twist involves a blackmail between the two husbands, a wildly unconvincing turn of events. It seems weirdly out of place in this milieu; sure, there's a payoff of sorts in act two but really it's a ham-fisted way of getting there.
Essentially, we don't miss anyone that's gone. A daughter in the first act is feuding with her mother in the second and just screams at her over the phone. The dead college son? His mother admits the father's dream of the boy becoming the first Jewish President was unlikely in the extreme; even she thinks he would have faded away and had a pleasant, boring life. He died from AIDS but not for any interesting reason; just a blood transfusion. We barely knew him or the husbands or the daughter and then they're offstage or gone. Who cares?
Eventually, a new family is assembled out of the wreckage of the old ones and Greenberg finds a warm conclusion to this unfocused work. Light and Hecht and Shamos find sparks here and there in their parts, enough to make you wish a more focused, challenging work had been created for these amusing and fitfully vivid characters.
Composer Frank Wildhorn is one of the great mysteries of Broadway (though apparently overseas productions and successful touring companies explain why he keeps getting shows made). Truly he has a daring gift for the obvious (book writer and lyricist Leslie Bricusse is right there with him when it comes to rhymes) and fans love it. Jekyll & Hyde is by far his most popular work and it's returned to Broadway briefly after touring the country with stars Constantine Maroulis and Deborah Cox.
The original production was unintentionally campy, from the deadly serious demeanor of all involved to that infamous scene where star Robert Cuccioli sang a duet with himself by flipping his hair back and forth. This lean new version has a clearer production design and is a lot more enjoyable. They're by no means making fun of the show, but they're having a good time rather than treating this stuff and nonsense like high opera.
Maroulis sings in a pinched high voice that sounds like a dead ringer for Hugh Jackman when he plays the good Dr. Jekyll. And he growls down low when playing the bad Edward Hyde. He's still waiting for the right role to show us exactly what he's capable of on stage. But for fans of the show, Maroulis pulls out all the heavy metal squeals and sexy oomphs the part calls for.
The real surprise here is Deborah Cox as Lucy Harris. I missed her stepping into the title role of Aida in 2004 and given her talents on display, she should not have to wait another nine years to return. Especially with her first and last numbers -- the sexy "Bring On The Men" and the hopeful "A New Life" -- Cox turns these banal songs into showstoppers. She looks great, acts well (in admittedly undemanding circumstances) and sings beautifully. At the very least, the producers of Chicago should recognize another celebrity worth casting in that long-runner. And others looking for an actress ready for her closeup need look no further. This is her moment, at the very least.
If I were an actor, I'd jump at the chance to perform at Paper Mill. You get Broadway-quality productions, reviewers in from the big city and a short term commitment. What's not to love? The same is true for audiences. I'd never seen Thoroughly Modern Millie and I knew this rendition would give me a good idea of the show. Turns out it's pretty weak, but the talent on display kept me happy.
The story is a Frankenstein's monster of a tale stitched together from the happily forgotten feature film starring Julie Andrews and Mary Tyler Moore, along with new songs and bits from classic musicals of the past. Millie is a kid from the sticks looking to make it in New York City in the 1920s. She's a modern gal and determined to marry for money. Her first day in town, Millie (Laurie Veldheer) loses her purse. And a scarf. And a shoe. She bumps into Jimmy Smith (Jeff Kready), a blandly named, wise-talking and clean cut young man who sets her straight: head back home, kiddo. Well, I never! No points for guessing they meet again, fall in love, she resists because of that whole marry-the-boss plan and he turns out to be filthy rich.
Millie finds a home at a hotel for working actresses that also happens to be the center of a white slavery ring run by Mrs. Meers (Lenora Nemetz), a white woman in disguise as a painfully stereotypical Asian. This is meant to be a winking sendup of such racist characters of the past but isn't nearly funny enough to pull it off. Nemetz may be a pro of the old school, but whatever needed to be done to make this lengthy subplot amusing doesn't happen.
Much better is Brenda Braxton as Muzzy, a singing sensation in Europe who returns home just in time to throw a party and sing "Only In New York." The songs are essentially generic and interchangeable but the choreography by Denis Jones, the direction by Mark S. Hoebee and the generally strong singing put them over. Braxton makes "Only In New York" sound like a gem. And her glamorous penthouse is a highlight of the inventive set design by Michael Schweikrdt that makes a lot out of a little.
Best of all is Burke Moses as Mr. Graydon, the boss that Millie is determined to marry. They have a great duet on "The Speed Test," an amusing song where Millie shows off her excellent skills as a stenographer. Moses is winningly funny right from the start and elevates the show nicely. Other strong moments include the act two opener "Forget About The Boy," led by Millie and Miss Flannery (a solid Jessica Sheridan).
Ashley Kate Adams doesn't leave much of an impression as Millie's best friend, though generally the female chorus comes across much better than the male chorus. (Maybe Paper Mill exhausted itself with the excellent guys they cast for Newsies.) That and the tiresome white slavery jokes along with a batch of not so great songs keep the show at a slow simmer rather than bringing it to a boil.
Happily, the two leads are very strong and appealing singers. I can't quite tell how good Kready might be because his role is so blandly conceived. But it's telling that I wanted to be on his side and certainly he sang it well and did what he could. Best of all is Veldheer as Millie, a part that turned Sutton Foster into a star. Veldheer sings very well and dances nicely, carrying the show with ease on her slim shoulders. Paper Mill made about the most out of a modest musical and Veldheer made the most out of her part.
Hamlet seems a far more likely play by Shakespeare to turn into a one-man show set in a mental hospital. That play is all about madness and many of the famous speeches are interior monologues. Robert Wilson didn't exactly turn it into a triumph when he did a solo version of it, but it was an interesting evening of theater.
That can't be said for actor Alan Cumming's tackling of Macbeth. The best aspect is the scenic design by Merle Hensel (who also did the fine costumes). It's a green tiled room, with a glass window in the back where officials can stand and stare at the patient; the creepiness and institutional vibe is immediate and clear. Cumming is the patient, a man brought in by a kind attendant (Brendan Titley) and a doctor (Jenny Sterlin) after some terrible trauma (perhaps a car accident where his child was killed?). They wordlessly undress him and make Cumming at home. Soon he's diving into Macbeth, playing virtually all the roles.
Well into the play, the two other actors say a few lines. It seemed an unnecessary switch that added nothing. It would have been more powerful to have them say no lines at all or simply keep the one effective moment where Macbeth asks the doctor for help and she says he can only find a cure within himself. Let that one isolated line be the only words spoken by someone other than Cumming and it might have some impact. As it is, the fact that they don't speak for much of the play but then do at random points seems half-hearted.
As does the show. It's a feat, no doubt, for Cumming to tackle the play. But to what point? I seriously doubt anyone who wasn't very familiar with Macbeth would have the slightest clue as to what was going on. That alone is a damning fact. But even with a strong familiarity with the work, nothing new can be gleaned here. Cumming doesn't create vivid distinctive characters; they all sort of blend together. No insight arises from having all the voices emanate from one actor and certainly the setting of a mental hospital doesn't put the story or characters in any new light. Video monitors are placed high above the stage and give us different angles of Cumming. At one moment, he's lying on his cot alone but when you look at the monitor you realize someone -- a ghost? a vision? a devil? -- is watching over him. If that's meant to be revelatory or even just interesting, it fails.
Mind you, there's nothing wrong with failing. You have to fall flat on your face sometimes if you're going to grow as an actor. Here's hoping Cumming discovered something new about his talent or about Shakespeare while doing so here.
THE THEATER SEASON 2012-2013 (on a four star scale)
Thanks for reading. Michael Giltz is the cohost of Showbiz Sandbox, a weekly pop culture podcast that reveals the industry take on entertainment news of the day and features top journalists and opinion makers as guests. It's available for free on iTunes. Visit Michael Giltz at his website and his daily blog. Download his podcast of celebrity interviews and his radio show, also called Popsurfing and also available for free on iTunes. Link to him on Netflix and gain access to thousands of ratings and reviews.
Note: Michael Giltz is provided with free tickets to shows with the understanding that he will be writing a review. All productions are in New York City unless otherwise indicated.
Related
Popular in the Community