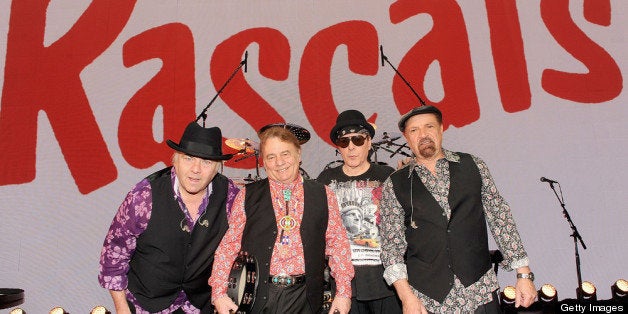 If you want to hear the difference between nostalgia and celebration, the difference between a tribute to rock and roll and real rock and roll, see The Rascals on Broadway. You can hear nostalgia in shows good (Jersey Boys), not so good (Rock Of Ages) and new (Motown: The Musical, which I haven't seen yet). But for the genuine article, The Rascals are your only option.
It all happens courtesy of Steven Van Zandt. A lifelong fan of the band, Steven coerced them into finally regrouping a few years ago for a benefit concert after decades apart. That wasn't enough for Steven so he put together this show, worked out the kinks upstate and brought it to Broadway. Steven wrote the book himself and produces and directs with Marc Brickman (who also does the terrific visuals).
The set-up sounds pretty nutty: you get the band onstage, of course. But you also get video clips of the band discussing their birth and career, clips of actor friends of Steven playing managers and the like, archival footage and -- strangest of all -- actors playing younger version of the four original Rascals in the studio and getting heartfelt about why they broke up. Whenever the band builds up a head of steam with three or four songs, the lights dim and they segue into another clip just when you're thinking, "Keep playing!" Often, the audience is still applauding the song they just heard, drowning out the first words of the next segment. Does anyone care? No, they do not.
It helps that The Rascals are in top form musically and can turn up the energy level on a dime. Eventually, you give in to the scrapbook, genial, have a drink and share a story nature of the evening. And the great songs keep coming, some 28 in all (and that doesn't even include my favorite from their debut album, the sexiest version of "Mustang Sally" ever). Along with a great cover -- their first #1 hit "Good Lovin'" -- the songs are mostly by lead singer and keyboardist extraordinaire Felix Cavaliere and lead singer and tambourine man Eddie Brigati. If you know who wrote what, well you know more than me and probably understand better what tore them apart all too soon back in 1970 (or 1972, depending on how you parse it). Suffice to say, despite their brilliance the band members which also include guitarist Gene Cornish and drummer Dino Danelli were never remotely as successful on their own.
In two hours, Steven fits in a lot of story amidst the stream of hit songs. Though always known as Jersey boys, they also have upstate New York roots. They were sparked by the success of Eddie's older brother David (who sat a row in front of me and cheered them on all night). He had hits as a member of Joey Dee and the Starliters, proving yet again that guys from their neighborhood could hit the big time. Their journeys take the guys in various directions first, from backing up a singer in Vegas while wearing kilts (don't ask) to jazz clubs in Manhattan to finding and sticking with each other and snagging that big break: a gig as a house band in the Hamptons. The Hamptons? Yes, Felix understood that the Hamptons was the one place every record executive headed to on weekends and in the summer. Sure enough, they became the hottest band in town, people crammed the club to hear them, they turned down Phil Spector (!) because they wanted to produce themselves and Atlantic finally gave them the freedom to do so.
There's more, such as Eddie's near-fatal car crash (he couldn't remember his name but put him up on stage and he could remember the songs), their growth from a tremendous bar band with deep roots in soul to a rock band that embraced everything from psychedelica to pop to protest music, their instinctive embrace of civil rights and finally the internal politics that drove them apart.
Forty years later they're finally back and performing together. Brickman's visual displays in the background are a great boon. He gives each song a new setting, switching from paisley playfulness to film clips to visual references (like the train that would careen by one of their early clubs) to full-on trippiness. It might have easily seemed cliched but Brickman knows what he's doing and the visuals let you focus on the music rather than the age of the band, which ranges from 67 to 70, along with three backup singers and two other musicians.
And the music sounded great. I saw the show on its first night and Eddie's mic cut out right at the start of the show opener "It's Wonderful." That was soon fixed but the audio mix was far from ideal, with the vocals brought in way too low. I assume that was tweaked by night two, which would already bump the show up a notch in my rating. At first, time seemed to have weighed on Eddie's vocals the most. Felix however was sharp right from the start. But two or three songs in, Eddie warmed up and was right there, providing great backup, chiming in on choruses and delivering his big numbers like the brilliant "How Can I Be Sure" with passion. Felix gave as good, knocking out "Groovin'" and "Good Lovin'" and their first hit "I Ain't Gonna Eat Out My Heart Anymore" and "I've Been Lonely Too Long" with conviction.
Whatever fences were mended, every one of the band members surely wanted to prove this wasn't old home week and they could still deliver. Felix and Eddie were unquestionably spurring each other on. Their songwriting collaborations were key but the band's unique chemistry made them truly special. As they say in the show, Felix felt soul music in his bones and had the vocals to prove it. Eddie had a terrific voice and a passion for doo wop. Gene was crazy about Duane Eddy and rockabilly. And Dino (the band's best instrumentalist and on anyone's short list of "greatest drummers of all time") was steeped in New Orleans jazz and second-lining flair. Put them together and you have a band that can deliver everything from the subtle pop of "Groovin'" to titanic soul classics to the protest anthem "People Got To Be Free" (a song that was released in the sadly appropriate summer of '68 when unrest and violence was in the air).
It was strangely poignant to see actors expressing their disappointment over breaking up and how it happened when the real men were right there and probably never could share their feelings with such directness to each other. You could only smile when the real Eddie silhouetted onstage raised his arms to shrug as if to say "Yep, I was a schmuck" when his video alter ego left the band. The three others paid due homage to Felix and his artistic ambition that pushed the band to greater heights (he clearly saw himself as the Brian Wilson of the group). But this show was the final proof that together they were far greater than the sum of their parts. Felix and Eddie were ideal co-vocalists since their strengths were so complementary. Gene seemed the peacemaker of the band and was hugging and embracing everyone in sight when not reveling in his guitar lines. And Dino may have been sporting a kerchief and a white shirt that made him look like a sous-chef but he was tossing off riffs and keeping the beat with such a mighty, thunderous aplomb that it was breathtaking to behold.
And the songs! Eddie sang some rocker I didn't even recognize but he killed it. Felix sounded like the years had fallen away on "A Beautiful Morning" and a personal highlight was "A Girl Like You," the song that for me typified their evolution from a tremendous bar band to a tremendous studio band. It was a love-fest for the crowd. The man next to me exclaimed, "I grew up with them!" before bear-hugging David Brigati. It may have been a rambling valentine but the sentiment was real. They sounded so good together you couldn't help wishing to see them in concert again -- no stories, no videos, no frills, just the band doing hit after hit and letting the music build and build. Preferably in a small club. Even if you don't get that chance, the real accomplishment of The Rascals: Once Upon A Dream is that it's not just a look back but very much in the moment. You don't have to wonder what they might have sounded like; you can say you saw them and they sounded pretty damn great.
Those who can't make it to their Broadway stand should check out their music. The band's first and third albums (The Young Rascals and Groovin') are their best. But their most popular release was Time Peace: The Rascals' Greatest Hits, one of those terrific collections that serves a band well and is the perfect introduction to their music. It came out on CD in 1990 and a remastering is long overdue. Look for it and you'll find two CD anthologies and multi-CD boxed sets. But those encyclopedic collections are for the already won over. If you're not Neil Young and still buying everything on vinyl, you're best off buying a digital copy of Time Peace and tossing in the later single "People Got To Be Free." That will give you 15 of their best songs, from killer covers like "Mustang Sally" and "Midnight Hour" to all the hits. Play it over and over and you'll soon be a fan and know exactly why people are still talking about The Rascals 40 years later.
THE THEATER SEASON 2012-2013 (on a four star scale)
Thanks for reading. Michael Giltz is the cohost of Showbiz Sandbox, a weekly pop culture podcast that reveals the industry take on entertainment news of the day and features top journalists and opinion makers as guests. It's available for free on iTunes. Visit Michael Giltz at his website and his daily blog. Download his podcast of celebrity interviews and his radio show, also called Popsurfing and also available for free on iTunes. Link to him on Netflix and gain access to thousands of ratings and reviews.
Note: Michael Giltz is provided with free tickets to shows with the understanding that he will be writing a review. All productions are in New York City unless otherwise indicated.
Popular in the Community