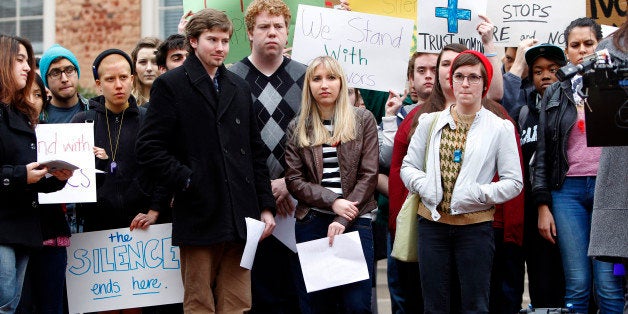 The total number of colleges currently under investigation for potential Title IX violations is higher than the 55 disclosed last week by the U.S. Department of Education.
The agency revealed for the first time Thursday that it has opened 55 investigations in order to review claims that the colleges and universities violated Title IX, the gender equity law, in their handling of sexual violence on campus. But Education Department spokesman Jim Bradshaw confirmed to The Huffington Post on Tuesday that there are at least 32 additional investigations of possible Title IX violations underway.
The Education Department did not include some of these schools in last week's disclosure because although they are undergoing Title IX investigations, the allegations are not in relation to the handling of sexual violence specifically, Bradshaw said.
The Education Department's Office for Civil Rights reported it currently has 25 cases involving Title IX and retaliation, four cases reviewing whether the school failed to designate a Title IX coordinator and 32 cases involving the failure to adopt and publish Title IX grievance procedures.
While the additional disclosure seems to indicate the department is not being fully transparent about the scope of the problem, it is also difficult to determine the number of reports of Title IX violations. This is in part due to the way such reports are counted. A single report can be counted as a single case, but it may be bundled with several other reports into a single investigation. A single school could have several investigations, and for different Title IX violations, or several schools could be part of a single investigation, if they are all within a system, such as the State University of New York system.
While Bradshaw did not disclose which schools are involved in the additional 32 investigations, he cautioned about this overlap, noting that the number of investigations does not necessarily indicate the number of schools under investigation.
The OCR also did not disclose which schools are involved in the Title IX cases not involving sexual violence specifically, but previous media coverage has identified a number of schools with ongoing Education Department investigations that were not listed among the 55 disclosed last week.
Hanover College, a religiously affiliated liberal arts school in Indiana, is under investigation for allegations that it retaliated against a sexual assault survivor for reporting she was harassed and abused by a former boyfriend.
These schools were not listed last week because their reviews involve other issues, "such as Title IX retaliation, failure to designate/provide notice of Title IX coordinator, and failure to adopt and publish grievance procedures" and "not sexual violence specifically," said Bradshaw, the Education Department spokesman. "These cases are currently under investigation and we cannot provide any additional details."
Support HuffPost
The Stakes Have Never Been Higher
Related
Popular in the Community