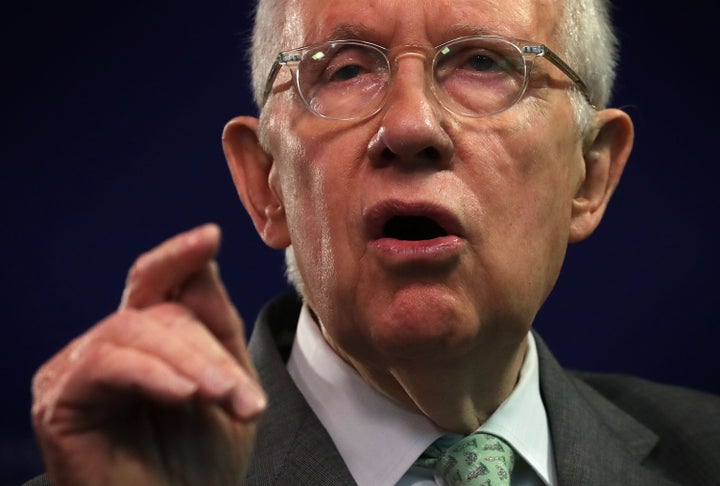 WASHINGTON -- Having Donald Trump lead the Republican ticket next fall is a boon to Democratic chances to retake the Senate, Minority Leader Harry Reid (D-Nev.) said Thursday, vowing to do everything he could to make sure his party takes advantage.
Democrats need to net four Senate seats to regain control of the Senate if they win the White House in November, and Reid pointed to a string of contests that he called "competitive and more," in part because of the real estate developer.
Among them were contests for GOP-held seats in Wisconsin, Ohio, Illinois, Pennsylvania, Florida and New Hampshire that already were expected to be hard-fought, but Reid also added Arizona, Missouri and Iowa to the mix.
Those last three feature three of the bigger names on the Republican side of the aisle, with Arizona's John McCain, Missouri's Roy Blunt and Iowa's Chuck Grassley.
Reid pointed to remarks McCain himself made that surfaced Thursday about facing "the race of my life" if Trump is the GOP standard-bearer.
Reid especially singled out Grassley for his role leading the judiciary committee and blocking hearings for Supreme Court nominee Merrick Garland. 
"Someone that was unbeatable -- unbeatable -- Chuck Grassley; his favorability has dropped 20 points," Reid told reporters in a conference call. "I'm not here predicting we're going to win Iowa, but I guarantee you -- guarantee you -- that this race is much different than it was a month ago."
That race and other Senate contests across the country could turn into a rout for the GOP if Democrats seize the chance presented by Trump, Reid said.
"I think that this race could be a debacle for the Republicans, but I'm not taking it for granted, I'm not being overconfident," Reid said. "That's why I'm doing everything I can ... to make sure we take back the majority."
Reid declined to seek re-election this year, citing an injury he suffered while exercising last year, but he sounded like he might be regretting that decision when there's the prospect of using Trump as a cudgel against a Republican opponent 
"I wish I were running again -- I'm not, because of my injury, but that doesn't matter. The thing is, I want to leave the Senate the majority," Reid said.
Calling all HuffPost superfans!
Sign up for membership to become a founding member and help shape HuffPost's next chapter