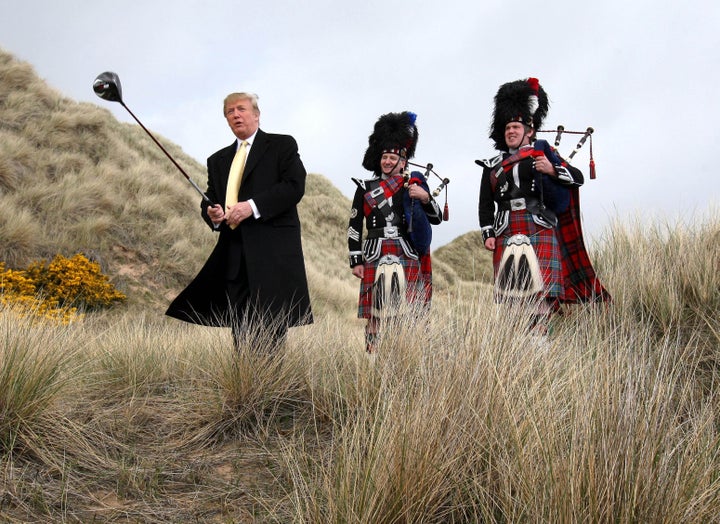 Donald Trump ended last week getting straight up owned at the White House Correspondents' Dinner by the comic stylings of both President Barack Obama and Saturday Night Live head writer Seth Meyers. So, it stands to reason that, newly chastened, the Donald would take a new tack and start acting like a serious, well-behaved candidate who is less prone to saying dotty things about politics.
"It's like in golf," he said. "A lot of people -- I don't want this to sound trivial -- but a lot of people are switching to these really long putters, very unattractive," said Mr. Trump, a Republican. "It's weird. You see these great players with these really long putters, because they can't sink three-footers anymore. And, I hate it. I am a traditionalist. I have so many fabulous friends who happen to be gay, but I am a traditionalist."
That's right. Trump doesn't "want this to sound trivial." He just has a speech impediment that makes everything he says sound that way.
Trump can only see things in the world as attractive or unattractive, and he has no time for anything he finds "very unattractive." Just ask the many girls he objectifies and humiliates when they enter the Miss USA pageant. His taste is a minefield of sexism bunkers and LGBT sand traps that have little to do with improving other people's lives. Trump's campaign hasn't even teed off yet, but he's already shanking his approach.
That last link is priceless. I'm told that Trump cheats at golf constantly.
Calling all HuffPost superfans!
Sign up for membership to become a founding member and help shape HuffPost's next chapter