A new Washington Post-ABC News poll found that 49 percent of Americans believe President Donald Trump "likely" committed a crime connected to Russia's suspected interference in last year's U.S. presidential election.
More than half of the respondents — 51 percent — don't believe Trump is cooperating with the investigation, according to the poll.
Most people — 58 percent — approve of the job special counsel Robert Mueller is doing in investigating the possible Trump campaign collusion with Russia, while 28 percent disapprove.
Predictably, the attitudes about Trump and the investigation broke down along party lines, with 78 percent of Democrats and just 38 percent of Republicans approving of how Mueller is handling the investigation. More than half of independent voters, 56 percent, approve of the job Mueller is doing.
The vast majority of Republicans — 82 percent — believe it's unlikely Trump committed a crime; half of independents and 74 percent of Democrats believe it's likely he did, the poll found.
Over half of all surveyed — 53 percent — believe the charges revealed Monday against former Trump campaign chairman Paul Manafort, associate Rick Gates and former campaign foreign policy adviser George Papadopoulos are only part of "broader wrongdoing by people involved in Trump's campaign." In contrast, 28 percent believe it's limited to the three men, while 19 percent expressed no opinion.
Manafort and Gates pleaded not guilty to the charges brought by the special counsel's office, which included tax evasion and money laundering. Papadopoulos on the other pleaded guilty to lying to the FBI.
Both before and after the indictments in the Mueller probe, Trump and some of his allies have instead attempted to link Hillary Clinton and the Democrats to Russia. Trump has said that as secretary of state in the Obama administration, Clinton approved a deal allowing the mining arm of the Russian nuclear energy agency to acquire the Canadian company Uranium One, which had uranium mining operations in the U.S.
Trump also insisted in a tweet that it was "generally agreed" that Clinton, not him, colluded with the Russians, following news that the Democratic National Committee had funded a "dossier" about Trump's alleged ties to Russia created by former British spy Christopher Steele.
The new Washington Post-ABC poll comes after a decline in Trump's recent approval ratings, with a Wall Street Journal/NBC News poll for Oct. 23 to Oct. 26 finding that only 38 percent of Americans approved of the job the president was doing, a new low for his presidency.
Trump has consistently fared worse this year in Gallup's polling than in many other surveys, but several recent polls have shown the president dipping below a 40 percent approval rating after a modest September uptick.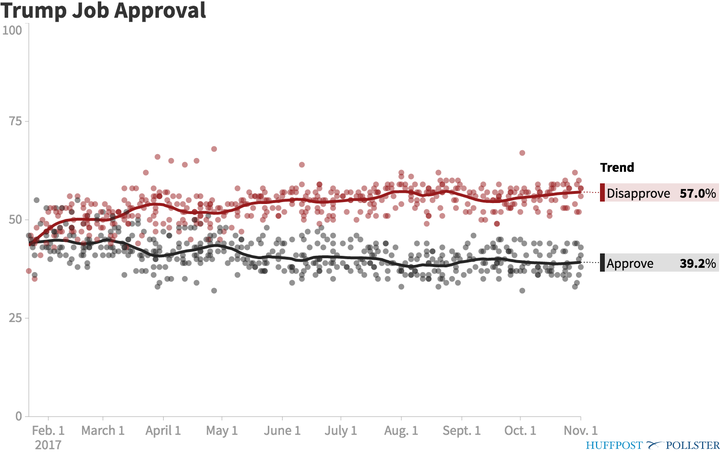 Popular in the Community