WASHINGTON ― President Donald Trump's re-election campaign has sent $274,000 in rent to Trump's office building during the first three months of this year, even though fewer than two dozen employees are on the payroll for an election more than three years away.
That total works out to a monthly average of $91,000, which is more than half of what Trump's campaign was paying Trump Tower each month at the height of the presidential race last year. Back then, though, the campaign had 168 employees with a New York City address on the payroll, compared with just 20 now, according to a HuffPost analysis of Federal Election Commission filings.
"I can only assume: bigger offices!" joked Robert Weissman, president of Public Citizen, an advocacy group opposing corporate influence in politics that has been sharply critical of Trump. "The math says it must be true."
The Trump campaign did not respond to queries regarding the payments, which included checks for $75,123 on Jan. 10, $158,996 on Feb. 22, and $39,892 on March 13.
The total paid to Trump Tower Commercial LLC, in fact, is only a few thousand dollars more than the salaries of all 20 employees in that period, combined. That includes the $15,538 in salary to Brad Parscale, based in San Antonio, Texas, who received more than $1.5 million in that time period for digital campaign work.
It cannot be determined through Trump's FEC filing for the first quarter of this year how many employees remained on the payroll at the end of March 31, or whether the campaign and Trump Tower have settled on a monthly rent for the future.
The smaller number of employees now means the campaign has paid an average of $4,567 per person in rent over the first three months of 2017. Last fall, the campaign was paying an average of $1,012 per employee in rent.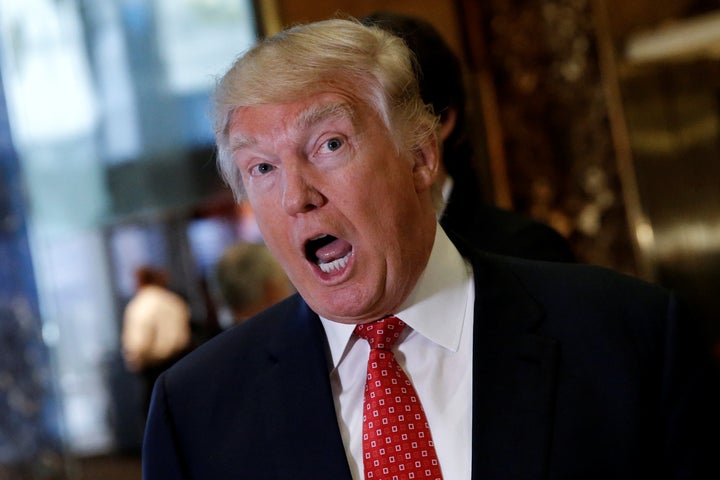 Trump in the early part of his campaign in 2015 and the first months of 2016, when he was paying most of the costs himself, was paying only $35,458 a month for rent at Trump Tower. That figure nearly quintupled last summer, when Republican donors began paying for most of the campaign's costs.
Trump began his re-election campaign earlier than any president in the era of modern campaigns. Former President Barack Obama officially filed his re-election paperwork a year and a half before the 2012 election date. Trump filed that paperwork the same day he was inaugurated, Jan. 20. The campaign on Monday said it will be spending $1.5 million to distribute a television and digital ad extolling Trump's first 100 days in office ― a period roundly panned for its lack of accomplishments.
Of course, Trump, unlike previous presidents, also has for-profit businesses that received millions in payments during his successful run last year, and which continue to receive payments now from his re-election campaign.
In the first three months of this year, for example, the Trump International Hotel and Tower in New York received $1,936 from the campaign. His hotel in Washington received $4,401, his hotel in Las Vegas received $13,928, and his restaurants received $8,707. Even Trump's bottled water company, Trump ICE LLC, was paid $1,768.
"We haven't had a president who tried to profit from the presidency while he was president," Weissman said. "The campaign, the presidency, the next campaign, they're all self-enrichment opportunities. Does he understand that this is wrong?"
Weissman pointed out that the vast majority of the $13 million Trump's campaign and related fundraising committees raised in the first quarter came from small donations. "Those people are contributing because they believe in him ― money that's not inconsequential to the donors, but is nothing to Trump," Weissman said. "To just siphon those funds for some small-scale self-enrichment is really disgusting."
Popular in the Community