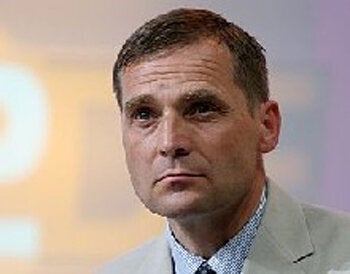 Germany's far-right National Democratic Party (NPD) chief in Mecklenburg-Vorpommern, Udo Pastoers, has been charged with inciting racial hatred for vitriolic diatribes wherein he has attacked Germany as a "Judenrepublik", or Jews' Republic, and labelled his country as nothing but "USrael's" puppet, Reuters reports. The comments come from a speech Pastoers gave in February of this year, at which point he enjoyed immunity; however, that immunity has now been rescinded by the state parliament and, if convicted, the far-right politician could face 4 years in prison, according to Reuters.
According to a state prosecutor's spokesman quoted by Reuters, Pastoers has also bellowed racist remarks against Germany's largest minority group--Turks--whom he described as "semen cannons" that threaten the German demography with their high birth rate.
Earlier this year, a court handed a suspended jail sentence to Udo Voigt, the head of the NPD, for inciting racial hatred.

The NPD wants to end parliamentary democracy and is described by Germany's domestic intelligence agency as racist, anti-Semitic and revisionist.
Related
Popular in the Community