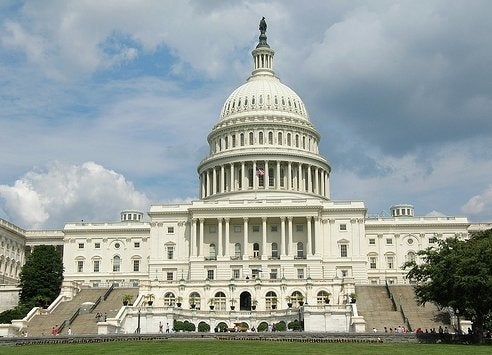 The elections two weeks ago reflected significant advances for the cause of gun violence prevention. Meanwhile, with stories of fear-driven gun sales emerging since the election, the shallowness of the gun lobby's divisive approach to America's problems has never been more apparent.
The key observation in the report is that guns were not a wedge issue in this election, and instead took their place among the many challenges facing our country. Not surprisingly, candidates endorsed or "A" rated by the NRA suffered losses in every region of the nation, up and down the ballot, losing not only the White House, but also at least six crucial races for the U.S. Senate, and many more in the House of Representatives.
Even before the U.S. Supreme Court's ruling on the Second Amendment in late June, we predicted that most law-abiding citizens would realize that the Court wouldn't let their guns be "taken away," regardless of who was victorious on Election Day. At the same time, we thought that voters now would be more likely cast their ballots for candidates willing to do something to reduce the 100,000 deaths and injuries from guns which occur every year in America, and make it harder for dangerous people to get guns.
President-elect Obama has consistently supported common sense gun laws in the U.S. Senate and in the Illinois State Senate, along with supporting an individual right to own a gun for self-defense in the home. Vice President-Elect Biden, one of the original authors of the 1994 Federal Assault Weapons Ban, has been a leader in gun violence prevention throughout his distinguished career. The Brady Campaign's choice was clear. In the middle of October, Jim and Sarah Brady and the Brady Campaign issued a strong endorsement of the Obama-Biden ticket.
By endorsing Sen. John McCain, the NRA was left backing someone they used to call "one of the premier flag carriers for the enemies of the Second Amendment." The NRA promised to spend millions of dollars trying to defeat then-Senator Obama in battleground states across the nation. By Election Day, the NRA had spent 30 times the amount of money against President-elect Obama than they'd spent against Al Gore in 2000. NRA bosses spent millions on television ads, campaign literature and Web sites screaming that Senator Obama would be "the most anti-gun President in history."
What happened (other than an increase in gun sales by those who believed this propaganda)? Over 64 million voters rejected the NRA's campaign of division and agreed with the Brady Campaign's choice for President. Barack Obama won the NRA's home state of Virginia -- the first time any Democrat for President carried the Old Dominion since 1964 -- and went on to win a cross-section of states from Florida to Indiana, Pennsylvania to Colorado, North Carolina to Nevada, Iowa to Ohio, and New Hampshire to New Mexico.
Even more indicative of the gun lobby's weakness, NRA bosses Wayne LaPierre and Chris Cox personally campaigned in the swing states of Colorado, Pennsylvania, Minnesota and Nevada. Judging by the election returns, that may have been a mistake. President-elect Obama carried Colorado by almost 8 points, Pennsylvania by 10 points, Minnesota by 10 points, and Nevada by 12 points.
Beyond the Presidential campaign, the NRA lost at least six critical races for the U.S. Senate to moderate candidates who favor common sense gun laws:
· In Colorado, the NRA endorsed former Rep. Bob Schaffer in his losing campaign against Rep. Mark Udall (C-rated by the NRA). Udall won by 12 points.
· In Louisiana, the NRA endorsed State Treasurer John Kennedy in his losing campaign against Sen. Mary Landrieu (C-rated by the NRA). Landrieu won by six points.
· In New Hampshire, the NRA endorsed Sen. John Sununu in his losing campaign against former Governor Jeanne Shaheen (F-rated by the NRA). Shaheen won by over six points.
· In New Mexico, the NRA endorsed Rep. Steve Pearce in his losing campaign against Rep. Tom Udall (C-rated by the NRA). Udall won by a whopping 22 points.
· In North Carolina, the NRA endorsed Sen. Elizabeth Dole in her losing campaign against State Senator Kay Hagan (F-rated by the NRA). Hagan won by over eight points.
· In Oregon, the NRA endorsed Sen. Gordon Smith in his losing campaign against challenger Jeff Merkley (F-rated by the NRA). Votes are still being counted, but Merkley won by at least three points.
What's more, returns coming in from Alaska now show that the NRA could lose Alaska's incumbent Senator Ted Stevens to Anchorage Mayor Mark Begich. There will also be a run-off election in two weeks in Georgia between Jim Martin and Sen. Saxby Chambliss, the outcome of which is hardly predictable. Finally, depending on the results of a recount, NRA may yet lose the Senate seat in Minnesota to F-rated Al Franken, now held by Sen. Norm Coleman, who is currently leading by just 215 votes.
The NRA's efforts in key U.S. House races were no more successful. In the 24 races that Democrats have picked up from the Republicans so far, the NRA endorsed in 20 campaigns and lost 19 of them. In addition, of the four seats picked up by Republicans this year, the NRA endorsed three Democratic incumbents and lost all three, including Rep. Cazeyouz in Louisiana and Rep. Lampson in Texas.
The Brady Campaign, on the other hand, endorsed candidates in eight House races picked up by the Democrats, and won seven of them (losing only Republican Rep. Chris Shays in Connecticut). All seven of these victories -- including Kosmas in Florida, Dahlkemper in Pennsylvania, and Peters in Michigan -- were in head-to-head match-ups against candidates endorsed by National Rifle Association leaders.
At the state level, among other losses for the gun lobby, the NRA also lost control of the New York State Senate for the first time in two generations. This victory could mean a great deal for advocates of gun violence prevention in the Empire State whose efforts have been blocked for decades.
What all of these results mean for the cause of gun violence prevention is that pragmatic elected officials who favor common sense gun laws won across the country on Election Day, while the gun lobby took a crushing defeat. There is much more work to do, however, and we at the Brady Campaign urge you to join us.
Every year in America, 100,000 people are killed or wounded by gunfire. Now is the time to reach out to America's newly elected officials and tell them that requiring criminal background checks on all gun sales just makes sense. Tell them that cracking down on corrupt gun dealers to cut illegal gun trafficking just makes sense. Tell them that protecting our police by taking military-style assault weapons off our streets just makes sense.
Lives are at stake, and it just makes sense.
Popular in the Community