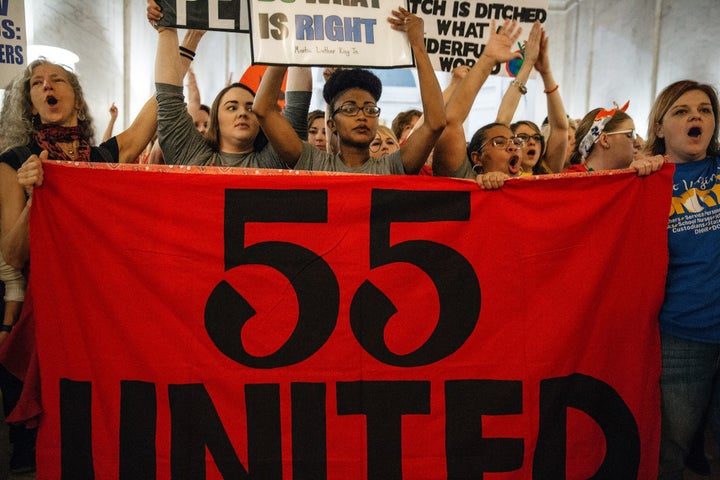 West Virginia's governor and state legislators struck a deal with union leaders to end the massive teacher strike that has closed schools across the state for nine weekdays.
Gov. Jim Justice (R) announced early Tuesday that teachers, school personnel and state employees would all receive a 5 percent raise this year. Meanwhile, health insurance costs would be temporarily frozen as the state develops a task force to deal with rising premiums. Workers were demanding the state curb insurance costs and give them significant raises after years of stagnant pay.
The state House and Senate passed the measure Tuesday and Justice signed it the same day. Legislators said schools were expected to reopen Wednesday.
Workers inside the capitol were chanting "Today! Today!" as legislators met to pass the bill.
Justice proclaimed last week that he'd reached a deal to end the strike, only to see rank-and-file workers remain off the job as his pay proposal fell apart in the state Senate. The earlier deal would have provided a smaller raise for state workers than the one detailed on Tuesday.
Don Scalise, a government and history teacher at Cabell Midland High School, told HuffPost that "everyone seems pretty satisfied" with the deal that was coming together Tuesday.
"It's a significant pay raise and we're very happy about that. With the task force on [health insurance], we're moving in the right direction," Scalise said. "Teachers are ready to get back to work."
Jenny Santilli, a Spanish teacher at Bridgeport High School, said she was happy with the outcome and considered it a "good beginning," noting that she and others planned on holding state leaders to account.
"There are a lot of good things that came out of this," Santilli said. "We couldn't have done it without our superintendents and the support of our families."
The strike was the first of its kind in West Virginia in nearly 30 years. Teachers and school personnel stayed off the job in all 55 counties, flooding the capitol in Charleston each day to protest, often with a line of workers stretching down the street waiting to enter. Workers also set up rallies at schools across the state.
Public-sector workers in West Virginia don't have a formal process for collective bargaining. The wage scale is determined by the state, and lawmakers pass raises through the legislature.
West Virginia teachers are among the lowest paid in the country, ranking 48th out of 50 states and the District of Columbia. The state's teachers have not seen an across-the-board pay hike since 2014. Meanwhile, health insurance costs have risen, driving down their take-home pay.
Popular in the Community