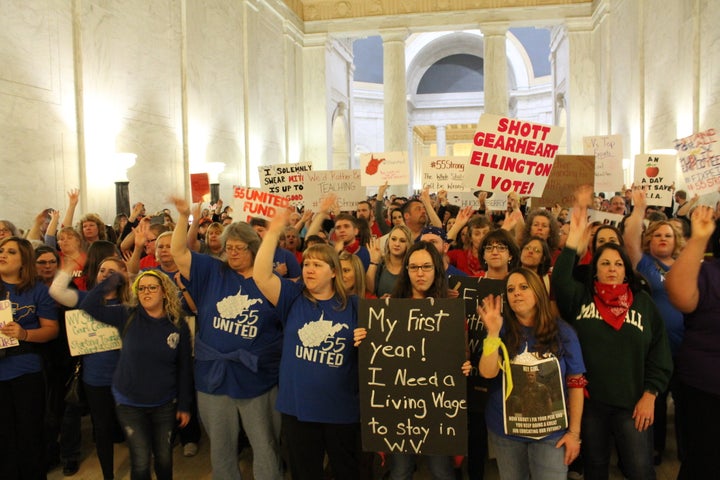 The West Virginia teachers strike appeared all but certain to carry into next week after state legislators passed a bill late Saturday that would give educators a smaller raise than the governor had told them they would get.
The state Senate approved a measure granting teachers, other school personnel and state employees a 4 percent raise to end a statewide walkout that has closed schools in every county for seven days.
But the deal announced by Gov. Jim Justice (R) earlier this week ― and the one that the West Virginia House of Delegates had overwhelmingly approved in order to end the work stoppage ― would have given teachers and other school employees a 5 percent raise and state employees a 3 percent raise.
Unions representing school employees weren't happy with the Senate's decision to split the difference on raises. If the numbers proposed by Gov. Justice were going to be changed, they said they wanted all state workers brought up to a 5 percent pay hike.
In a joint statement, the unions said, "You do not equalize pay for different groups by simply taking away from one and passing it to another. The purpose of this is clear ― to divide us and pit us against each other."
They called on protesters to fill the halls of the state capitol in Charleston again next week: "All public schools will be closed again on Monday and remain closed until the Senate honors the agreement that was made."
Teachers and other school personnel began their walkout on Feb. 22, closing schools in all 55 of the state's counties in an unprecedented show of solidarity. It was the first teachers strike of its kind to hit the state in nearly 30 years.
Workers are demanding that the state curb their rising health insurance costs and give them significant pay hikes after years of stagnant wages. Teachers haven't seen an across-the-board raise since 2014, and increasing health premiums have caused some workers' take-home pay to decrease. West Virginia ranks 48th out of 50 states and the District of Columbia in teacher pay, according to the National Education Association.
Their concerns were well justified. Republican state senators apparently were not onboard with the plan that the governor announced. After it was passed by the House, they amended the bill so that the teachers' pay hike would be dropped to 4 percent, all but guaranteeing that the unions would reject it.
The late Saturday night at the capitol came with some added drama. At first, senators accidentally passed a bill with language giving teachers the 5 percent raise they did not intend to give them.
The lawmakers had to go through several procedural steps to recall the bill, amend it to a 4 percent raise and pass it again.
The state Senate and House will have to go to conference next week to reconcile the two different pay raises they've passed.
Support HuffPost
The Stakes Have Never Been Higher
Popular in the Community