Just days later, President Barack Obama made his clearest statements about his plans for the passage of recreational marijuana measures passed in Colorado and Washington, saying to Barbara Walters that prosecuting adult pot users in states that have legalized the drug won't be a top priority for his administration. Marijuana remains illegal under federal law.
"We've got bigger fish to fry," Obama told ABC News' Barbara Walters. "It would not make sense for us to see a top priority as going after recreational users in states that have determined that it's legal."
The Obama administration suggested last week that it was considering plans to undermine the voter initiatives. In his interview with Walters, Obama did not say whether his administration would go after producers and suppliers of marijuana in those states. The administration has cracked down aggressively on the medical marijuana industry in states like California and Colorado, despite its legality in those states.
A majority of Americans want the Department of Justice to leave pot smokers alone in the states where the drug has been legalized, according to a HuffPost/YouGov poll.
So, pot is legal in Colorado and it appears as if it will continue to be, at least for the time being -- now what?
COMMON QUESTIONS ABOUT LEGAL WEED
Now that A64 has passed and been signed into state constitution, how much pot can an adult possess in Colorado?
Adults age 21 and older can possess up to an ounce of marijuana and grow up to six plants privately.
So, if an adult possesses more than an ounce, what will happen to them?
They will still be penalized, unless they are a medical marijuana patient. Medical marijuana patients are allowed to possess up to two ounces, and more in some cases.
How many plants can be grown by an individual? How many can be flowering? Does size matter? What if those plants grow more than an ounce?
Under Amendment 64, adults 21 and older are allowed to grow up to six plants, with only three of the plants being mature, flowering plants. The adult is allowed to privately possess the usable harvest from those six plants (which may be more than one ounce). It should be noted, however, that the harvest of those six plants must remain on the premise where it was grown.
Can an adult buy recreational marijuana from a dispensary?
People that are not registered medical marijuana patients may not purchase marijuana from dispensaries. Only medical marijuana patients can purchase marijuana from a dispensary.
Where can a person obtain marijuana legally at this point?
Adults 21 and older can cultivate up to six marijuana plants in their home. Or they could accept a gift of up to an ounce of marijuana from another person 21 or older.
Does A64 pertain to Colorado residents only or can tourists enjoy the benefits?
There is no residency requirement under Amendment 64.
If stopped by the police, what will happen if an adult 21 or over has an ounce or less of pot on them in the state?
They will not be penalized or arrested for marijuana.
Can an adult smoke pot in public? How about in the privacy of their home?
No, an adult cannot smoke marijuana publicly. Amendment 64 provides that nothing shall permit consumption that is conducted openly and publicly or in a manner that endangers others. Adults are able to consume marijuana in their homes, but their landlords could act to restrict this action.

If a tourist obtains legal marijuana in Colorado, what happens if they carry that marijuana beyond state lines?
Marijuana still remains illegal at the federal level. If someone transports a controlled substance across state lines, they could face felony prosecution for their actions. They could also face prosecution in the state they are bringing the marijuana to.
If an adult works at a so-called "drug-free" business, are they protected under Amendment 64 to still consume marijuana if it doesn't effect their work?
By its terms, Amendment 64 allows employers to prohibit use by employees only in the workplace. While employers may restrict use, nothing in the Amendment specifically authorizes discipline or termination simply for off-duty use. Terminations may give rise to legal claims, especially if off-duty exercise of the Constitutional right does not interfere with job performance.
How would an adult best avoid federal interference in growing their own legal marijuana for personal use?
An adult over the age of 21 should strictly adhere to the rules promulgated under Amendment 64. Given a recent comment made by President Obama, law enforcement priorities should not be directed at those in compliance with state's legalization laws.
So, even though it is now legal in the state, could a person growing the legal amount of marijuana and/or possessing the legal amount of marijuana still potentially be charged with a federal crime? Is this any different than the risks that medical marijuana dispensaries/patients deal with every day already?
Potentially that is possible. However, in light of a comment made by President Obama, enforcement priorities will not be directed at people in states that have recently passed legalization initiatives. These risks are similar to those dealt with by dispensaries and patients every day.
Now that A64 has been signed into the state constitution, what are the next steps to insure proper and effective law and regulation for marijuana in Colorado?
The most important step is to ensure that responsible regulations are implemented in Colorado. The state legislature must craft regulations that are strict yet functional to ensure this regulatory system we have designed works well. Additionally, the legislature must determine how the taxes are going to be administered under Amendment 64. After that, the most important step is implementing those regulations and working with state and local lawmakers to ensure their success.
Can cities, counties, municipalities vote to ban marijuana shops? Can they ban marijuana in general, i.e. if a city bans marijuana dispensaries, is it still legal to possess marijuana in that city?
Localities can vote to ban commercial marijuana shops and other marijuana businesses. Even if a community bans these facilities, it is still legal for adults to possess and cultivate marijuana for private purposes.
If all stays on track, when will Coloradans be able to go to a dispensary and buy up to an ounce for personal use?
By January 1, 2014, retail marijuana establishments should be up and running.
What will commercial sale look like in Colorado? Will it mirror a kind of craft brewery model? Will there be pot smoking cafes? What do you expect?
I expect commercial sales to resemble medical marijuana sales in many respects. You will enter a retail location, present your valid ID showing you are 21 years of age or older, then you will be able to purchase marijuana. The marijuana you purchase will be subject to an excise tax (similar to the way alcohol is taxed). As far as private clubs where marijuana can be consumed, I anticipate regulations will be crafted in regard to the legality of these establishments.
Can we expect to see a marijuana DUI bill in 2013?
I think it is very likely that we will see a DUID bill in 2013. Some legislators have already began discussing it. Amendment 64 does not authorize driving while impaired by marijuana, and I think there will be much discussion in the next legislative session to address this issue.
What is the accepted level of THC in a blood stream that would label an adult to be "intoxicated"?
That is difficult to say. Due to the fact that marijuana is metabolized at different rates by different people, it is very difficult to come up with an "impairment" standard like they have for alcohol. More testing needs to be conducted in order to determine what the level of "impairment" is for marijuana.
How will tax revenue be generated from the commercial sale of marijuana, what is the ideal model? And where is that tax money earmarked to go?
Marijuana that is sold in retail establishments will be subject to typical state and local sales tax and an excise tax. These taxes are expected to produce close to $50 million in new tax revenue annually. This excise tax could be as high as 15%. The first forty million dollars generated from the exise taxes will go to public school construction, and the remainder will be put into the Colorado General Fund.
Will schools be able to accept the tax revenue if they have any kind of federal funding?
Schools themselves would not be accepting the money generated from the sales of marijuana. The money would be used to fund new school construction projects.
What about banks, since they are federally regulated, will commercial marijuana dispensaries be forced to remain cash businesses like medical marijuana dispensaries have been forced?
Some banks work with state-legal medical marijuana busniesses, but many don't. There has been discussion of changing the way marijuana is treated at the federal level, which will hopefully lead to more banks working with these businesses.
In 2011, Colorado lawmakers began to pursue so-called "medical marijuana financial co-ops" as an alternative to mainstream banking that would allow for a non-federally regulated banking system -- is that a viable option for businesses?
This could present a solution to the banking issue, but it remains to be seen how this will unfold in 2013.
What happens to Colorado's medical marijuana dispensaries when recreational dispensaries begin popping up? Will they simply convert and service both clients? Or will both remain and be separately regulated?
Medical marijuana dispensaries can decide whether to opt-in the new recreational system. We predict there will continue to be a market for medical marijuana, after new recreational stores open in 2014.
What do you expect the federal government's response to be?
As of last week, President Obama said he would not make it a priority to prosecute marijuana users in Colorado and Washington. I feel there has been a tremendous amount of support for Congress to reevaluate the way it treats marijuana under federal law. Recently, members of the U.S. House of Representatives petitioned the federal government for exemption from the Controlled Substances Act in Washington and Colorado. I expect their response to be fairly hands off, and to let the states regulate themselves in this area. Hopefully, we can show the federal government that regulation does work, and it is a more sensible approach to marijuana policy that should be adopted nationwide, not just in a handful of states.
As you see it, what options does the federal government have in response to A64?
I believe the federal government can take a hands off approach to the laws passed in Colorado and Washington. Just as the federal government has ignored enforcing other laws like immigration and the Defense of Marriage Act, I feel it could ignore enforcing the Controlled Substances Act as related to personal marijuana use in Colorado and Washington.
What happens if the federal government does decide to sue to block the measure? Is there a contingency plan in place?
We have a legal team in place which is prepared to deal with any legal challenges. Hopefully the federal government will not attempt to overturn the will of the Colorado voters. If they attempt to do so, we will be prepared to defend the voters in court.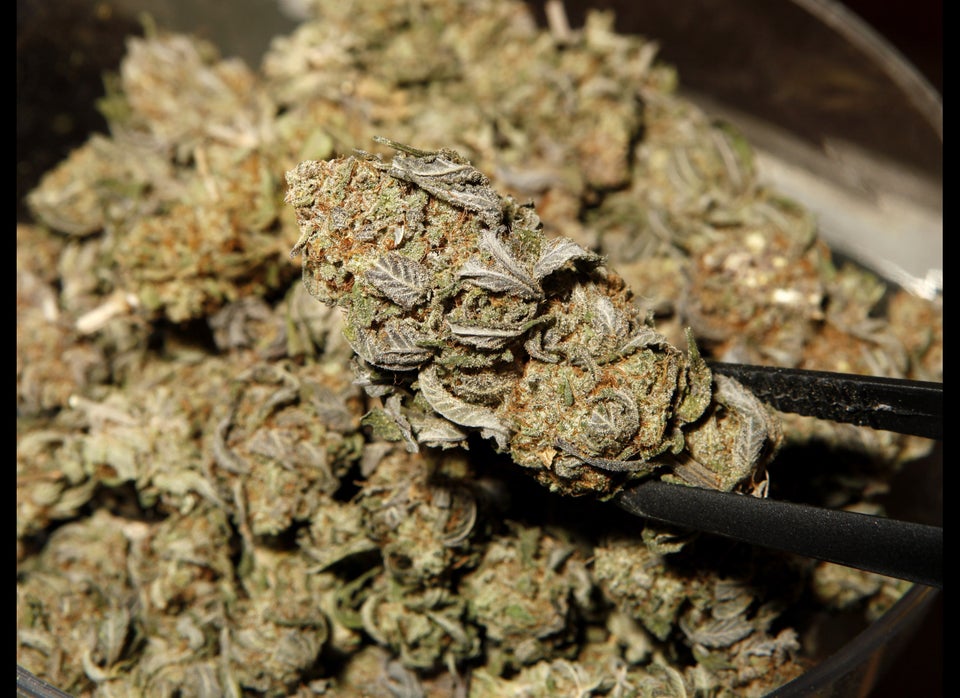 16 Facts About Marijuana And The U.S. Economy
Popular in the Community