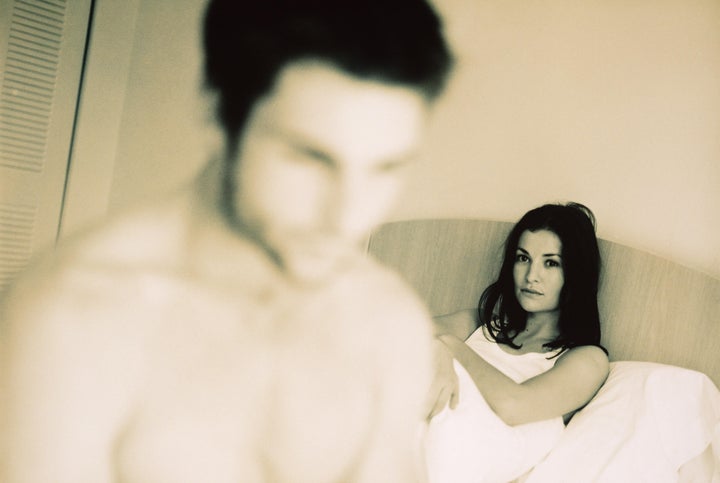 What's the best way to address it with your spouse? Below, sex therapists share the advice they give people with higher sex drives than their partners.
1. Be honest with your spouse about your needs.
Don't shut your partner out and quietly suffer through your sexual frustration. The first step you should take to improve your sex life is to tell your S.O. that you wish you were intimate more frequently, said Keeley Rankin, a sex therapist in San Francisco, California.
"See how your spouse responds," she said. "Listen to what they say, feel and say they want. You never know, they may want more closeness as well."
2. Discuss the things that make sex possible and the barriers in the way.
Without asking, there's no way of knowing why your spouse is disinterested in sex. Maybe they're just exhausted and too stressed out by the day's end to initiate sex. Or if they're experiencing sexual dysfunction of some kind (premature ejaculation, erectile dysfunction or a lack of vaginal lubrication, for instance), it makes sense that they're apprehensive about initiating sex.
"You have to consider the life, emotional and physical barriers that can affect sex and shift libidos," said Elizabeth McGrath, a sex therapist and educator who works in the Bay Area. "If your spouse has been caring for others all day, for instance, they might not feel ready for sex until they've had a moment to themselves to feel nourished and decompress."
Once you've pinpointed some potential causes, figure out a workaround as a team; schedule a doctor's appointment if there's a physical barrier to sex, or give your spouse some totally kid-free "me time" if exhaustion is the problem.
3. Try seduction, not criticism or pressure.
The mismatch often creates a cycle where the spouse with the higher sex drive complains, compares or criticizes their partner and the partner ends up having sex out of obligation, she explained.
Instead of pressuring your spouse, "see if you can find out what turns them on the most and try seduction," Harel said. "Try saying (and really meaning), 'It's fine if we don't have sex tonight but would you be willing to just open up to see if you start to get turned on?'"
She added: "Just because you start, doesn't mean you have to go all the way. Make sure you have this agreement with your partner."
4. Take turns initiating intimacy.
If you're locked into a cycle of initiation and rejection, ask your spouse if they'd be willing to initiate some form of intimacy every few days, said Moushumi Ghose, a sex therapist and author of Classic Sex Positions Reinvented.
"Take turns each day initiating some kind of touch, even if if the goal isn't orgasm, but just non-goal oriented sexy time," she said. "The next day, the other person initiates. This can help balance out the playing field."
5. See if your spouse is willing to make out.
Reconnecting sexually is all about taking slow, measured steps. If your partner is willing to have a hot make-out session or just touch, be open to that, said Celeste Hirschman, a sex therapist and the co-author of Making Love Real: The Intelligent Couple's Guide to Lasting Intimacy and Passion.
"Oftentimes, when people are asking for sex, a lot of what they want is just enthusiastic, loving connection." Hirschman said. "Just remember: You both have to be enthusiastic about it; it won't be fulfilling if your partner just gives you sex without being present or enjoying the experience themselves."
6. Get outside help.
Instead of dwelling on what's missing in the relationship, consider the bond and attraction that still exists and build on that, McGrath said.
"Explore workshops, sex education resources and sex therapy that can expand your sexual horizons," she said. "Look at what is possible and continue to talk about what else you can do together as a team."
7. Keep bringing your sexual energy, but in a loving, calm way.
Don't lose heart if you're the higher-desire partner, said Ian Kerner, a sex therapist and New York Times-bestselling author of She Comes First: The Thinking Man's Guide to Pleasuring a Woman.
"Higher-desire partners often get frustrated and feel rejected, creating a sexual disposition that is impatient and brittle and temperamental," he said. "This often worsens the dynamic around sex and sometimes the higher-desire partner may opt out altogether, which is equally bad."
The best thing you can do, according to Kerner, is to "stay in it to win it. That means nurturing arousal through positive acts of intimacy."