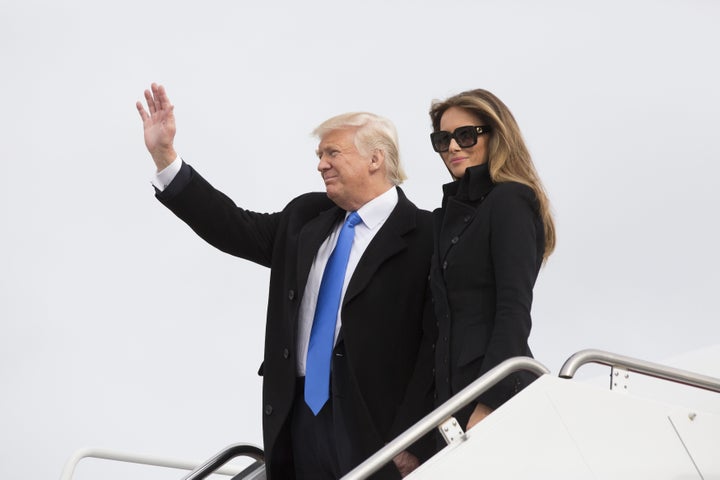 As the country inaugurates its 45th president ― a man whose rhetoric, proposed policies and closest aids are openly hostile to Muslims ― a group of progressive Christians is encouraging people of conscience to visit their local mosques and stand in solidarity with their Muslim neighbors.
Los Angeles-based faith group Progressive Christians Uniting announced the initiative to its network in a newsletter in early January. At least seven independent groups of Christians and other concerned citizens throughout California will be joining Muslims in prayer as President-elect Donald Trump is sworn into office, the organization said in a press release.
"As people of faith, we consider religious freedom for all people to be a priority," Rev. Paige Eaves, president of PCU, told The Huffington Post. "We are concerned that if one form of religion can be targeted for registration, surveillance, and other violations of civil rights, then the same persecution could happen to any form of religion."
Rev. Timothy Murphy, a Los Angeles-based pastor and PCU member said simply: "We're here to remind our Muslim brothers and sisters that they belong here, and we love them."
Inauguration Day happens to fall on a Friday ― the day of the week when many observant Muslims visit their local mosque for jummah prayers. That also means that as Muslims gather in a sacred act of spiritual communion, the country will inaugurate a president who has floated the idea of banning Muslims from immigrating to the U.S. and has been open to the idea of registering American Muslims on a national database. He's also surrounded himself with advisors and allies who harbor prejudice against of Islam. One of them, Rev. Franklin Graham, will be offering prayers at the inauguration.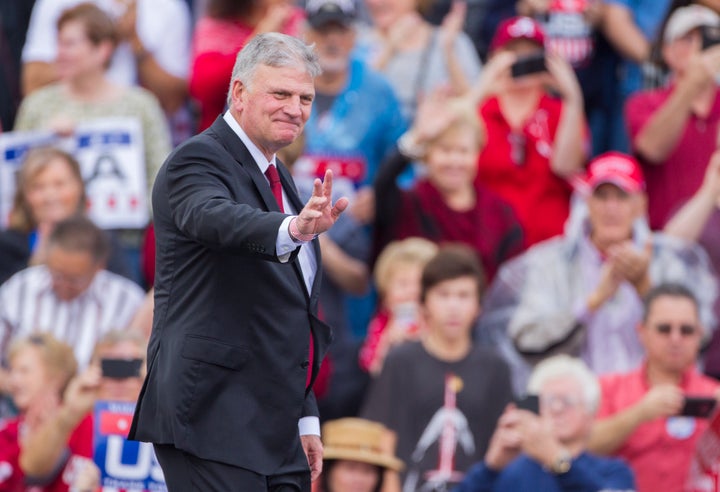 But on Friday, groups of Christians and other concerned citizens will gather at mosques from Santa Cruz to Irvine, spanning the southern half of the California coast. One of the largest events will take place at the Islamic Center of Southern California, which just months ago received calls from a man threatening to kill worshippers because of his "hatred for Muslims." The man was arrested in October, and police found an assortment of rifles, shotguns, and handguns in his home, as well as thousands of rounds of ammunition.
Omar Ricci, a spokesperson for the center, said many in the congregation are feeling a sense of "apprehension" as Trump, who many believed fanned the flames of Islamophobia, takes the country's helm.
"People are worried how far will the rhetoric get translated into actions or policies based on politically-motivated ignorance," Ricci told HuffPost.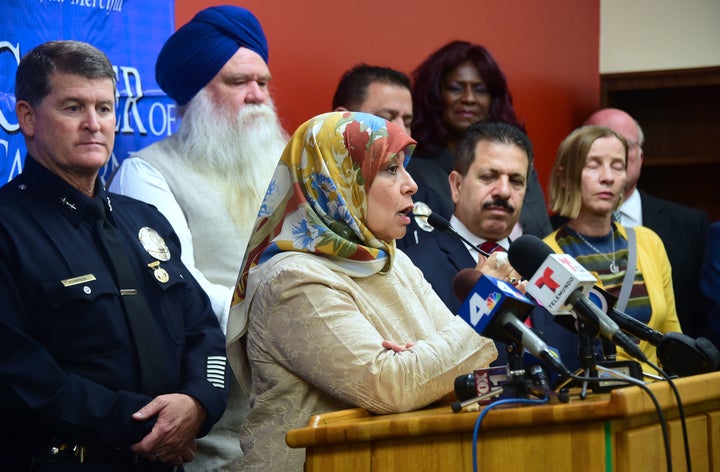 Murphy, who will be among those visiting the Islamic Center of Southern California, said standing up for marginalized communities is a core tenet of Christianity.
"In my tradition Jesus stood on the side of those who were mistreated and marginalized in his day. So if we want to be disciples we should look to stand alongside those who are being mistreated or denigrated in our day," Murphy told HuffPost.
Gina Whitaker, an interfaith activist and Unitarian Universalist based in San Luis Obispo, is leading a group of roughly a dozen to the central coast city's local mosque. For Whitaker, the event represents not only an opportunity to stand with Muslims, but also to reflect on her own faith in a meditative way.
"I wanted to divorce myself from the goings on in Washington and engage myself in a prayerful hour," Whitaker said.
Ahmed Deif, president of San Luis Obispo's Islamic Society of the Central Coast, said the mosque has had many neighbors like Whitaker reaching out in recent months to come stand in solidarity.
"With the negative messages that came out [about Muslims] from President Trump's campaign we had a lot of groups reaching out to us in San Luis Obispo and saying 'This kind of speech doesn't represent us and what this country is about,'" Deif told HuffPost.
In other places the election simply gave rise to curiosity and questions about a faith that most Americans know very little about. "There's been an upswing in requests for tours and visits since the election," Nicole Bovey Alhakawati, chair of public relations at the Islamic Institute of Orange County, told HuffPost.
Friday's solidarity events mark an important continuation in this trend, she added. "I think the benefit of this whole campaign of hate is that more people want to know about Muslims and understand Muslims in their community."
For many Muslim Americans, actions of solidarity in the midst of such bigotry don't go unnoticed. "To have support at this critical time is very symbolic, very meaningful and very emotional," said Jihad Turk, president of Bayan Claremont, an Islamic seminary in Southern California, and a former imam at the Islamic Center of Southern California.
Many of the groups participating in Friday's event have a longstanding commitment to interfaith work, and Eaves emphasized that PCU's focus on Muslim solidarity will extend beyond Inauguration Day.
"This event will need to be one of many in a sustained effort to create the kinds of conversations and relationships that will counter the barrage of well-financed anti-Muslim rhetoric," Eaves told HuffPost.
Friday, she said, is a first step. "Once you pray together or share a meal together, your world is already a little bit different than it was before. You have to start somewhere."
Before You Go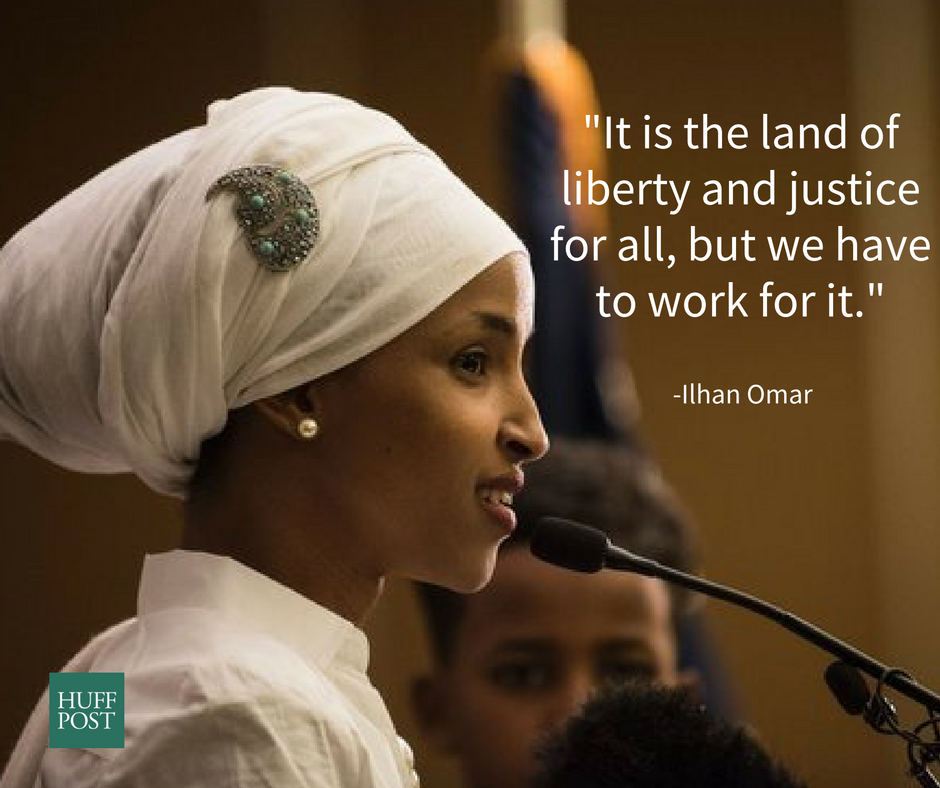 Muslim Women Who Made A Difference In 2016
Popular in the Community