It started with a rat taking a selfie.
In January, New York City actor Eric Yearwood revealed that "selfie rat" -- a viral video that appeared to show a rat taking a selfie -- was a hoax, surprising virtually no one. But what was most interesting was Yearwood's explanation for the hoax: that the video was staged by a mysterious, rat-training, Brooklyn-based performance artist who called herself "Zardulu."
Gothamist speculated that this "Zardulu" was also behind the even more famous "Pizza Rat" video, which shows a rat dragging a slice of pizza in the New York City subway. Both viral videos featured New York City rats, and both Yearwood and the man who filmed "Pizza Rat," Matt Little, are members of the Upright Citizens Brigade Theater. (Little and Yearwood say they do not know each other, and Little maintains that Pizza Rat was not staged.)
But many people are ignoring the possibility that Zardulu herself may be the greatest hoax of all.
On Wednesday, Gothamist's John Del Signore -- who originally broke the selfie rat story -- noted that Yearwood's and Boz's stories about Zardulu are getting more and more ridiculous as time goes on. For instance, Yearwood most recently told Gothamist that Zardulu invited him to a highly ritualized rat funeral that involved a floating gold platform, then to a bonfire in New Jersey where multiple people dressed as Zardulu danced around him.
"At this point our best guess is that Yearwood is Zardulu (for the record, he denies it) or that Zardulu is the creation of another improv comedy actor (Boz?) or actors in Yearwood's circle," Del Signore wrote.
And there's no hard evidence that Zardulu really exists. The person who has emailed The Huffington Post, along with numerous other outlets, claiming to be Zardulu, has refused any attempt to verify his or her identity. Of course, if Zardulu were real, this would make sense, as Zardulu wishes to be anonymous, like a robe-wearing, rat-training Banksy.
"You're assuming that I want you to do a story on me, which I don't," the person claiming to be "Zardulu" told HuffPost in January. "So, if a lack of proof that I exist means you will not be doing one, that is quite alright with me." And when this reporter asked Zardulu Wednesday if an in-person meeting would be possible the response was, "We already have."
But despite the apparent desire not to have a story written about her, Zardulu seemed to crave media attention. After more than a month of no contact, HuffPost received an email from Zardulu, including videos of "herself" in a mask and robes, discussing art and rats. When this reporter did not respond, Zardulu emailed again, this time with the subject line "Please send proof that you are real."

And though there's no smoking gun that Zardulu is a lie, there are plenty of reasons to be suspicious.
For one thing, Twitter and Facebook accounts for Zardulu became active just the month before Eric Yearwood went to Gothamist with his story. Zardulu, however, had an explanation.
"I got an email a few months ago that essentially said 'I'm gonna RAT you out' so I knew that time was running out," Zardulu wrote. "I was pretty upset when things started to unravel but soon decided it could be an opportunity to say what I'd been thinking for a long time, that creating urban legends is the art of the viral era. It is Zardulism. So, I made a couple social media accounts to spread that message."
Additionally, while "Pizza Rat" creator Matt Little (who has never claimed to know Zardulu) and "Selfie Rat" star Eric Yearwood, both members of UCB, claim not to know each other, Yearwood and Greg Boz — the man who spoke with the New York Times about working with Zardulu on a catfish hoax— do know each other. They have worked on projects together at the UCB and have been Facebook friends since August 2015. Nevertheless, Boz told HuffPost that the fact Zardulu worked with both of them seemed purely coincidental.
Weeks ago, Boz mailed HuffPost a handmade pamphlet titled, "The Founding and Manifesto of Zardulism." (A copy of that pamphlet is now available online). Though it's clear there are several of these pamphlets floating around, Boz claimed that he personally only had one -- the one Zardulu had given him, and which he mailed to HuffPost.
But evidence suggests Boz had at least two pamphlets in his possession. Each of these pamphlets includes woodblock stamps in red paint. Every pamphlet has some spots where red ink fell on the pages while still wet.
Before he mailed the pamphlet to HuffPost, Boz emailed some photos as a preview. But the stray ink spots on the photos Boz sent do not match up with those in the pamphlet that arrived in the mail.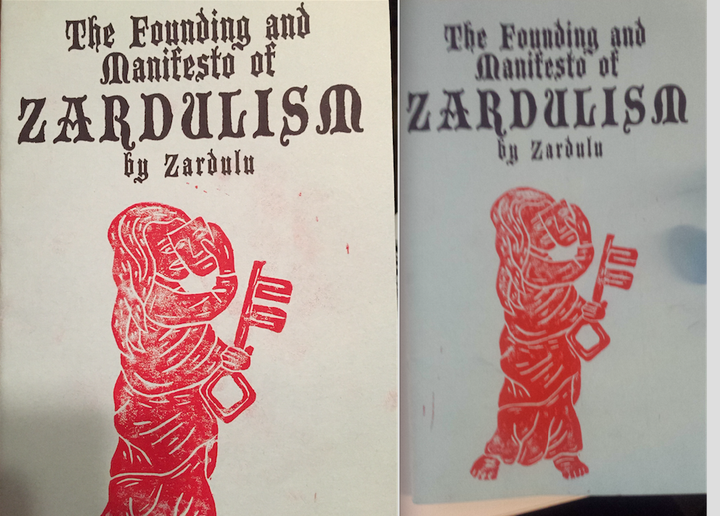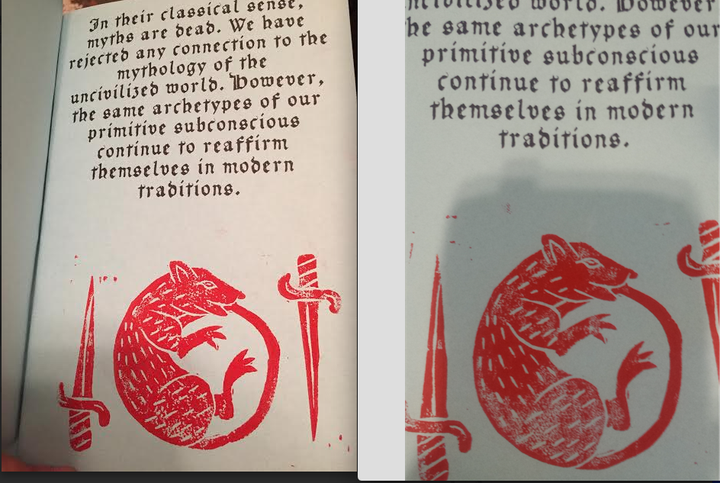 When asked about this, Boz admitted that the photos depicted a different copy. When pressed for explanation, he said, "We must have had a misunderstanding."
For now, Yearwood and Boz seem unfazed by speculation that Zardulu is a hoax within a hoax.
"It doesn't matter to me one way or the other whether people believe in Zardulu or not," Yearwood said. "I was only a bit player in a video. The other hoaxes that are emerging speak for themselves. As for Zardulu's 'unbelievable' eccentricity -- go check out some performance art in Bushwick and then tell me someone dressed in robes passing out catfish is an impossible fantasy."
Boz was similarly dismissive of the Gothamist piece. "I do not understand how anyone could follow the bizarre logic of that article," he said.
But whether or not Zardulu is a performance artist, a creation of Yearwood and Boz, or something else is almost irrelevant to her message -- and to the philosophy of "Zardulism."
"In many ways my work is an experiment in the human need for a belief in myth," Zardulu once told HuffPost in an email. "You can disprove a myth a hundred times over but the impact of that original belief is far more powerful."
UPDATE 3-30-2016: This story has been updated with a comment from Greg Boz.
Popular in the Community