"The man. The myth. The best," Sandler wrote on X, the platform formerly known as Twitter. "Such a sweet funny guy to hang out with. Loved talking to him. Loved laughing with him. Loved him kicking the crap out of me."
He added: "Heartbreaking day. Love to Bob always and his family! Thanks for all you gave us!"
Barker, a passionate activist and a Navy veteran, reportedly died at his home in Los Angeles. His broadcasting career included "The Bob Barker Show" and "Truth or Consequences" — which became the longest-running game show before his version of "The Price Is Right" debuted in 1972. He went on to host that show for nearly 35 years, stepping down in 2007.
Barker is also remembered for his self-deprecating role in "Happy Gilmore." For Sandler, who was further branching out into film at the time after leaving "Saturday Night Live," landing a cameo from Barker as himself turned out to be priceless.
"I can't believe you're a professional golfer," Barker told Sandler's character in an iconic scene, which culminated in an unhinged fight at a golf tournament. "I think you should be working at the snack bar."
In the film, Barker initially appeared to lose the fight, and Sandler dropped a mocking one-liner ("The price is wrong, bitch") — but the then-septuagenarian soon regained consciousness and knocked him out.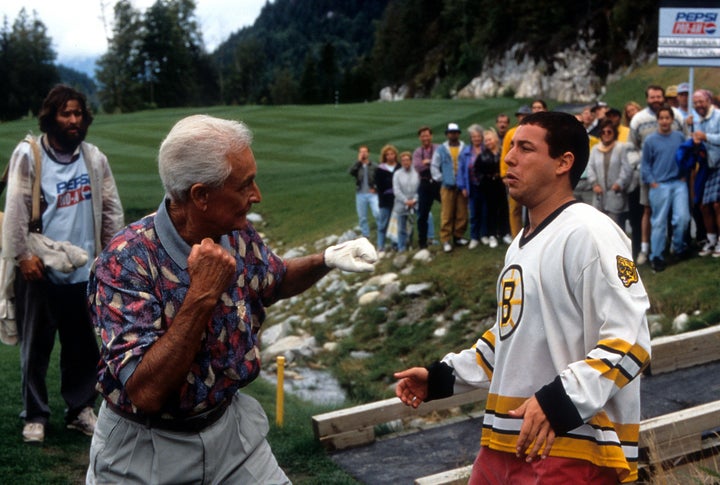 Barker was regularly training at the time with 1980s action star Chuck Norris, who just so happened to be his neighbor. Sandler confirmed in 2021 that Barker, tired of always losing to Norris, only agreed to the cameo offer if he could be shown winning a fight.
Barker and Sandler's bout was named Best Fight at the 1996 MTV Movie Awards, and the hilarious on-screen enemies ultimately formed an endearing friendship in real life. Barker even reunited with Sandler in 2015 to re-create their iconic battle during Comedy Central's "Night of Too Many Stars."
"It was a delight to beat up Adam," Barker told HuffPost in 2013.
Rob Schneider, who appeared in many of Sandler's comedies, wrote that Barker once said "one of the nicest things I ever heard in showbusiness."
"I moved to Hollywood to be an actor and the only person who ever let me do it was Adam Sandler!" he recalled Barker saying.
Support HuffPost
The Stakes Have Never Been Higher
Popular in the Community