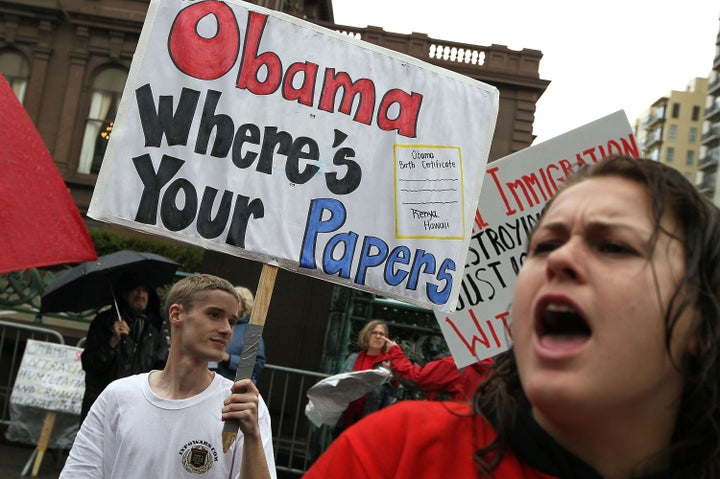 A recent rekindling of "birther" news has compelled Andy Martin, who calls himself "king of the birthers," to announce a run for the White House in 2012, becoming the first GOP candidate to officially do so.
On New Hampshire's WTPL radio, Martin spoke about the commotion caused by incoming Gov. Neil Abercrombie (D-Hawaii) -- who said earlier this week that he would take actions to squelch the Obama citizenship conspiracy theory once and for all. Martin claimed that his candidacy would prevent the citizenship issue from fading further into the fringe.
"I'm going to have a tremendous impact on the presidential election, not because I'm the frontrunner. I mean, clearly at this point I'm not," he said. "But I'll be driving the agenda in the Republican Party."
In a release on the presidential announcement, Martin said that his "birther" platform will be "designed to force Barack Obama to authorize the release of Obama's original birth certificate and college records."
Martin suggested in the interview that he also believed Obama may have enrolled at Harvard Law School as a Muslim, that his tuition may have been funded by "Saudi money," and that the Clintons were the ones behind the perpetuation of "birther" rumors.
[Martin] actually believes Obama was born in Hawaii, as has been verified by the state with a Certificate of Live Birth. But he believes the White House is blocking the release of the president's full birth certificate because it could contain embarrassing information.
"My campaign doesn't say he was born here or he was born there, it says produce the facts," Martin said. "Tell the truth to the American people. If you want our confidence, if you want our young men and women our sons and daughters and brothers and sisters and nephews and nieces to die for your policies, we have to trust you."
Martin, who has been plagued by accusations of anti-Semitism, was visible early this election season as a Republican primary candidate for U.S. Senate in Illinois. Martin became known for his bombastic mudslinging during the campaign, referring to now-Senate-elect Mark Kirk as both a "homosexual" and a "pedophile."
Popular in the Community