WASHINGTON ― It's not new to hear U.S. officials rooting for regime change. It's just been a while since they've talked about it with regard to Berlin.
President Donald Trump's attacks on Twitter against German Chancellor Angela Merkel this week provided the clearest evidence yet of a sprawling American campaign to undermine her. While Trump's disdain for Merkel has been evident since the early days of his presidential run, he and his ideological allies have ramped up their efforts dramatically just as the German leader faces what experts call one of her most serious challenges yet: developing a Europe-wide policy on asylum seekers by July 1 to appease a crucial right-wing partner in her coalition government.
Merkel now has to contend with not only local opponents but also a network of influential anti-immigrant Americans and other international activists inspired by Trump and similar illiberal leaders, like Hungary's Viktor Orban and Russia's Vladimir Putin.
They're determined to punish the chancellor for welcoming more than a million desperate refugees seeking shelter in Europe since 2015 ― and ultimately want to prove that compassion toward immigrants is now political suicide in the West.
"The leaders of the two biggest nations in Europe are increasingly besieged," said Gerald Knaus of the European Stability Initiative, referring to Merkel and French President Emmanuel Macron. "And both of the big outside powers, the U.S. and Russia, are on the side of those who besiege them."
Proof of their work trickles out in bits and pieces. A month before the president's Monday tweet suggesting Germans are fed up with Merkel's "already tenuous" coalition, his ambassador in Berlin, Republican operative Richard Grenell, had dinner with a hard-line and rebellious member of Merkel's party, health minister Jens Spahn. Spahn wants Merkel's job, and after his husband posted the image on Twitter, it drew attention and "as much astonishment as derision" in pro-Merkel Facebook groups, King's College London lecturer Alexander Clarkson told HuffPost.
German distrust of Grenell grew just weeks later when he told Breitbart he wanted to "empower" hard-right activists around Europe who were dissatisfied with their countries' political leaders. "Many in Germany and across Europe understandably perceived his comments as interfering in domestic politics," nine U.S. senators argued in a June 12 letter to Secretary of State Mike Pompeo.
Grenell next announced plans to host the stridently anti-immigrant Austrian Chancellor Sebastian Kurz for lunch on June 13. He had described the leader to Breitbart as a "rock star." The U.S. embassy ultimately said the meal was canceled for scheduling reasons ― but Grenell's endorsement was common knowledge once Kurz was in town. The Austrian used his time in Berlin to hold a joint press conference with German interior minister Horst Seehofer, where he called for European leaders to unite against immigrants. Hours later, Seehofer told Merkel he would not budge on plans to enforce a hard border around Germany ― violating a fundamental principle of the European Union ― by turning away asylum seekers registered in other European countries. His stubbornness escalated a dayslong dispute and magnified the risk that Merkel's government would collapse.
Seehofer's party, the conservative Christian Social Union, has spent decades aligned with Merkel's center-right Christian Democratic Union. His move threatened to tear the two apart or leave Merkel looking like a lame duck for the sake of boosting the CSU's support among anti-immigrant voters ahead of October regional elections. It took days of negotiations and Merkel supporters rallying for Seehofer to agree to hold off and let Merkel try to address concerns about Germany taking more than its fair share of refugees.
The chancellor says she acknowledges the problem but wants an EU response, not an individual German one. She now needs to use a June 28-29 summit to convince 27 fellow European leaders to adopt a new joint policy on legally admitted asylum seekers who are registered in one country (usually those in the south and east, like Italy) and attempting to move to others.
But Merkel is working amid an international barrage of criticism and wildly exaggerated claims about the way her leadership has allowed refugees and migrants to threaten Europeans.
Much of that comes out of the U.S.
Popular conservative websites, from Breitbart to The Daily Signal, frequently run dramatic headlines about "open borders" supposedly causing murders and rampages. They know what they're doing, playing up offenses against natives even though many asylum-seeker crimes are against other vulnerable migrants, and avoiding similar coverage of crime by native Germans or context about the falling number of crimes ― including violent offenses ― overall. In March, Bannon, the former executive chairman of Breitbart, met with the race-baiting Alternative for Germany (AfD) party, which won over 10 percent of the vote for the first time last year and wants to rally the public against immigration, often by peddling lies. The party wanted Bannon to help with its plan to establish its own 24-hour newsroom to have more sway on television and social media ― an attempt to mirror Bannon's own U.S. success in making long-sidelined views seem more mainstream.
The AfD is not directly involved in the current crisis because it is not a member of Merkel's coalition. But its determination to call the chancellor insufficiently tough on foreigners, and its potential electoral success in her coalition partner's heartland, drove the split within the government. Polling suggests AfD views have gained traction since the fight broke out.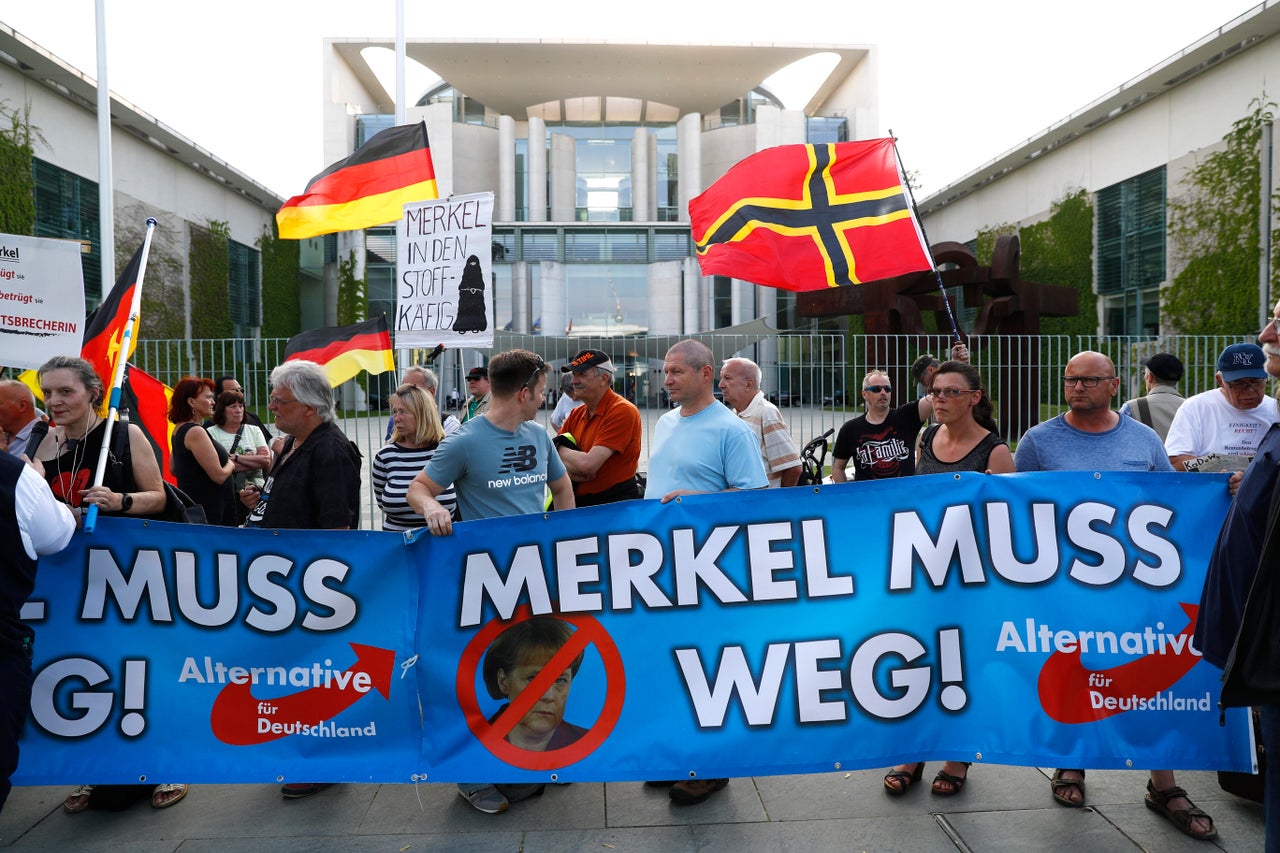 Meanwhile, institutions in Washington that are closely involved with Trump's domestic crackdown on immigration continue to disparage Merkel. The Center for Immigration Studies, for instance, recently published an article advising European officials to reject Merkel's attempt to develop a better shared policy on asylum seekers. "Merkel is the very last person in Europe that leaders of those countries should trust to see to their interests in any fundamentally competent way," wrote Dan Cadman, a former official with Immigration and Customs Enforcement.
The American attention adds to pressure on Merkel from within the EU. Inspired by hard-line anti-immigrant leaders like Orban in Hungary, who explicitly stokes fears of an "Islamization" of the continent and who spoke with Trump just before his jabs at Merkel this week, right-wing movements are telling Europeans that Merkel is the embodiment of elite failure. They say she has fundamentally betrayed her people and her culture ― though, of course, they reject comparisons to the nativist "clash of civilizations"-style thinking that has fueled violence in Europe for centuries.
That framing makes the battle over Merkel's political future far more dramatic for them than most people in Germany or the world might think, inspiring her opponents to try ever-greater hyperbole and action to bring her down. Presenting the German parliament as the battlefield on which the future of Europe ― and, really, of a white-dominated Europe ― will be decided, activists around the world are lobbing social media attacks, and their friends in power are crafting backroom deals with all the sway of the U.S. and several European governments on their side.
"One of the most important things... is the myth that it was Angela Merkel who opened the borders in September 2015," said Knaus, the German analyst, noting that the chancellor did so after tens of thousands of asylum seekers were already in need and within European borders, receiving little support and sometimes being directly pushed toward Germany. "Anybody who doesn't like Merkel rallies around this idea that it was simply her idea."
Knaus believes Merkel and her defenders can point to the Germans' pride in managing the influx of vulnerable people, as well as Merkel's consistency on the importance of being humane and her success in crafting a deal with Turkey that sharply reduced migrant flows into Europe.
And Germans' serious dislike for Trump could mean his meddling actually helps Merkel, who has smartly avoided the kind of war of words that might turn off voters, Knaus said.
Still, what the president and his supporters do matters ― at the very least in establishing a remarkable, and for many Europeans disturbing, precedent.
"Is Putin interfering trying [to] destabilize the politics of the EU? Yes. But Trump is at the moment far worse," former Swedish Prime Minister Carl Bildt wrote on Twitter earlier this week. "This is unheard of."
Popular in the Community