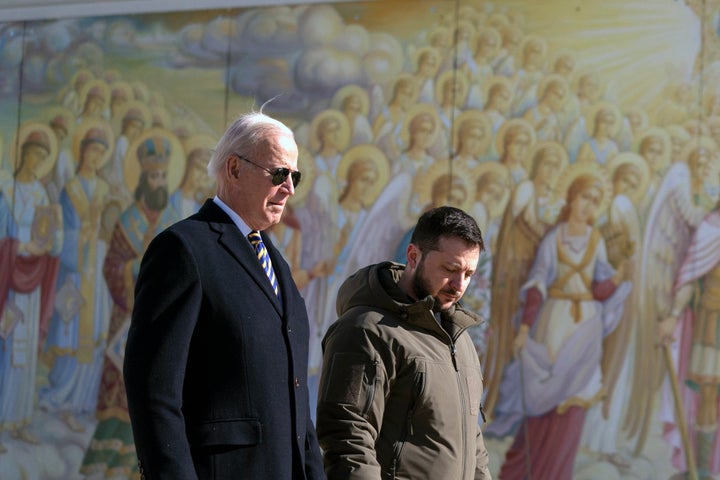 As Republicans argue about whether and how much to appease Russian dictator Vladimir Putin, President Joe Biden is drawing an early contrast with a campaign ad showcasing his unprecedented visit to an active war zone to support the target of Putin's invasion, Ukraine.
"He entered Ukraine under the cover of night. And in the morning, Joe Biden walked shoulder to shoulder with our allies in the war-torn streets," the narrator of the one-minute spot says. "Standing up for democracy in a place where a tyrant is waging war to take it away."
Using footage from news coverage, the ad shows clips of the devastation in Ukraine from Putin's assault mixed with scenes of Biden's February visit with Ukrainian president Volodymyr Zelenskyy in the streets of Kiev.
"In the middle of a war zone, Joe Biden showed the world what America is made of," the narrator says. "That's the quiet strength of a true leader, who doesn't back down to a dictator."
The ad will run during CBS's "60 Minutes" program Sunday night in Arizona, Georgia, Nevada, North Carolina, Pennsylvania and Wisconsin — six states with narrow presidential election margins in 2020 and which are all expected to be closely contested again next year. The ad is part of a $25 million wave of early advertising the Biden campaign previously announced.
It declined to reveal how much was spent specifically on this ad. However, a minute-long spot on the popular news show in those markets likely has a price tag in the six figures.
"It's a good theme for us," said one campaign official on condition of anonymity, adding that the contrast with Republicans — none of whom is ever mentioned in the ad — is obvious. "It's an extreme position to take to be on the side of a dictator rather than democracy."
Former President Donald Trump, who himself attempted a coup to remain in office after losing the 2020 election to Biden, immediately after Putin's 2022 invasion labeled him a "genius" for having done so. That pro-Putin stance has been adopted, by varying degrees, by others in the 2024 GOP presidential field.
While former South Carolina Gov. Nikki Haley, former Vice President Mike Pence and former New Jersey Gov. Chris Christie have all said that the United States needs to help Ukraine beat back the Russian invasion, Florida Gov. Ron DeSantis and South Carolina Sen. Tim Scott have both hedged. Biotech entrepreneur Vivek Ramaswamy has been the most Putin-friendly, saying he would let Russia keep some of the territory it has taken by force and would also promise that Ukraine would never be allowed to join NATO.
"Europe needs to step up. I mean, I would have Europe step up and do their job," DeSantis said in the Aug. 23 GOP debate in Milwaukee when the candidates were asked if they would support sending more money and weapons to Ukraine should they win.
The split among the 2024 candidates reflects one among Republican primary voters generally, with some believing that what happens in Ukraine is irrelevant and others openly siding with Putin. DeSantis previously had called Russia's invasion "a territorial dispute" that was of little concern to the United States. Scott has said he would focus on the U.S. border with Mexico, rather than the Russia-Ukraine border.
"While the MAGA Republicans running for president have sided with dictators over democracy, President Biden rallied the West in the wake of Russia's unjustified invasion of Ukraine and has shown time and again that America under his leadership will always be a beacon of democracy," Biden campaign chair Julie Chavez Rodriguez said in a statement. "As President Biden heads to the G20, this ad shows the American people how a true president stands up to bullies like Vladimir Putin, instead of coddling them."
Trump has for years been bragging about his own bravery for visiting a U.S. base in Iraq over Christmas in 2018 — even though the previous presidents, George W. Bush and Barack Obama, had made 11 such trips to Iraq and Afghanistan over the course of their combined four terms in office.
"They not only turned off the lights, they put down the shades. It was so dark," Trump told an audience of New Hampshire Republicans earlier this year, describing Air Force 1's lights-out descent into Al Asad Air Base to avoid being detected. "I wanted to see whether or not I could award myself as president the Congressional Medal of Honor."
But nothing in modern U.S. history matches what Biden did. Bush, Obama and Trump all went to installations under the control of the U.S. military. Biden, in contrast, traveled to a country and a city under daily assault by Russian troops, airplanes and missiles.
Popular in the Community