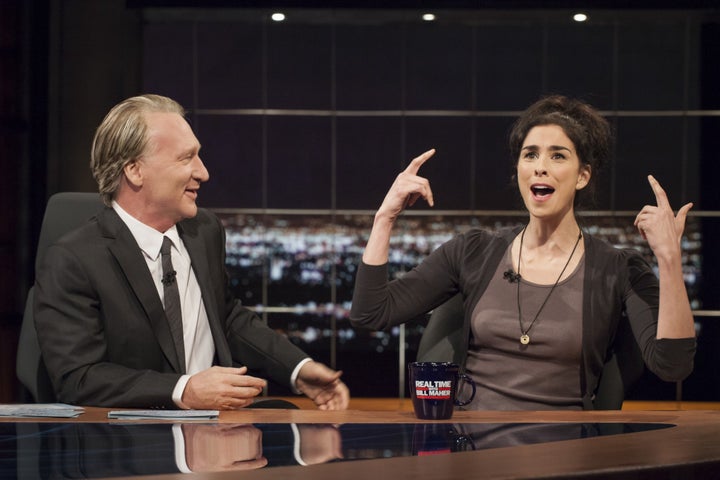 As a comedian and comedy writer, I have long had a policy of not publicly criticizing other comedians and comedy writers, especially those who are far more successful than me. That said, the time has come for me to make an exception.
On last night's airing of HBO's "Real Time," Bill Maher and Sarah Silverman, two revered comedy mavericks whose work I have long admired, had nothing to say about Louis C.K.
It is important to note that Maher and Silverman are not set-up or punchline comics. They are political satirists, widely revered for their uncensored outspokenness on important social issues. This makes their silence all the more disturbing and indefensible.
At the top of the show, Maher said, "Welcome to another edition of 'Who Pulled Out Their Dick This Week,'" a promising start. But then he focused his satiric wit solely on Judge Roy Moore and his despicable Republican defenders. Fair game, for sure.
However, the question must be asked: Where were Maher's cutting remarks about C.K.? Answer: There weren't any. Instead, he felt compelled to proclaim the moral superiority of liberals over conservatives: "We arrest our alleged rapists; they elect them." The audience applauded. Perhaps, I missed the news of Harvey Weinstein's or Kevin Spacey's arrest.
Look, I'm a liberal and I'm a comedian. I'm on Bill's side. But he blew it. At the risk of blowing my own horn, I will point out that MAD Magazine, where I have been an editor for many years, did not shy away from the issue.
After Bill's opening monologue, Sarah Silverman came out and made a bad situation worse. She spoke at length about her new Hulu show. She talked about how Trump has tapped into our fears and "is in bed with the oligarchs." But apparently, she had no thoughts about powerful comedians abusing women for their sexual gratification in her industry.
What is going on here? If the accused comedian was Dennis Miller, it is difficult to believe that Maher and Silverman would have totally avoided the story.
Here's the most galling thing: When speaking with former Democratic Party Chairperson, Donna Brazille, Maher said, "I have so much in common with you. We want our side to win, so we criticize it when necessary."
Unfortunately, not this time.
Joe Raiola is Senior Editor of MAD Magazine and Producer of the Annual John Lennon Tribute in NYC. He has performed his solo show, "The Joy of Censorship," in over 40 states.
Calling all HuffPost superfans!
Sign up for membership to become a founding member and help shape HuffPost's next chapter
BEFORE YOU GO