RANCHO PALOS VERDES, CALIF. ― "I am here today to talk about what's ahead." That's how Planned Parenthood President Cecile Richards opened her speech at the MAKERS Conference on Tuesday morning. 
Below are a few ways women can get involved, according to Richards:
1. March and protest and march and protest and march and protest ― and then do it all over again.
And it is that very form of resistance that Richards says has spurred change for women over the last 100 years in the United States:
Before Planned Parenthood started, we didn't even have the right to vote. And it was because women protested and went to jail that over these decades we've made progress.

Today, one in five women in this country has been to Planned Parenthood for health care. In fact, probably some of you in this room. We now serve two and a half million patients a year. And abortion is legal in this country, and it's one of the safest medical procedures for women in this country. And birth control, which of course used to be illegal, is now not only legal, but 90 percent of women in America use it.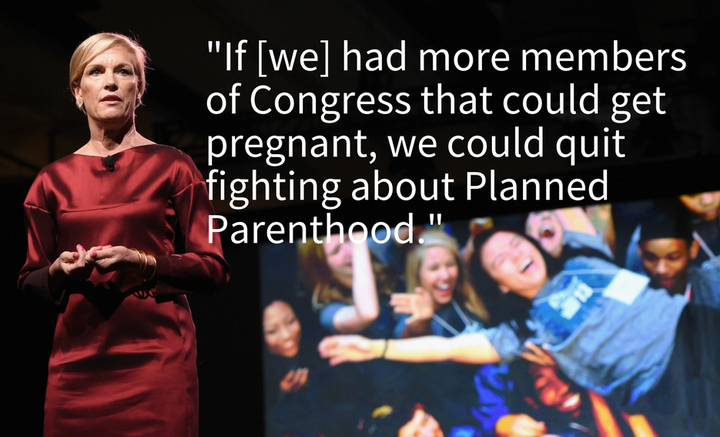 2. Support other women who run for elected office. (And maybe consider running yourself.)
Social change also requires representation at all levels of every industry, including politics. "We don't have full equality ― and certainly not in the political arena," said Richards. "I keep thinking, if I had more members of Congress that could get pregnant, we could quit fighting about Planned Parenthood."
She also cheekily added: "We need more women in office, so if you wanna run, see me later." 
3. Engage men in the fight.
4. Be intersectional.
"We serve everyone," Richards told the audience at MAKERS, speaking about Planned Parenthood. "We believe you should be able to get reproductive health care access regardless of your race, your ethnicity, your income, your geography. We proudly serve the LGBT community... We serve men as well... And I think it's important today to say our doors are also open for refugees and immigrants no matter where they come from. We believe that health care in this country should be a right, and not a privilege."
Any movement ― if it's going to be truly effective ― must be aware of the intersections of various identities and lived experiences.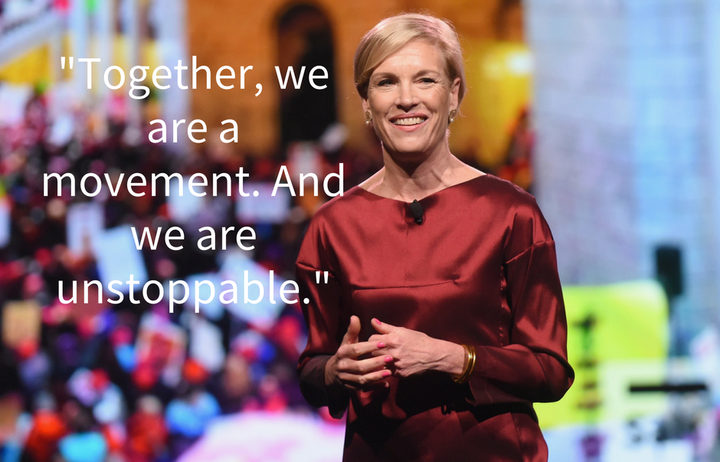 5. Share your story.
Richards also made sure to emphasize the power of personal storytelling in changing attitudes and culture, and in reducing the stigma that surrounds our bodies and our health care: 
I think it's time for us to be bold. Share your own story. This is the time to do it. Maybe you were a Planned Parenthood patient... Maybe you remember what it was like to be a young woman, trying to access birth control you could afford so you could finish school... Maybe you had a pregnancy and you had to make a decision and thank goodness you could make that decision in consultation with your doctor and with your family, and not your member of Congress. Those stories are important to share, because you'll never know the thousands of women that you give courage or comfort to.
6. Embrace strength in numbers, because that's what makes a movement.
Richards wrapped up her powerful talk with an important reminder that women still make up the majority of this country.
"We can't ever forget that," she said. "One of us can be put aside. Two of us can be ignored. But together, we are a movement. And we are unstoppable."
Calling all HuffPost superfans!
Sign up for membership to become a founding member and help shape HuffPost's next chapter
BEFORE YOU GO
PHOTO GALLERY
Roe v. Wade Women's March Signs