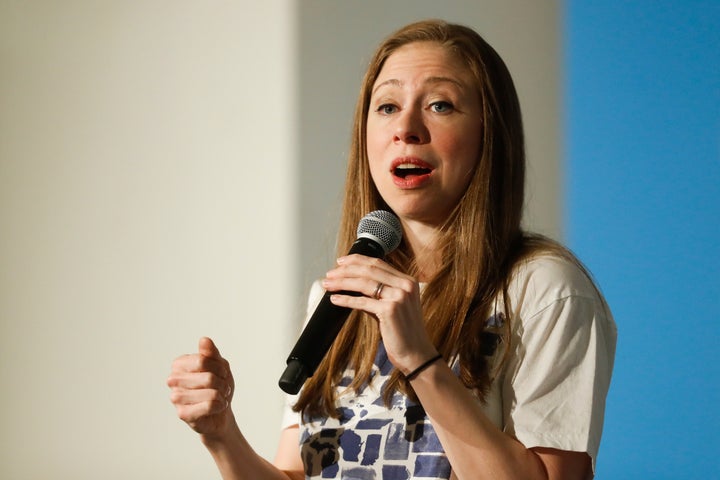 During last week's GOP convention, the Republican Party approved a platform that, among other things, advocates going back to defining marriage as between one man and woman and supports adoption agencies turning away same-sex couples. But Clinton singled out another provision as the worst: language that affirms so-called "conversion therapy," a wholly discredited practice of trying to turn gay people into straight people.
"I think what I actually found most offensive really ties into me as a mom," she said at a lunch hosted by the Human Rights Campaign, an LGBT rights advocacy group. "The open embrace of conversion therapy in the Republican Party platform ― in other words, child abuse ― to me is the clarion call for all of us to do everything we can to elect my mom, and elect Democrats up and down the ticket."
Not only has conversion therapy been rejected by virtually every major medical association, but it poses significant risks for gay adolescents. It can lead to depression, drug use, homelessness and suicide.
Clinton urged Democrats to vote for her mother, Democratic presidential nominee Hillary Clinton, so she can "finally pass the Equality Act [federal anti-discrimination legislation], so that my mom can finally ban conversion therapy, so my mom can restore the military records of everyone that has served our country honorably." The last item refers to reclassifying the military records of gay people who were dishonorably discharged because of their sexual orientation. That doesn't happen anymore, since President Barack Obama repealed the so-called "don't ask, don't tell" military policy in 2011.
A number of GOP delegates were angry that their platform ended up being so anti-LGBT. The Huffington Post talked to several last week who wished their party would focus on more pressing matters, like the economy or security. But there's a small, conservative group of people in the party's upper ranks that makes sure those provisions stay in the platform, although they are increasingly out of step with what most Americans want.
Calling all HuffPost superfans!
Sign up for membership to become a founding member and help shape HuffPost's next chapter
BEFORE YOU GO
PHOTO GALLERY
19 Perfect Quotes From Hillary Clinton